What Does Your Sanitiser Say About Your Brand?
Jess | February 15, 2021
Hand Sanitising is Here to Stay – Now's the Time to Invest Long-Term
Remember March 2020 when panic buying gripped the nation in response to the pandemic? You should be so lucky to get hold of a bottle of hand sanitiser back then with demand increasing by 255%! Now fast forward almost a year and hand sanitiser is definitely here to stay. You can't walk into anywhere without an obligatory hand sanitising station. But some of them look like you don't even want to touch them.
When the pandemic hit, shops, hotels, offices, gyms, pubs, restaurants and so on bought what they could to install some kind of hand sanitising solution upon entrance. Most of them were makeshift, sometimes messy, short term solutions that we thought we wouldn't need for long. We were sadly wrong about that!
Making a good impression
Hand sanitising stations are now one of the first experience your customers, visitors or staff will come into contact with when entering your premises. Businesses need to start thinking – "What does this first touchpoint say about my brand?" If you want to create a positive experience, you're going to need to up your game. And this is where the X-Range touchless, automatic hand sanitising station comes in. These easy-to-install units are ergonomically designed, sleek and slim and super simple to use.
Best of all they can be branded however you like, so they represent the best of your business and gives users a great impression. Choose to have them stand out in bright colours and bold designs or opt to blend in with your background for a more minimalist and sophisticated feel. It's totally up to you.
Why choose the X-Range?
Designed and manufactured in the UK, these stations are premium quality and expertly designed with the user front of mind. They're the only station on the market that offers dual-height dispensing, which means they're inclusive for all and convenient for adults, children and wheelchair users. Being touch-free helps to minimise physical contact between the station and peoples' hands so it further stops the spread of germs and keeps people safe.
The X4 hand sanitising stations offer a whole host of benefits that include: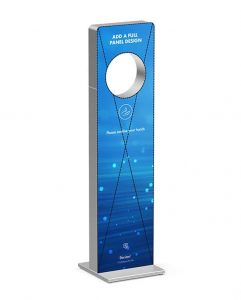 Automatic infra-red touchless dispensing

Battery operated so they don't need to be near mains

Literally, position anywhere – indoors or outdoors

Can dispense 10,000 times per charge

Economical with dispenser and affordable

Quick and easy to setup

No installation

Fast and easy gel fill-up

Compatible with any hand gel
Find out more
If you're done with mediocre and makeshift hand sanitising solutions, contact us and find out more about our range of package options. Our team are on hand (excuse the pun!) to help you with all of your hand sanitising solutions – just give us a call! And don't forget to ask us about our range of scented hand sanitisers which are available in four great fragrances, are WHO-approved and have added moisturisers.