Category • Blog articles
Coffee machines and boiling water taps – are they worth it?
Zoe | March 8, 2022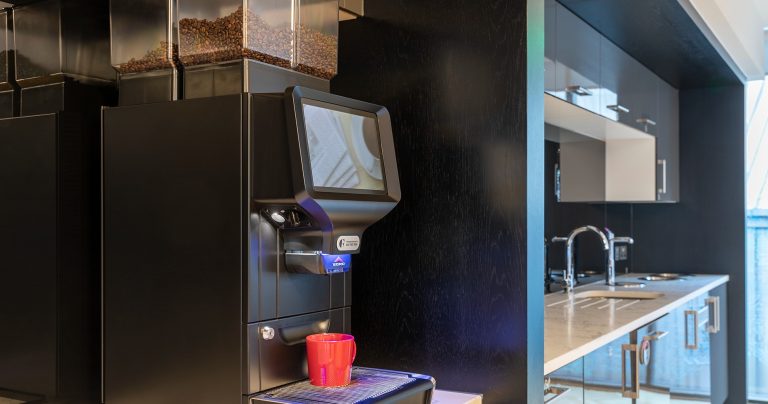 If you're considering getting a coffee machine or boiling water tap for your office, there are lots to choose from. We take a look at the many options available.
Today's workplace is changing quickly and ever-evolving. It's never been more important that offices are nimble, flexible and quick to react. The impact of COVID is a very real example of this. It challenged the workplace culture in many UK businesses as many went from full time working in the office every day, to embracing a culture of flexible or hybrid working.
People's expectations in the office are also changing fast and increasing as health, happiness and wellbeing become top priorities for businesses. As part of the workplace culture, employees now expect a quality coffee experience as standard. Research proves that this simple perk can increase a business' ability to retain and attract talent. It also shows that you care about your team. Plus, a recent study revealed that 52% of people surveyed like to drink the same beverages at work as those they get in coffee shops.
Facilities and office managers understand that quality coffee keeps an office running and teams fuelled. It can support your team in feeling engaged, motivated and valued. With this in mind, you may be looking to implement an improved coffee experience for your team.
There are lots of variables to consider. One of the initial queries is whether you hire, buy outright or get your office coffee machine on free-loan.
We take you through the pros and cons of each option so you're in the best position to make the right decision.
Should I hire an office coffee machine?
Hiring your office coffee machine means no CapEx. You don't have to fork out a significant cost upfront so if you're working to a budget, hiring is a good option. As we know, things can change very quickly in business. With a rental, if for example, your business restructures or you experience growth, you've got the flexibility to adapt. There are lots of contracts available. Some short ones start from just 3 months so you're not tied in if anything does change your circumstances.
Another benefit of hiring your machine means that you're covered for anything that goes wrong. Service providers will offer a service plan that will offer you advice, customer care and send out an engineer if your machine has any issues. If your business grows, you can upgrade your machine at any time. This means you'll always have an office coffee machine that suits your requirements. If you bought outright, you may end up having a machine that is no longer of use to you and your team. The main downside of rental though is of course that you never own the machine outright.
Should I buy an office coffee machine?
Purchasing your machine outright means that you own the machine and always will. Even if you purchase outright, service providers can still offer service plans so you're covered if your machine has a fault or needs a service at any point. Budget wise, yes you have to pay upfront but it can be a tax-efficient option and you can offset depreciation against profits.
The downside to purchasing your office coffee machine is that if your needs change, you're stuck with it. There are no options to regrade and often in these cases, service providers are an unrelated third party so you may not get such good quality customer service.
Should I get my office coffee machine on free-loan?
A significant benefit of getting your office coffee machine on free-loan is that there's no CapEx. It offers an affordable and convenient option where you'll get your machine on loan for free as long as you commit to an agreed quota of coffee on a regular basis. You can enjoy never running out of coffee and you're still covered for service. Free-loan will mean you have no running costs and make it easy to budget for.
The main drawback of free-loan is that you will likely have to sign up for a minimum quota of coffee each month. Sometimes this can result in you having too much coffee if for some reason your team reduces in numbers, people are working from home or they opt for a different coffee option. There are sometimes flexible quota options for these situations.
Is service that important when you're looking at office coffee machines?
Consider what matters most to your workplace culture and what is most important to you. Think about if initial purchase cost is all that matters or is it service too – and what about the ongoing lifetime experience 'in the cup'?
Often when an office is fitted out for the first time, the fit-out or "design and build" contractor will purchase and provide the coffee machine and/or boiling water tap but pay little consideration for ongoing service and customer support. This leaves offices with only one option to go to a third-party service provider and can leave you with limited choices for the right service level being selected at this point. Sure, they can generally provide adequate servicing but they wouldn't provide the same level of care and attention that you'd get from a business that offers coffee machines, quality coffee beans AND great customer care. With this, you'd be getting a better, more rounded experience as it's in their interest to keep their customers happy and onboard.
Ultimately, service support is so much more than just technical service. Good quality account management and customer service are an understated value in a good experience. Overall rental and free loan options will generally lead to a better all-around experience for your team and are less hassle than purchase. However, every business is different and there are no wrong or right answers.