Category • Blog articles
Five things to consider when getting an under counter water tap
Alex | February 18, 2023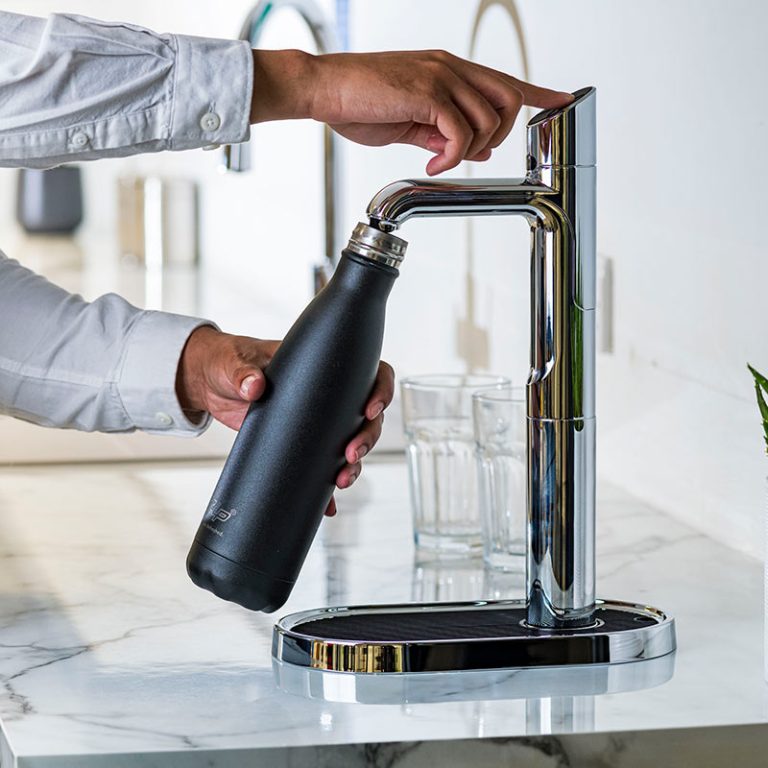 Undercounter water taps are becoming increasingly popular in offices in the UK as a way to provide fresh, high-quality water for your team, visitors and suppliers. With a wide range of options on the market, it can be difficult to know which to choose. To help you make an informed decision, we've outlined five key factors to consider when getting one for the office.
Firstly, keeping your office team happy, healthy and hydrated at work is very important. It can help with mental clarity, productivity, energy levels and is critical to overall health and wellbeing. For these reasons, you'll likely want to provide them with a water solution that's refreshing, convenient and tastes great.
The UK government recommends that we should drink around 6-8 glasses per day which is around 1.2 litres in total. But are you making it easy for your team to stay hydrated at work?
If you've decided to get an undercounter water tap or you're looking to upgrade your existing water source, we're here to help.
Water quality
One of the most important things to consider when choosing an undercounter water tap is the quality of the water. The quality determines the taste and health benefits of what you're drinking. Premium undercounter water taps will often offer a choice of filtered sparkling, still, hot and ambient water. They also will have a range of filtration systems to help ensure that the water you receive is pure and free of contaminants.
Of course, you'll want to consider the taste, especially if you're in the 60% of the UK that has hard water. In these hard water areas, certain minerals in the water can make it taste slightly metallic or bitter. A filtered tap will give your team better-tasting water as it actively removes these impurities.
Cost
If you're an office or facilities manager making the decision on your team's water solution, cost is always going to be a major consideration. It's not easy balancing budgets and trying to keep everyone in the business happy – especially if you're in a large office with a big team.
When it comes to undercounter water taps, the cost will vary depending on the type of tap you choose, the design, the features you require, and the complexity of the installation process.
Some taps are more expensive than others, but it's important to keep in mind that the quality of the water you receive is linked to the cost of the tap. Higher-quality taps often come with more advanced filtration systems and better functionality.
When considering the cost, it's important to balance that with the long-term benefits of having access to high-quality water in your office.
With most suppliers, you won't have to pay a huge upfront cost as you can opt to get your tap on a lease where you pay monthly. They also will often come with a service plan so if anything goes wrong with your tap, you're covered by your plan. Here at FreshGround we offer two levels of service – Essentials and Total Care.
Convenience
Undercounter water taps are designed to be convenient and accessible, so it's important to consider the placement of your tap and the ease of use. You'll want to make sure that your team can easily access the tap, whether it's for a drink of water, a cup of tea, or for filling up a bottle.
Some taps have touch-activated controls, which can be more convenient than traditional taps that require manual operation. Other considerations include the flow rate of the tap and how often it'll be used by how many people. You'll need to make sure your tap can keep up with demand.
To offer the ultimate convenience, we recommend choosing a tap that offers a range of water types so there's something for everyone to enjoy. Your options include taps that pour filtered sparkling, still, hot, boiling and ambient water.
Space
Another important consideration when choosing an undercounter water tap is the amount of space you have available. Undercounter water taps are designed to be discreet and take up minimal room, but they still require a certain amount of space to be installed.
It makes the most sense to have your undercounter tap plumbed into your office kitchen which is where your team will be going for refreshments. Together with your office water tap supplier, considerations will be made about the size of your office space, the layout, and the location of other fixtures, to find the best spot for your tap.
Sustainability
Finally, think about the sustainability of your undercounter water tap. The tap should be energy efficient, and use as little energy as possible to provide the water you need.
The filtration system used in the tap should also be environmentally friendly. Many undercounter water taps come with filtration systems that use eco-friendly materials and reduce waste, so don't forget to look for these features when making your choice.
It's also worth noting that an undercounter boiling water tap is more energy efficient and far more convenient than using an office kettle.
Additionally, encourage your team to use reusable plastic or glass bottles in the office. Some offices now ban single-use plastic to promote sustainability and support the environment, which might be an initiative you choose to adopt.
Which tap is right for my team?
This simple guide should give you a good starting point to research which tap will suit your bespoke business requirements. However, our team is on hand to help. We'll happily come out to your office for a free consultation to fully understand what's right for you.
To find out more, simply contact us at 020 7553 7900 or email hello@freshground.co.uk.