Category • Blog articles
Get moving at work – ways to encourage your team to be more active
Alex | December 13, 2021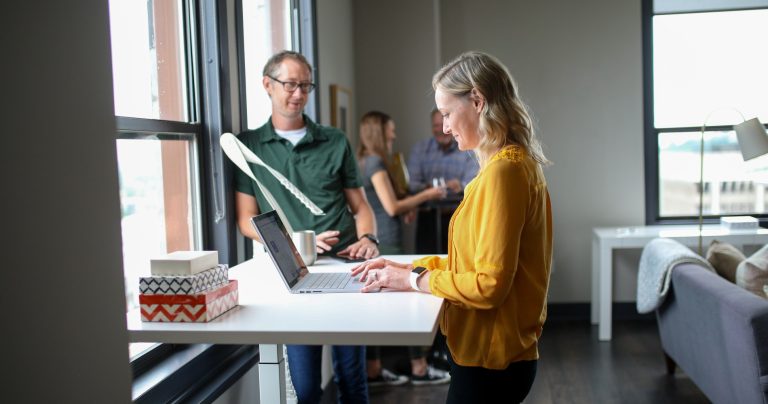 Whether you're in the office or working from home, many of us are guilty of sitting down for too long. In fact, adults on average sit for 9 hours a day which health professionals insist is too long. Research shows that regular movement throughout the day leads to better health, increased motivation, improved concentration and many more well-being benefits. Just 30 minutes of exercise per day can help improve your health and healthy workers are less likely to be absent from work. So as an office or facilities manager, how can you embed being active into your workplace culture and encourage your team to move more? We've pulled together some top tips for you.
Get walking
Where possible and the British weather permitting, some meetings can be done on the move. Walking meetings or organising a phone call on a walk is a great way to fit in some exercise even on the busiest of days. Another tip is to wear a pedometer to give you and your team extra motivation. Many people set themselves a step per day target – a good number of steps to aim for would be around 3000 raising up to 10,000 which can support weight loss as well as health.
Communicate
Business leaders should communicate the company's culture around being active at work to encourage teams to get involved. You might want to consider a regular email that's filled with physical health tips and links to quick and simple online workouts for the office. You can also put up posters to give reminders to get up from desks and be more active.
Incentivise
Some people may be resistant to increasing their activity so employees can actually incentivise it. We recommend implementing a cycle to work scheme in which people buy bikes cheaply and spread the cost of paying over a period of time. Gym memberships are another great way to get your team moving or in some cases, if there is space and budget, businesses can install workout equipment in the workplace.
Simple tips
There are lots of things people can do, but these are just a few of the FreshGround team's favourites:
Eat lunch away from your desk
Walk to see colleagues instead of emails only
Get out for a walk in your lunch hour
Use a standing desk
Do stretches at your desk
Take the stairs
If you can walk, don't drive to meetings
Stand when you're on the phone
Cycle or walk to work
Of course, staying hydrated is a vital part of your teams' health so make sure you're providing quality coffee experiences and refreshing water. If you'd like to talk to us about installing one of our office coffee machines or water dispensers to support your team's health and wellbeing, just give us a call on 020 7553 7900.
Standing desks