Category • Blog articles
Home Office Hacks to Work Smarter
Jess | October 22, 2020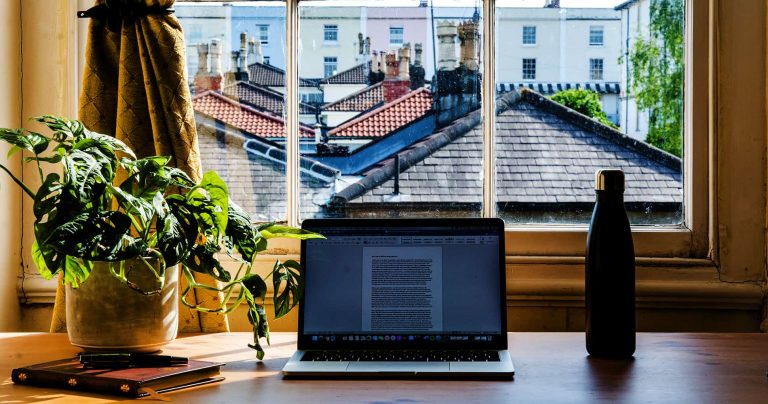 The world of work has been transformed with the arrival of the pandemic and many people are continuing to spend more time working from home. Following the Prime Minister's announcement in September that urged people to WFH if they can, the Office for National Statistics reported that 24% of the UK's workforce was home-based at that time. According to a survey from the Chartered Institute of Personnel and Development (CIPD), employers now expect the proportion of staff that work from home regularly to increase to 37% after the coronavirus pandemic ends. With that in mind, there's never been a better time to ensure your working environment supports your productivity, comfort and wellbeing. We've pulled together some super simple tips and hacks to help you work smart.
Tidy desk, tidy mind
Scientists have found that a cluttered environment may make it more difficult to focus. So organising your space is important if you want to be productive. Keeping your desk and working area neat and tidy and giving everything its place will help provide a stress-free space. This goes for your online working space too. So try and keep the number of tabs and programs you have open to a minimum so it's easier to focus on the task in hand. Physically separating your home office workspace from your general living areas (space permitting) can also make it easier to stay focused. And clearing and wiping down your desk with an antibacterial spray at the end of each day is a great way to keep things clean and fresh.
Routine
Once your workspace is sorted, ensure you establish a daily routine because a structured schedule will boost your productivity. A routine will also allow you to separate your work and personal time. And if you haven't already, you should set boundaries with people you live with so you're not disturbed throughout your working day. Don't be afraid to do that with colleagues and clients as well, so you're not 'always on' and you've got time to focus your attention on projects. Stick to your routine and each day, segment what you'll do and when by planning it out in your calendar.
Get outside
Ok, so we know the British weather isn't ideal, but it's important to get outside your four walls and take regular breaks for your health and wellbeing. It's widely believed that taking regular breaks every hour – even if it's just for five minutes – can help you work more effectively and reduce stress levels. So get away from your desk and take a moment to enjoy some fresh air. Plus if the sun is shining, you can top up your vitamin D levels which are vital to give your immune system a well-needed boost this winter.
Hydrate
Hydration is another key element to maintaining a healthy immune system. And with cold and flu season approaching and the added worry of COVID, it's vital to remember to properly hydrate. Fill up a water bottle to keep on your desk and set reminders to drink throughout the day. Tea and coffee will also hydrate you effectively so enjoy your favourite brews at your desk or during your regular breaks. If you're missing your office favourites, we've put together these working from home packs filled with teas, coffees and treats – shop now.
There are lots of other helpful home office hacks online that help to boost productivity and increase your wellbeing during these difficult few months. You might want to add a touch of colour to your workspace, buy some office plants or inspirational artwork for your wall, invest in good lighting or treat yourself to some new tech. Whatever it is you want to do to your workspace, we hope that it makes you happy and helps you to work smarter. If you have any questions for our team on coffee and refreshment requirements or any of our FreshOffice products, please get in touch with us.