Category • Blog articles
Return to the Workplace – Webinar Series from FreshOffice
Jess | May 14, 2020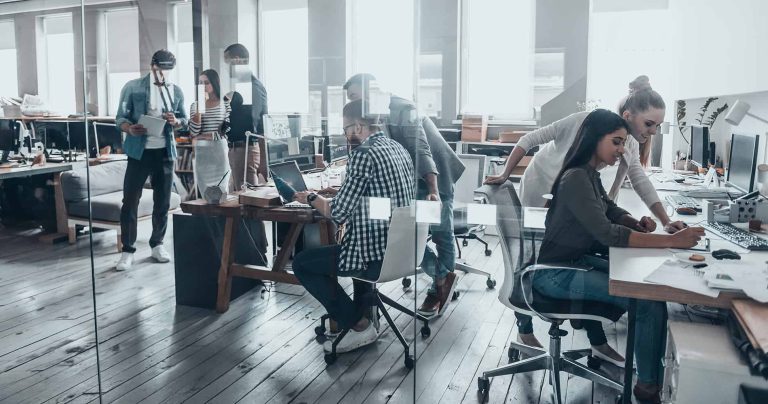 In the first of our new series of FreshOffice webinars, last week saw our FreshGround team, including Scott Barnes, Malcolm Smith and Craig Aldous joined by special guest Matthew Cooper from Woodhouse Workspace, to talk about ways we can return to the workspace safely. Driven by government advice alongside feedback and insight from colleagues and clients, the team presented a series of best practice recommendations and discussed how we can try to navigate the challenges ahead in returning to the workplace. If you missed it, you can catch it here on YouTubeor read the key takeaways from the session in this week's blog post. Also, you can sign up to our upcoming sessions online here.
The session was split roughly into three parts including timings, personalities/HR issues and how decisions making styles can all impact the process of returning to the workplace safely.
Timings
Based on advice and industry predictions, we expect that returning to office life will take place in three phases. The first phase will see the majority of people staying working from home where it's feasible. Social distancing in the office will be essential and strictly adhered to. Some businesses have also been considering a rotation scheme to keep the number of team members in offices low. This could present itself by half of each team taking one week in the office and the next week working from home, so social distancing can be better managed. There will be special accommodations made to high-risk workers and all non-essential travel will be strictly limited.
The second phase might see some of this relax slightly with moderate social distancing measures and more people being able to return to the workplace if desired or required, but high-risk workers' needs will still be managed and travel still limited to reduce cases of potential transmission.
The third phase may see businesses resume non-essential travel but until we are in a position where regions are no longer seeing new cases of COVID, we can expect to live with increased daily hygiene procedures, high-risk workers continuing to shield and we'll be maintaining a certain level of social distancing for the foreseeable future.
With regards to actual timings, we're of course being led by the government but Matthew Cooper from Woodhouse Workspace has said that from his conversations with clients and peers, larger companies are erring on the side of caution and planning returning to the office no sooner than October. Adversely, smaller businesses which are undoubtedly under a lot of pressure to keep business moving, are predicting returning to work sooner once they can be certain of staff safety. Plus many businesses are reporting that working from home is actually working well for them so they're in no rush to change things back.
Personalities and how to adapt
There's no question that people are operating through seismic changes to the way they are working. Depending on personalities, some people will thrive and happily adapt to change, but others may find things more challenging and struggle to adapt. There are feelings of isolation working from home in some cases and often feelings of frustration and difficulties in compartmentalising work and family life when you have kids popping up in your Zoom calls! For these reasons, it's important to be transparent – and that means transparency from both sides of management and teams.
Thankfully technology is able to bridge the gap between the physical and the digital, but nothing really replaces those 'real world' interactions. It can also be tough when you've spent years investing in developing a strong company culture only to have it decimated by teams being parted. For the time being, regular Zoom calls and open communication will be the key to keeping people as happy and productive during these difficult weeks and months. And in time, when people are back at work, even when things have changed, we hope that team cultures can continue to thrive.
Communication and decision making
People are looking for leadership and assurance that when they return to work, they'll be safe. It's important to communicate clearly what's happening when and give people the chance to feedback and be heard. In some ways, it is a time for testing and learning so we also have to give teams autonomy to make things happen for themselves.
Undoubtedly the landscape will be forever changed as people realise that working from home can work just as well for some businesses. One law firm has reported an increase of 20% in productivity so is keen to continue with this altered WFH approach. More flexibility will be needed as rigid rules are just not appropriate with uncertainty all around us. Many would prefer a balance of perhaps three days in the office and two days at home. People should also be encouraged to work in short, fast increments and iterate regularly, and leaders should empower teams by creating a robust handbook that sets out expectations for teams to work. This can prove helpful and support people being happier and more productive.
Check out the Woodhouse Workspace 12-point plan here: https://woodhouseworkspace.com/safer-workspace-return/
Safety at work
And finally, what actual steps can you take to make your workspace safe? FreshOffice and Woodhouse Workspace have developed a number of hygienic solutions in direct response to the COVID crisis that range from simple, affordable, quick fixes to hi-tech, hospital-grade solutions. We can offer free-standing hand washing stations, misting solutions that kill 99.9999% of bacteria to deep cleans, sanitisation and PPE for your team. To find out more, give us a call at FreshOffice on 020 7553 7900, or email hello@fresh-office.co.uk.