Category • Blog articles
How do I use my office coffee machine?
Alex | September 1, 2022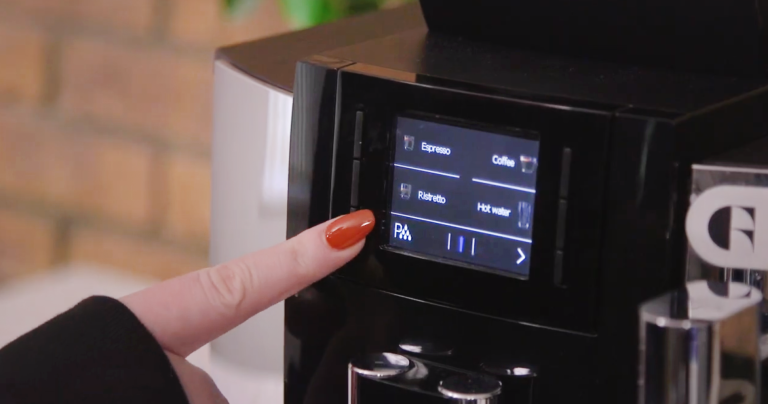 If you're new to bean-to-cup coffee machines, we've got you covered in this simple and handy 'how-to' guide. You may be looking for a new coffee machine and as part of your role, it's your responsibility to decide which is best. Or perhaps you've been asked to keep the coffee machine clean and maintained. Or maybe even, you've just not used a bean-to-cup machine and you're not sure how to pour the coffee you want. Whatever information you need, we're here to help.
Bean-to-cup coffee machines are probably the easiest machines to use and maintain on the market. We'll take you through the basics so you can start off your office coffee journey with confidence and clarity.
What's a bean-to-cup coffee machine?
With lots of coffee machines out there, the choice can be overwhelming. You've got your coffee pod machines, pour-over, espresso machines, vending machines, and then there are bean-to-cup machines. It can all seem a little overwhelming. Most offices, however, tend to opt for bean-to-cup machines due to their convenience, choice, cost and ability to pour a premium quality coffee at the touch of a button.
Bean-to-cup machines combine an espresso maker, a coffee grinder and a milk frother into a single unit. We like to think of a bean-to-cup machine as a coffee machine and barista all in one. As their name suggests, bean-to-cup simply describes the coffee-making process from how the coffee is ground, pressed and brewed fresh. They're really easy to operate and give you lots of drinks choices from espressos, americanos, cappuccinos, lattes, and more. By opting for a premium quality bean-to-cup machine you can expect great tasting coffee, as well as reliability, consistency, and a barista-style coffee experience at work.
How to choose your bean-to-cup machine
Once you've settled on a bean-to-cup machine, which one is best for your office? There are lots of models and ranges to choose from. Big names to look out for include Jura, Egro, Seimens, Melitta, Franke and WMF. You'll want to consider how many people will use it, how often, where it will be installed in your office, cost, choice of drinks and so on. Everyone at FreshGround is Speciality Coffee Association trained, so our team can assist you in choosing both your machine and your coffee.
How to keep my machine clean and maintained
Bean-to-cup machines are a great choice for offices because they're so easy to use and maintain. Once installed and connected to a mains water supply, all you need to do is keep it topped up with coffee beans and milk.
Along with choosing your coffee beans, you can also choose the type of milk for your machine. Select from either fresh or granulated milk. A lot of coffee machines now come with dual milk options to cater for those that are dairy free. There's an increasing demand for alternative milk so offices are offering their team a choice.
Oat milk is the most popular plant-based milk and you can get it for your machine either fresh in liquid form or powder form. Powdered or granulated milk is probably easier to look after than using fresh milk as it has a longer shelf life and doesn't need to be cleaned quite as often as fresh milk.
However, if you're looking after the cleaning process, it's mostly automated so simply hit a few buttons and you're good to go. We recommend you clean your machine at the end of each day so it's ready for the morning.
When you're selecting the machine that's right for you and your team, you can choose to buy your machine outright, rent or get it on free loan. The most popular option is to rent the machine, and contracts start from as little as three months. Every FreshGround machine comes with a service plan, so if anything does ever go wrong with your machine, an engineer will come out to fix it as part of your cover. Proactive care and maintenance is included when you opt for our Total Care plan. Find out more.
How to use your bean-to-cup machine
Well, this part is the easiest of all. If you're working in an office that has a coffee machine, they're all slightly different. Some may offer just a couple of different drinks whilst others will pour a wide selection. Modern machines come with an intuitive user interface making it simple to select what drink you'd like.
In most cases, you'll just select your coffee drink of choice, pop your cup under the spout and press a button. In a matter of seconds, you'll have the perfect coffee to enjoy during your break, in your meeting, or when catching up with colleagues.
Get in touch with our team
If you're thinking about getting an office coffee machine and you're not sure what's right for you, contact our team. We'll be happy to help you make the right decision based on the individual needs of your office. We also offer free coffee tasting sessions in our London showroom, so feel free to drop by or give us a call to book on 020 7553 7900.