Category • Blog articles
Our Team – How is it Back in the Office?
Alex | July 5, 2021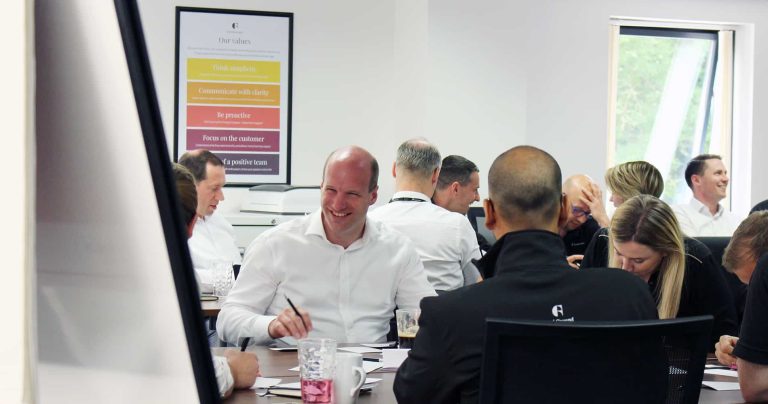 Many UK businesses are starting to get back to normal, with employees are spending more time back in the office.A recent survey from the BBC revealed that 43 out of 50 firms interviewed will embrace a mix of home and office working for the foreseeable future. Here at FreshGround, we've been gradually welcoming our team back, with some people working remotely for part of the week, and others enjoying being in the office full-time.
Naturally, after spending such long periods of time working from home, it's likely that some people will have many different emotions about returning. We took a moment to check in with the FreshGround team to find out how they're feeling.
Overall, we found our team are happy to be in the office more often again. They're enjoying better collaboration, increased job satisfaction, the welcome return of office banter and of course, great coffee. We've made significant investments to ensure our workplaces are safe and comfortable using our own range of health and wellbeing solutions from FreshOffice.
Our survey findings will help us to understand our team better and find further ways we can continue to support our people. Here's what we learnt.
Laura, Client Experience
"Gradually I've gone from wfh all the time to one day a week in the office, to three now. It's a good balance for me although it was tiring to start with. Having to get up a little earlier to commute and just being social again took it out of me! Despite the adjustment period, it's just really nice to see everyone again. It's good to be back."
Kimberley, Client Care
"Being back has been no problem for me at all. The management team have made everywhere feel very safe. Our desks are all spaced out, there are signs to remind us about social distancing, and we have hand sanitiser stations around the building, plus we also have access to any cleaning products ourselves to keep our desk areas safe and sanitised."
Dale, Client Experience
"Apart from the COVID safe restrictions with hands, face, space and so on in the office, it feels almost back to normal. I've gone from two days to full time and I'm really enjoying it. It's fantastic to see colleagues, but also our valued customers. That's been a highlight for me to reconnect with them and also to be able to meet new clients rather than just talk on the phone."
Zoe, Marketing
"I went from working in the office one day a week to now being in most working days. I feel much more positive having spent my days with colleagues and friends and having fewer Zoom calls. The lack of office banter and not being able to enjoy my favourite coffee (Guatemala Antigua) was a downside of working from home. It definitely makes it easier to work with other departments and I feel like I'm achieving more."
Nathan, Senior Researcher
"I actually joined during lockdown, so I was in the office full-time during the training period. Since then I've settled into a pattern of working both in the office and from home – which has been good as the commute has been a bit of a challenge recently with roadworks. But I do really appreciate the banter in the office with colleagues, and the energy of being around everyone."
Claire, Finance
"Personally I'm happy with my working pattern now, splitting my week between the office and home. I really enjoy the interaction with my colleagues and being able to catch up in person. However, I do find it easier to focus on larger and more complex tasks from home where I don't have any distractions. And what's really surprised me is that, since I've been back in the office, I'm drinking coffee – whereas I never did before!"
Jess, Marketing
"Initially, I was shielding so I've slowly come back to three days in, across two different offices. Doing just a few days a week in the office makes the whole week feel more efficient and productive. I'm actually really enjoying the commute at the moment, plus I'm eating healthier and snacking less than when I was at home! I'm happy with the balance now, especially across two offices. Every day feels fresh and different instead of just all blurring together."
Claire, Client Experience
"It's a welcome change to be back in the office part of the week. It's nice to actually see people and have proper interactions with colleagues. I do find there are fewer distractions working from home, but it's nice to be able to chat to people."
Richard, Marketing
"After working from home for so long, I'm now back in five days a week. To start with, I'd just pop in as and when I was needed. Now restrictions are easing, I'm happy to be here full time. For me, it's 110% better for collaboration and creativity. For some tasks, it was probably easier to focus working alone at home but the benefits far outweigh the disadvantages."
Scott, Director and Head of Sales
"I didn't enjoy working from home at all when lockdown hit. I found it isolating and not great for my mental health so I've been in the office as much as possible. I really missed that energy and spontaneous interaction with the team. Also, training others and the sharing of knowledge were much more challenging through a screen. It's been fantastic having colleagues in the office with me more, having the banter and camaraderie come back."
Find what works for your business
Whatever your team might be feeling, it only takes a moment to check in. It's been a challenging time with COVID impacting so many lives and businesses. It's important to find the balance between what's best for your business and what's right for your team. The result? A happier and more productive workforce.
If you're expecting more people in the office, make sure you're stocked up on coffee and consumables, and please get in touch with all your office coffee machine queries.