Category • How-to guides and videos
How to Safely Use Your Shared Office Kitchen
Jess | April 7, 2021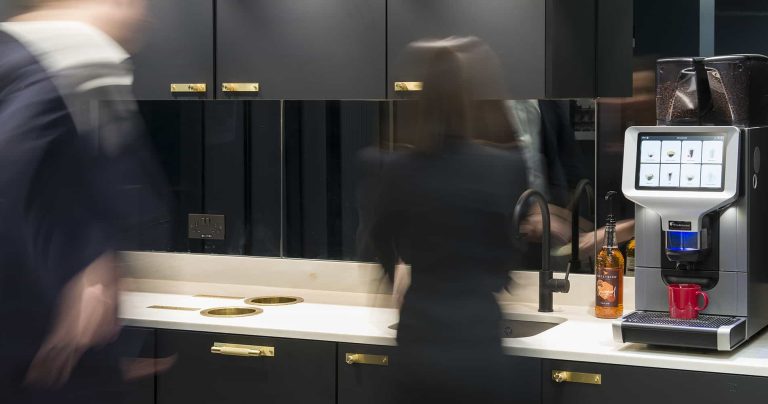 As the UK navigates its way out of lockdown following the government's roadmap, offices can expect to start reopening. After months of WFH, returning to the office is likely to cause anxiety. Some of this will be around the use of communal and shared work areas. Simple tasks such as getting a hot drink or having lunch now present more challenges. We've pulled together the best advice on what you need to keep your kitchen and breakout areas COVID safe.
The office kitchen
As long as you keep things clean, there's no reason to keep kitchens closed. They present no greater threat than other high touch and high traffic areas. However, cleaning and sanitisation are naturally going to be your main priorities.
The kitchen can be a hotbed for germs. You'll be surprised to know that your office kettle harbours more germs than your loo seat. The average bacterial reading of a kettle handle is 2,483, compared to 220 for a loo seat. Consider ditching the kettle and opting for a safer, contactless office coffee machine. The same survey found other alarming readings of bacteria. 1,746 on the rim of a used mug and 1,592 on a fridge door handle.
What to do…
Continue to socially distance, wear masks where required and encourage excellent hand hygiene. The latter can be achieved by providing touch-free hand sanitiser stations and hand sanitisers around the office. You can also issue personal workspace wellbeing packs and antimicrobial door opening tools. These handy tools negate the need to touch door handles or coffee or water machine buttons or levers.
Along with frequent hand washing, there are lots of fantastic cleaning products that are proven to kill COVID. Upping your cleaning routine is important, so expect to wipe areas down frequently and thoroughly. ULV office misting is also a great solution to sanitise hard to reach areas.
Office refreshments
A poll of 1,000 workers revealed that 80% of people wouldn't think to wash their hands before making drinks for colleagues. In another survey, it was revealed that a staggering 60% of people don't wash their hands after going to the bathroom. Both of these studies were carried out pre-COVID and since then hand hygiene has improved. However, employees could consider putting up informative posters in the kitchen and bathroom to remind people.
There are options to make your office drinks safer and more convenient as well. Adding an antimicrobial self-adhesive touchscreen onto your machines gives an added layer of protection or use the Jura JOE app coffee machine app.
For water machines, install a footswitch so you don't need to touch it. And the team at Borg & Overstrom have developed a game-changing Bluetooth app to pour water straight from the tap using your phone.
However you choose to mitigate risks, it's proven that quality coffee and water are perks that teams appreciate. They contribute to overall health, hydration and happiness at work so contact us for more info. We'd be delighted to support you in creating a safe and pleasant working environment for your safe return to the office.
Updated from a piece originally published on 01 September 2020.