Category • Blog articles
Office Coffee Culture and the Workplace
FreshGround | January 31, 2020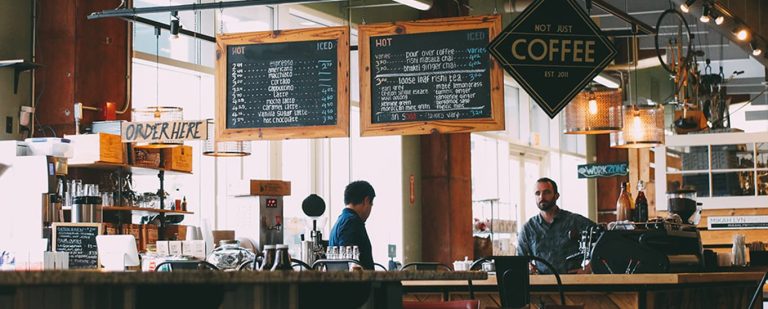 The rise of the UK's high street coffee culture has caused a shift in the workplace and how we Brits consume coffee. We're changing from a nation of tea drinkers to a nation of coffee connoisseurs as it's reported that we drink over 95 million cups of coffee a day.
More and more people are regularly frequenting coffee shops, with 80% of people visiting at least once a week, and 16% visiting on a daily basis. This relatively new trend in consumer behaviour is having a knock-on effect in the workplace, and staff are increasingly demanding barista-style coffee experiences at work.
So how did it all start?
Over the last 20 years, coffee chains like Costa, Starbucks, Cafe Nero have opened up on almost every high street in the country, giving us the opportunity to enjoy hundreds of new styles, blends and beans. Out of the many chains, Costa Coffee, Starbucks and Caffè Nero are now the three largest in the UK, with 2,655 outlets, 992 and 683 stores respectively. When you also put these alongside the thousands of independent coffee shops and cafes, our coffee culture has become one of the most vibrant in the world.
If we rewind to the late 90's, the cappuccino was at the height of sophistication as the UK embraced better coffee, but fast forward to 2020, and you'll find a professional coffee machine in almost every greasy spoon cafe! Put simply, a good coffee and a wide choice of drinks is no longer a luxury – it's an expectation. This has become the same in the workplace so if you're offering to make the office a cup of freeze-dried instant, you can almost certainly expect to be turned down!
It's all about that taste
Many of us have become more discerning coffee lovers and people will now take into consideration factors like terroir, growing altitude and bean variety when choosing their perfect cup of coffee. However, taste is and always will be number one, so here at Freshground, we've developed a simple strength guide with tasting notes for our coffees that easily helps people choose the bean or ground coffee that's best for you. From our refreshing, gentle blends to our more robust smoky and intense coffees, our customers can pick from a selection graded for their strength and complexity. You can check it out here.
Why great coffee is important for your business
That's easy! Great coffee can do wonders for your business – just head to our case studies if you don't believe us!

Having been in the bean business for over 40 years, we know that providing a premium coffee experience in the workplace, can help you attract and retain talent, impress your clients and prospects, save on downtime, make your team happier by showing them you value them. It's a simple perk, but it's an important one.
We also understand that people want the same quality of coffee in the workplace as they're getting on the high street, and that's exactly what our range of office coffee machines offer. Just get in touch with our team where we'll provide all the advice you need to find the right office coffee machine for you. Plus, we offer a free consultation visit to your workplace to fully understand your requirements, and we offer short term contracts to see how you get on.
You know what to do! Call us on 020 7553 7900 or send us an enquiry.