Category • Blog articles
Office Coffee: How to Choose Your Perfect Experience
Jess | September 7, 2020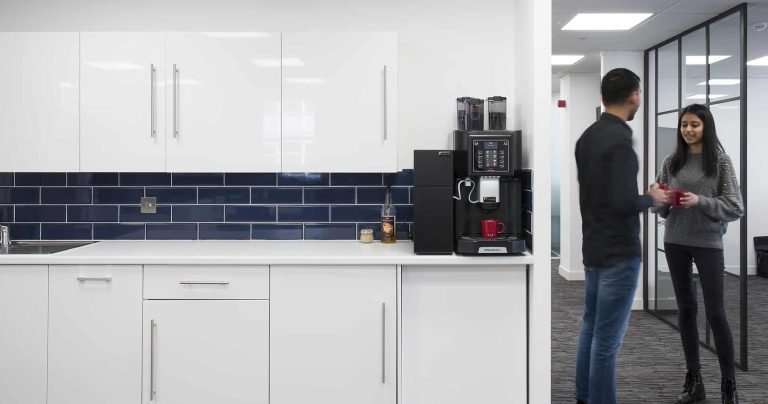 We took a short coffee break with our resident Specialty Coffee Association trainer, Scott Barnes, about choosing your office coffee experience.
If you're back in the office again after working from home, you'll no doubt be thinking of ways to get office life back to normal. Your team's health and wellbeing will, of course, be a priority. But simple office perks like providing your team with a premium coffee experience will also help to support your team's happiness. In a recent survey, we found that 36% of people were missing their office coffee. 46% were missing informal chats to work friends and colleagues – something the office coffee machine has always been a central part of.
What should people consider when choosing office coffee solutions?
Scott: Firstly there's no 'one size fits all' approach when it comes to coffee. And what works for one customer often won't work for another. That's why our FreshGround team, who are SCA-trained, are on hand to guide customers. We help them to make the best decisions that are right for them. But overall, there are three main factors to consider when choosing an office coffee partner. These are the application (or brief), the blend and the service level.
Ok, so let's start with the application – how do we define that?
Scott: Like anything in business, starting out with a good brief is key in getting optimum results. We want everyone to be happy and satisfied with their choice of office coffee experience. We tend to run through several questions to understand exactly what they need.
Firstly it's important to know why the customer wants coffee and how they want to serve it. Are they looking for filter coffee for hospitality or bean-to-cup for their staff? Then there are practical elements, such as understanding the peak times their staff will use the machines. Also, consider how many employees they've got and how many floors they're split across. Perhaps the customer would prefer two smaller machines at either end of the office rather than one large one. Or they may be looking to foster conversation around a central office coffee machine.
Either way, it's important that the customer doesn't simply spend more, but actually gets the right setup. The brief is the most important part of ensuring this happens. And having been in the office coffee business for nearly 40 years, we've got a lot of experience to draw on.
And what about the blend?
Scott: Coffee is such a personal thing, so it can be a challenge to opt for just one blend for an office. Provenance and varietal are often factors. But at the end of the day when choosing an office coffee it really comes down to taste. What's going to be the coffee the majority are happy with? Think application – filter coffee or bean-to-cup; and, being a business expense, budget. We also encourage people to think about what they want their office coffee to say about their company. We know that rewarding teams with high-quality coffee not only show them you care but it can also help to create an impression on visitors.
Some customers like to buy beans to grind themselves for superbly fresh filter coffee. Other customers will choose two different blends for the office. Often it's useful to look at the profile and expectations of your staff or clients, as coffee preferences can differ across international lines. Some of our customers will consider running a quick employee survey to establish exactly what people would like. This can sometimes be a great way to manage expectations and to make the vast majority happy!
We've made things easy with our range of coffees and organised them into colour-coded blend families. Lighter on the scale will give you a more fruity and complex coffee experience, which will produce a great cup of filter. Whereas the blends at the bolder end of the scale will give a better machine espresso as they have more body.
Finally, you mentioned service and support?
Scott: Service and support are the most critical aspect when making a decision on your office coffee experience. We've had a number of new customers come to us having had a less than ideal experience elsewhere. In some cases, the equipment and coffee are of good quality, but the machine hasn't been set up properly and they're getting complaints.
So choosing a supplier who understands coffee is absolutely essential, as they'll have the knowledge to provide the right setup in the first instance. They'll also be able to deliver ongoing support if something does go wrong. You need someone you can phone up, who asks the right questions when you tell them that your coffee tastes bad. Often it's something very simple, but will only be picked up by someone who really understands how coffee works.
Additionally, you need someone who'll support you in looking after the coffee machine yourself. For example how to clean it, or change scale management filters. Our team offers end-to-end service so we'll get our customers up and running. We'll also provide service and support throughout their contract. FreshGround customers have our SCA-trained customer experience team on-hand to answer queries. Of course, if we need a technician out to take a look, we'll get on that straight away so offices aren't without fresh coffee for long.
I'd also add that people should choose an office coffee provider that's flexible and responsive as well. What I'm saying is that customers need to consider the whole package to determine the best choice of coffee experience for them. People can head over to our TrustPilot page where we hold an Excellent rating to hear what our actual customers are saying about us.
Contact us
Are you considering your options for office coffee now that people are returning to the workplace? Simply get in touch with our expert team and we'll be delighted to help you with any of your coffee-related queries! We're happy to visit offices or invite people to our London showroom for a coffee tasting session where people can learn more about our blends and office coffee machines. Just contact us to organise your free discovery session.