Category • Blog articles
How to Support Your Team's Safe Return to the Office
Jess | August 5, 2020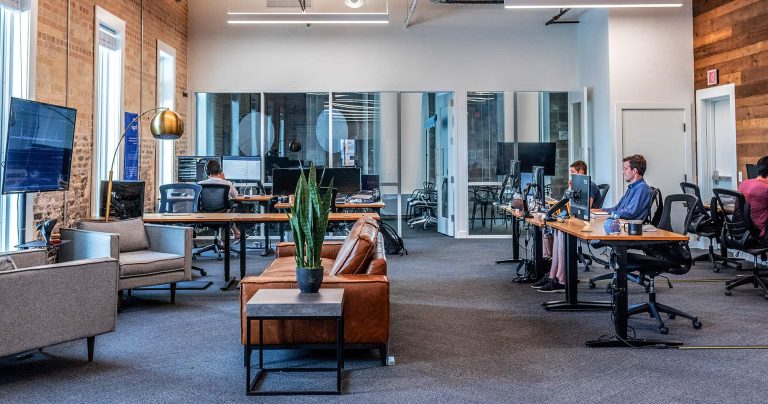 Many offices rapidly moved to home working once the COVID pandemic hit the UK in March. As restrictions have eased and businesses continue to open up again, there come a number of challenges in order to keep teams feeling safe and comfortable to return to the workplace. At FreshOffice, we've developed some simple solutions you can implement at work, but please always follow thelatest government advice and guidelines for offices to protect the health and safety of your workforce.
In order to get your team safely back to the office, you'll want to start with a risk assessment. The Government's Health & Safety website has lots of information you can follow and this important process will highlight potential risks so you can mitigate them.
These include:
Identifying what work activity or situations might cause transmission of the virus

Considering who could be most at risk

Deciding how likely it is that someone could be exposed

Acting to remove the activity or situation, or if this isn't possible, controlling the risk
FreshOffice has identified five key areas that we can support your business in keeping your team as safe as possible in the office environment.
1. Desk space
There are undoubtedly going to be a lot of changes in the office in light of COVID, and for a while at least, it will look a little different. You may find yourself having to use the same desk as someone else has previously, so it's important that everyone practices a high level of hygiene.
Along with upping the frequency and efficiency of your regular office cleaning and wiping down surfaces meticulously, you should consider adding another level of protection by replacing your standard cleaning products with a desk sanitising spray. Simply spray liberally over your desk area, paying particular attention to high touch areas, and this Surface Sanitiser will kill 99.9999% of germs and viruses, including Coronavirus, in just 30 seconds. It's safe to use on your laptop and phone and we recommend you keep a spray bottle on every desk, higher traffic and communal areas and allocate personal surface sanitisers to all your team for added peace of mind and protection against the virus. Buy onlineand take a look at our really handy personal workspace wellbeing packs.
2. Washrooms
There will likely be some anxiety about using shared washrooms when your team returns to the office. High-touch areas in the washroom such as light switches, door handles/panels, washroom counters, faucets, toilet seats and toilet handles could all prove to be vectors for the virus so should be cleaned and sanitised frequently.
We recommend keeping packs of larger clinical dual action cleaning and sanitising wipes in each toilet stall so people can independently wipe the seat, handle and so on, to ensure hygiene standards are kept as high as possible to prevent transmission. You might want to give your team the option to wear disposable gloves, or as per official guidelines, you should use signs and posters to build awareness of good handwashing technique and provide regular reminders and signage to maintain personal hygiene standards. It's also recommended that employers provide hand sanitiser in multiple locations in addition to washrooms which you can buy in either sanitiser gel or spray options.
3. Coffee machines and water coolers
Your team needs to stay healthy and hydrated at work so your tea points, coffee machines and water coolers will still be in regular use. Think how many times the buttons on your coffee machine are pressed throughout the day, and you've found another high-touch area you might not have considered before. FreshOffice has created a sanitising kitspecifically for these touchpoints, that includes the revolutionary triple action surface cleaner that kills 99.9999% of all known pathogens, a roll of hygiene paper, and a pack of 100 poly gloves to protect hands whilst using the spray.
A 2017 study revealed that 80 per cent of office workers wouldn't even think to wash their hands before making a drink – so encouraging your staff to wash their hands before touching kitchen equipment is a no-brainer. It also may be sensible to advise against the usual office drinks 'rounds' for the time being, encouraging your team members to make drinks only for themselves.
If you have one of FreshGround's Jura coffee machines, you can order your coffee through the J.O.E. app on your mobile device so you have all the convenience of touchscreen operation from wherever you are in the office minimising unnecessary touchpoints on the machine. Ask us for more information by emailing sales@fresh-office.co.uk.
Single-usepaper cups reduce the risk of over-sharing ceramic cups, mugs and glassware with colleagues as there is a chance that they might not have been properly washed up and cleaned, so opt for paper ones for your team. Another innovative idea to eliminate the risk of touch panels or buttons on water coolers is our new Foot Switch Accessorythat gives you hands-free water dispensing. It can be retrofitted to existing dispensers so contact us today to order yours for the office.
4. Commuting to the office
Along with the Government's safer travel guidance for passengers guide, as an employer, you can also support your team and help them stay safe on the commute whether that's people who are walking, cycling, driving or using public transport to get to work.
Returning to the workplace during these challenging times can be anxiety-inducing, even more so for those people who are using public transport to commute where potential risks are higher and face coverings are mandatory. By providing your team with one of FreshOffice's personal Wellbeing Packs you'll help to keep them safe and show them you care. These handy kits have all the essentials including hand sanitiser, disposable masks and single-use gloves in a convenient travel pouch that people can take with them when they leave their homes. Pick up yours today.
5. Entry and exit points
Door handles and push panels can harbour bacteria and virus from frequent touching in high traffic areas, so these need to be cleaned regularly and sprayed withSurface Sanitiser. Ideally, you want doors to open and close without touching them which can be made possible with our push-button door opening tools. A simple and affordable solution, these easy-to-use tools will enable people to go about their daily work and eliminate the need to touch door handles, keypads, lift buttons etc and lessen the chances of acquiring infection. They're compatible with many existing staff ID cards and each tool is slim and ergonomically designed with antimicrobial protection built-in. Get yours today.
We're here to help!
It's perfectly natural that some members of your team will feel some trepidation with returning to the workplace, so our suite of products has been specially created to mitigate any anxiety. By implementing these simple solutions you can ensure you meet the government's guidance, show your team you care, and support the health and wellbeing of everyone in your office. We're here to help, so please just get in touchif you'd like to make an order or you have any queries.