Category • Blog articles
How Flexible Workspace is Changing the Way We Work
FreshGround | October 30, 2019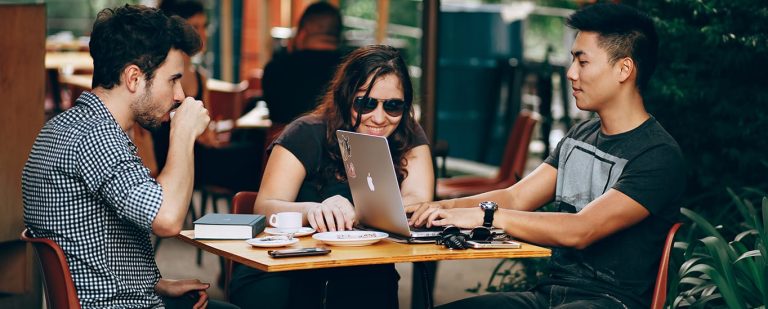 Traditional office design is thankfully long gone, as we've said goodbye to rows of uninspiring cubicles and the endless sea of greyness that became synonymous with job dissatisfaction. Today, workspaces have changed for the better, as more value is put on important factors such as employee wellbeing, job satisfaction, flexible working, and the understanding that office design and office culture are key to both attracting and retaining talent. Interestingly, a recent report from global co-working firm, Mindspace found that 21 per cent of people have rejected an employer purely because they didn't like the workspace – so it's worth taking a look around to see if you can make improvements to yours.
Why do we need shared workspaces?
In recent years, we've seen a huge movement in fully-serviced shared workspaces that are revolutionising the way we work. Put simply, shared workspaces are where individuals from multiple businesses work under the same roof. Typically paying monthly membership fees, individuals or businesses will be given round the clock access to the fully-serviced building along with and a number of perks to help people do their jobs effectively.
Freelancers, start-ups, self-employed workers, small businesses and even large corporates are recognising and enjoying the benefits that come with shared workspaces. These spaces are as much offices as they are networking hubs where people can meet partners, colleagues and clients.
The spaces tend to be thoughtfully designed with beautiful and often quirky aesthetics that seek to inspire collaboration, creativity and productivity. They also offer a unique sense of community and a shared purpose, helping people to develop a network to exchange skills, services and contacts.
Workspace perks? Don't forget the coffee!
Perks will often include high-speed wi-fi, meeting rooms, free office supplies, networking events, fitness and wellness classes and what we at FreshGround have been supplying to serviced offices and co-working spaces across London and Manchester for over 30 years – great coffee.
We've found out first hand, that coffee is very much a part of the shared workspace culture. From that first cup of coffee to get motivated in the morning, the mid-morning catch up with your fellow freelancers, grabbing lunch and a coffee with clients, to the shot of espresso you need to meet that late-night deadline – coffee is driving many of the human interactions we see every day.
So why are shared workspaces on the up?
Office space can be expensive, especially in big cities like London and Manchester, and long contracts can be costly and tie you in for months on end. Flexible workspaces help people feel more independent and in control of their career. The BBC reports that flexible working spaces are set to grow by up to 30% annually for the next five years across Europeand by the end of 2019, almost 2.2 million people are expected to be working in more than 22,000 co-working spaces worldwide.
WeWork
Co-working space provider, WeWork founded in 2010 has driven much of this growth and is today the largest private tenant in London. They have 60 locations and in the UK have extended their reach to Birmingham, Manchester, Edinburgh and Cambridge. Staggeringly, only the UK government has more office space in London right now. However, the growth of WeWork whilst being exponential, has city experts concerned it's grown too fast and there are serious concerns that if it fails, it would have repercussions across the UK property industry, particularly in London.
Despite this, there seems no let-up in people wanting to be freer at work and enjoy more flexibility, perks and independence in their careers, and that is exactly what co-working offers.
FreshGround supplies award-winning coffee to fully serviced shared workspaces and independent offices across London and Manchester. If you'd like to find out more about getting one of our office coffee machines or filtered water taps at work to keep your team happy and hydrated, please contact us today.