Category • Bean to Cup Coffee Machines
Touch-Free Tech for Your Workplace Kitchen
Alex | March 30, 2021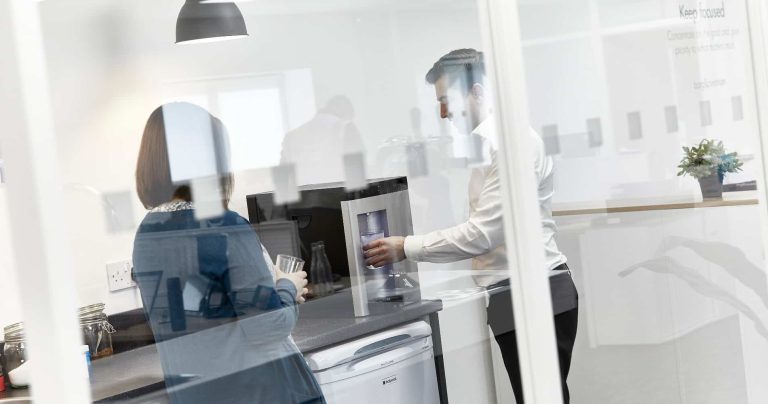 In recent years, hygiene and cleanliness at work have become increasingly important. Touch-free technology can help mitigate some health and safety risks and we explain how.
Touch-free, or, contactless technology is on the rise, as employee health and workplace hygiene are business-critical, now more than ever. During COVID times, business owners had to overhaul their office set-up and processes in order to keep their employees safe.
We take a look at some touch-free technologies that can lessen the risks of contamination in the office kitchen. We pay close attention to those high-traffic areas and pathogen hot spots.
Healthy, hygienic hands
Hand hygiene is important to prevent infections from spreading in the workplace. The most effective hand sanitisation stations are touch-free, which can help to lessen the risk of pathogen transmission. The Sterizen X4 touchless hand sanitising dispenser is slim, stylish, hygienic and can be custom-designed to complement your office environment. It's important to choose your hand sanitiser carefully as well. WHO says hand sanitiser should contain at least 60% alcohol to be effective against COVID-19. FreshOffice's range of hand sanitisers contain 80% alcohol and have added moisturisers to keep hands soft and cared for.
Buttons, switches, keypads…
Shared touchpoints in the office are numerous, so as a business owner or office manager, it's your responsibility to identify areas of higher risk where germs could linger. These touchpoints include lift buttons, coffee machine keypads, water cooler switches, taps, door handles and so on. There are some easy fixes to replace these common touchpoints with contactless options which help to protect your team. However, for optimum hygiene, these areas should still be regularly cleaned and sanitised.
It's necessary to stay hydrated at work so you'll likely have a quality coffee machine and water dispenser for your team to use throughout the day. Watercoolers can very simply be retrofitted with a foot pedal so users don't need to touch the dispenser. Our friends at Borg & Overstrom have also developed a clever Bluetooth app to pour hot and cold water straight from the dispenser via a smartphone.
With both your water dispenser and coffee machine, another easy fix is an antimicrobial keypad cover. This will kill 99.99% of bacteria and its active silver ions protect against the transmission of germs.
If you have a JURA coffee machine, you can enjoy the benefits of using the contactless J.O.E® App. This innovative technology enables your team to order their coffee of choice from wherever they are. It also provides the office manager with regular status updates so you'll never run out of coffee or milk and any issues can be quickly resolved.
And finally, we love these handy and affordable gadgets to house your office IDs. These antimicrobial door opening tools negate the need to touch handles or press buttons on lifts or levers in kitchens and bathrooms.
Contact us
We have lots of fantastic solutions to keep you and your team safe working in the office. Just give us a call or drop us an email and we'll gladly help you with your queries.