Category • Blog articles
Office Design Trends to Watch Out for in 2020
FreshGround | January 21, 2020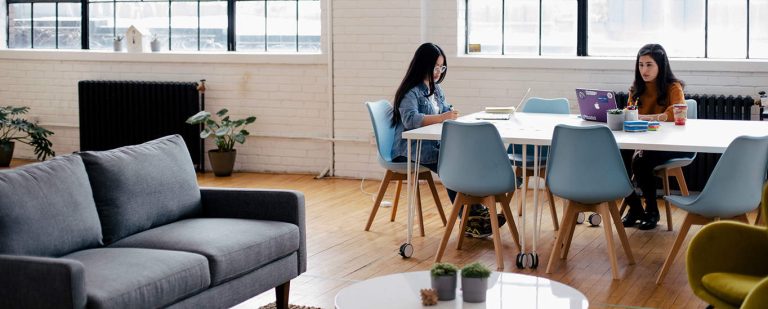 Considering the average person will spend almost a third of their life at work, it's important to work in an environment that's healthy and happy. In this blog, we take a look at how office design can help to improve health and wellbeing, increase employee productivity and attract and retain top talent.
Flexibility
Perhaps the most important trend in the UK is the rise of agile working. It's reported that 70% of UK employees feel that flexible working makes a job more attractive to them and 30% would even prefer flexible working to a pay rise. From hot-desking, working from home and the exponential growth in relaxed co-working spaces where people have more freedom to come and go, flexibility is a key consideration in office design. Businesses should provide spaces that accommodate a variety of work styles that can include collaborative open spaces, quiet areas for concentration, breakout rooms to socialise and relaxation spaces for people to recharge. All of these factors can help to increase productivity, inspire creativity and improve employee happiness and wellbeing.
Resimercial
This has been a growing trend over the last few years and blurs the lines between more traditional commercial office design with a residential, home from home feel. Gone are the long strips of artificial lighting, rows upon rows of desks and grey walls and drab carpets. Today's modern office will have decor like comfy sofas, cosy cushions and rugs, picture frames and lamps to create a more relaxed atmosphere. It's widely believed that these types of resimercial spaces invoke feelings of warmth, comfort and familiarity, and can help to reduce stress and encourage productivity.
Sustainability
Many businesses are adopting a more environmentally conscious attitude when it comes to office design. With sustainability and climate change taking centre stage, people are now opting for office furniture and materials which have strong environmental credentials. We'll see more natural wood and stone features, and minimally processed materials. Many will also feature reclaimed floorboards and bricks alongside upcycled furniture. You can expect to see more green spaces and plants and a focus on natural lighting, which are all proven to help make people happier and healthier at work. Employees and especially millennials want to work in a place that aligns with their environmental views, so it's also important to consider the sustainability of your office in order to attract and retain top talent.
Great offices deserve great coffee
And of course, we shouldn't forget the value people place on a quality cup of coffee to get them through the working day. Our team at FreshGround has been supplying office coffee machines to offices and workplaces across London and Manchester for nearly 30 years. We're experts in our field, so simply contact us to arrange a free consultation and we'll help you find the perfect coffee machine for your office today.