Category • Bean to Cup Coffee Machines
What's the best coffee experience for my office?
Alex | May 14, 2022
With so many different types of coffee and coffee machines on the market, we take a look at what's the best coffee experience for you and your team.
The type of office coffee machine you choose will determine the different types of coffee drinks you can have. You may want a machine that creates multiple different coffees like lattes, cappuccinos, flat whites, ristrettos and so on. Or you may want to keep things really simple and choose a coffee machine that just makes a classic espresso for example.
You'll also want to consider things like cost, convenience, ease of use, maintenance and customer service when you're choosing your office coffee provider. We take you through some key factors to consider so you can make sure you keep your team happy and hydrated with quality coffee at work.
Beans, machines, service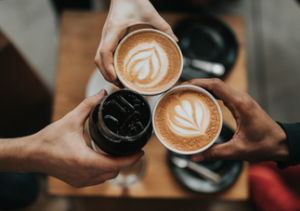 Firstly, we often talk about three key factors when choosing a new office coffee provider. Beans, machine and service. Each one of these is really important when making your decision and you should try to apply equal importance to all three. You could have the best, most expensive machine on the market, but if you're putting in poor quality beans, you're not going to get a quality coffee. The same goes for service. If your machine isn't covered with a comprehensive service plan and a reliable customer service team, your machine isn't going to be working effectively.
It's a good idea to do some research online before you choose to partner with a new supplier. Online reviews are a good idea, comparing what each supplier can offer and if possible, you could even speak with a real customer.
What should I consider when choosing coffee for the office?
Depending on the size of your office, we suggest that you take the time to ask your team what they'd prefer. In larger offices, you could share a quick online survey to understand people's expectations before making your decision. You'll likely find that your team will expect a quality coffee experience at work and certainly, a cup of instant no longer cuts it in today's modern workplaces. Studies have shown that employees have come to expect the same barista-style drinks they get in a coffee shop at work. So once you've got an understanding of what your team wants, you're in a great place to start.
What type of coffee machine does my office need?
There are lots of different types of coffee machines on the market. Some businesses will enjoy the convenience and value they get from a traditional vending machine. Others will opt for a coffee pod machine or a more traditional filter coffee machine. Others will choose a bean to cup machine which is what FreshGround is known for.
Bean to cup describes the coffee-making process from how the coffee is ground, pressed and brewed fresh. Bean to cup machines have internal grinders so they grind beans and then hot water is forced through the ground coffee at high pressure. Think of a bean to cup machine as a bit like a coffee machine and barista all in one. You can expect a quality cup of fresh coffee in seconds – all at the touch of a button.
As mentioned before, one of your main considerations is probably going to be cost. As an office or facilities manager, you're likely going to have to stick within a specified budget so this will influence the type of coffee machine and coffee beans you can afford. You'll want to strike a balance between cost and quality so you can provide a good standard of coffee for your team.
What coffee does your team want?
Once you've decided on an office coffee machine, the next is to decide on the coffee type. Again, there is so much choice out there with various coffee beans and blends. Lots of coffee companies offer free tastings for you and your team. Here at FreshGround, we offer Coffee Experience sessions at our showroom in London where everyone is welcome. You can register your interest in joining us. Lots of office coffee companies offer a tasting guide to their range of coffees which can you help select which coffees may be most popular in your office. We have a strength guide for example that our customers find helpful.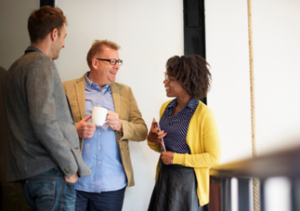 You'll also want to consider what type of milk your team wants at work. More and more people are becoming dairy-free or vegan, so there is increasing demand for plant-based milk. According to research from The Grocer, 62% of people have bought plant-based milk before. Of those, 70% are buying plant-based milk at least once or twice a month, and a massive 32% of households buy dairy-free milk regularly now – oat milk being the most popular.
Another thing to consider is sustainability. Opting for Rainforest Alliance Certified premium coffee for example means that while you're enjoying your coffee, you'll also be helping to support coffee growers and their communities. And finally, you'll want to think about how sustainable the energy use of your machine is. Are you and your team making use of functions such as switching off overnight, low-power energy-saving periods, etc?
What's next?
With so much to consider, we're here to help. There is no one size fits all approach when it comes to choosing your office coffee so if you need any advice, simply get in touch with our team.