Category • Blog articles
Why The Office Needs Physical Distancing, Not Social Distancing
Jess | June 26, 2020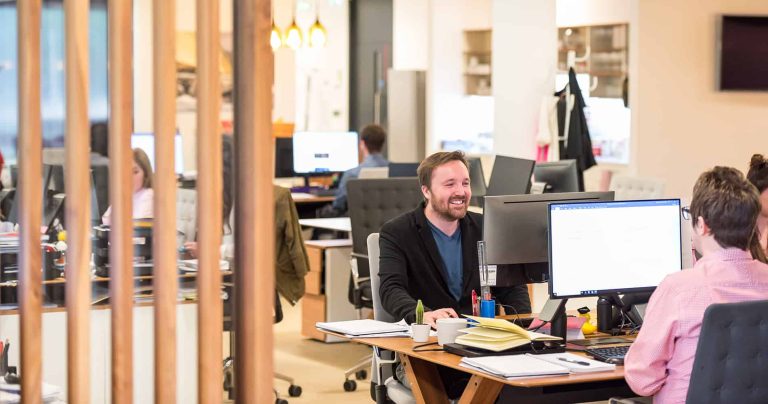 When the UK went into lockdown on March 23rd, many offices were forced to close, staff were furloughed and, those that were able to, began to work from home. Now coming up to July, many of the restrictions are being lifted and office life is adjusting as people are safely returning to the workplace.
While some people thrived working from home and their productivity increased, others struggled with being away from the office and it was reported that almost one quarter of UK adults have felt loneliness because of coronavirus.
Social distancing which, here in the UK, refers to maintaining a physical space of two metres (soon to be one metre) from the nearest person, has proven globally to be an effective way to slow the spread of COVID-19. Interestingly, the WHO switched the term from social distancing to physical distancing as they identified the importance of remaining socially and emotionally close to colleagues, friends and family. We take a look at how important it is to remain connected throughout the easing of lockdown and the safe return to the office.
The importance of staying connected
The average working day changed for many overnight as people juggled childcare, homeschooling and trying to strike the right balance between work life and home life as those lines got ever more blurred. The use of digital communication platforms soared and enabled people to stay connected virtually.
During lockdown when millions were forced to work, learn and socialise remotely, video conference provider, Zoom counted more than 300 million daily participants in virtual meetings, and their paying customers more than tripled. While Zoom, Skype, FaceTime etc are preferable to more detached platforms such as instant messaging, texts and email, they don't give users the same experience as a full-bodied face to face engagement can.
Face to face vs digital
There are a number of social cues that can't be replicated through a screen which is why you've likely found that some Zoom meetings are stilted, suffer technical difficulties and, quite frankly, are harder work than your regular face to face meetings.
Some challenges with visual digital communication come from the lack of direct eye contact which is a hard-wired social cue that shows listeners are paying attention to those that are speaking. Facial expressions and tone of voice are also vital cues for our minds to process how to effectively communicate and these too can be lost via digital platforms. And finally, body language is much harder to read as gestures are either not visible or just not as clearly communicated via a screen. These all bring challenges to 'read the room' and can make communication less effective and less engaging in a time when even more than ever, teams need clear and confident leadership.
Agile and flexible approaches
With all of this in mind, the post-pandemic workplace is likely to continue to feature a blend of both physical and digital communication formats. While there's no doubt that digital comms play a huge part in the modern workplace, removing all 'real' face to face human interactions can prove detrimental to mental health and wellbeing.
As long as the office offers your team a safe space to work by everyone following the latest government guidance and the two-metre distance rule (one metre from 4th July), there's no reason why people should stay away from the office. Your business can provide peace of mind by taking extra steps to ensure the workspace is kept clean, sanitised and that your team is given everything they need in order to help them stay safe. This can include simple solutions such as handwashing stations,virus-killing workplace mistingand surface sanitiser sprays to make workstations and desks safer, and wellbeing packsthat every team member can keep with them at work and on their commute.
Essentially, people will always need human contact to get things done and so striking a balance between working from home and working in the office gives you and your team flexibility and agility to create a stronger office culture.
Contact us today!
If you'd like any advice on returning to the office safely, The Government's Health & Safety website has a lot of important information, and please feel free to join us on one of our upcoming 'Returning to Work' webinars where we discuss challenges that have arisen from the recent COVID pandemic. For any of our FreshOffice solutions, simply contact us today and, of course, for all your regular office coffee and water requirements and we'd be delighted to help you.