Category • Blog articles
You're in the driving seat. Choosing the perfect coffee machine service plan
Alex | November 7, 2021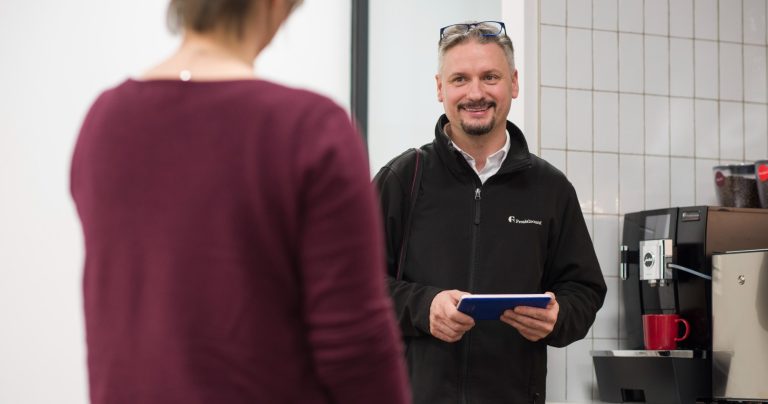 Exploring our range of premium office coffee machines and discovering new and exciting coffee beans is all part of the process of getting on board as a FreshGround customer. So once you've decided on the perfect machine for you, you'll want to be confident that the coffee will keep flowing, all day, every day. This is where your service plan comes into play.
Fuelled by coffee
We like to think of our service plans as a bit like buying a car. There are 3 levels of cover available which you choose before you can drive your car away. They all give you some protection if things ever go wrong, but which one is the right for you?
Option 1 – Warranty
Your first and most basic option is a simple warranty. This is something that will keep your car covered for manufacturing faults for an agreed period of time. The problem with this option is that once it runs out, you're pretty much on your own. We pride ourselves on taking care of our customers, so we actually we don't offer this option on our machines. A basic warranty on its own is simply not enough to give you peace of mind.
Option 2 – Essentials
The second level offers customers extended cover and it's the equivalent of our Essentials package. This cover means that it doesn't matter how long you've had the car, or in our case, coffee machine, it'll get fixed if something breaks down. As long as it's the fault of the machine, we'll fix it. (Excluding accidental damage and lack of care.)
Option 3 – Total Care
Consider this cover like your annual car service where your car is being proactively taken care of. This is similar to our Total Care package for your coffee machine. You're covered for everything including options 1 and 2 PLUS we'll also take regular steps to maintain your machine meaning that there'll be less downtime. On top of this, we'll also train and support your team on how to properly maintain your machine to save you time and trouble, and any potentially chargeable callouts. The result? A happy and hydrated team enjoying quality coffee experiences in the workplace.
Choose what's best for you
In almost all cases, we recommend that our customers opt for Total Care. Total Care is our fully inclusive service plan that gives you complete peace of mind. This package helps to minimise the risk of machine downtime and gives you an extra level of insurance that things will continue to run smoothly. While all FreshGround machines include our Essentials Care package as standard, Total Care gives you an additional level of proactive care.
Find more information on our fully inclusive Total Care service plan, or just get in touch with a member of our team. We'll happily talk you through the available options and help get you covered from day one.