Category • Blog articles
How the Right Office Lighting Can Boost Productivity and Wellness
FreshGround | October 23, 2017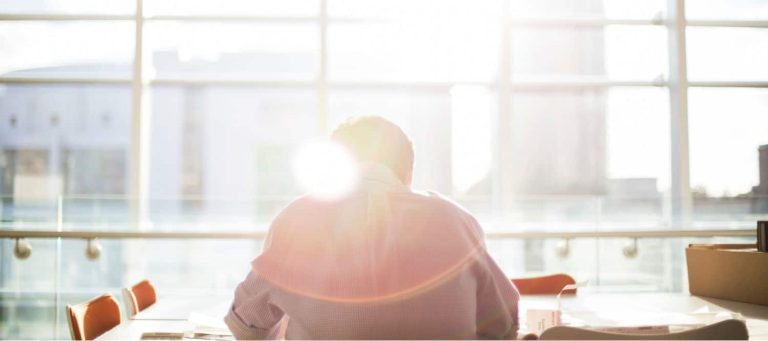 If you've worked in a number of offices over the years, you'll know that lighting can make a huge difference to both the aesthetics and the atmosphere of a workspace. Almost everyone is familiar with the gentle buzz of fluorescent lights overhead and most people are all too used to brightly lit office spaces, white light, and impersonal illumination.
However, with more and more evidence now pointing to lighting as an important factor in employee productivity, it's possible that adapting a lighting plan to suit workers could help your company to increase its output. As well as boosting productivity, making just a few small changes to the lighting in your workplace could help to improve the wellbeing of your employees. Keep reading to find out more.
Light for people, not for work
One of the major mistakes a lot of offices make is that they light the space for work rather than for people. Using bright strip lighting may be economical and easy, but it doesn't make workers feel all that good, especially when they're sitting in front of their computers for eight hours a day.
Thinking of lighting as an interior design element, rather than just a necessity, can help companies to make offices more pleasant places to be. This can help employees to focus and prevent the hum of fluorescent bulbs from driving workers mad.
Showing your employees they're valued
As well as making the office more welcoming and more stylish, a well thought out lighting design can help to boost productivity. Research from Germany's Fraunhofer Institute for Industrial Engineering has shown that offices with a high standard of interior design are up to 36% more productive than those without an attractive interior. As lighting is integral to interior design, it's one of the most important elements to get right if you want to make your office more productive.
Making the most of natural light
Wherever possible, companies should try to make the most of the natural light available in the office. These days a lot of people spend virtually all of their working lives inside. Bringing natural light into the workplace, even on a dull, grey day, will help to connect workers with the outside world and could boost their well being.
Research from the World Green Building Council and the International Well Being Institute found that workers who sat close to windows had 46 minutes more of sleep that those who didn't have access to natural light. Employees whose workspaces had good daylight were also up to 40% more productive than those who relied on strip lighting.
During the winter months, and in offices with limited natural light, using bulbs to imitate sunshine can help to create a more productive atmosphere in the office and improve levels of productivity.
To find out more about improving the quality of your office space, explore our site today.