Can FreshGround service your equipment?
Anthony | June 24, 2022
We are often asked if we can service coffee machines, drinking water taps, and other similar tea point appliances, even if we didn't install them. The answer is probably yes, but before we can put a service plan in place, we need to confirm that our engineers are capable of servicing the machines you have.
To help you determine this, we've put together the below flow chart. We've designed it to show you if we can add your appliances to a service plan, as well as give you full visibility of our decision process.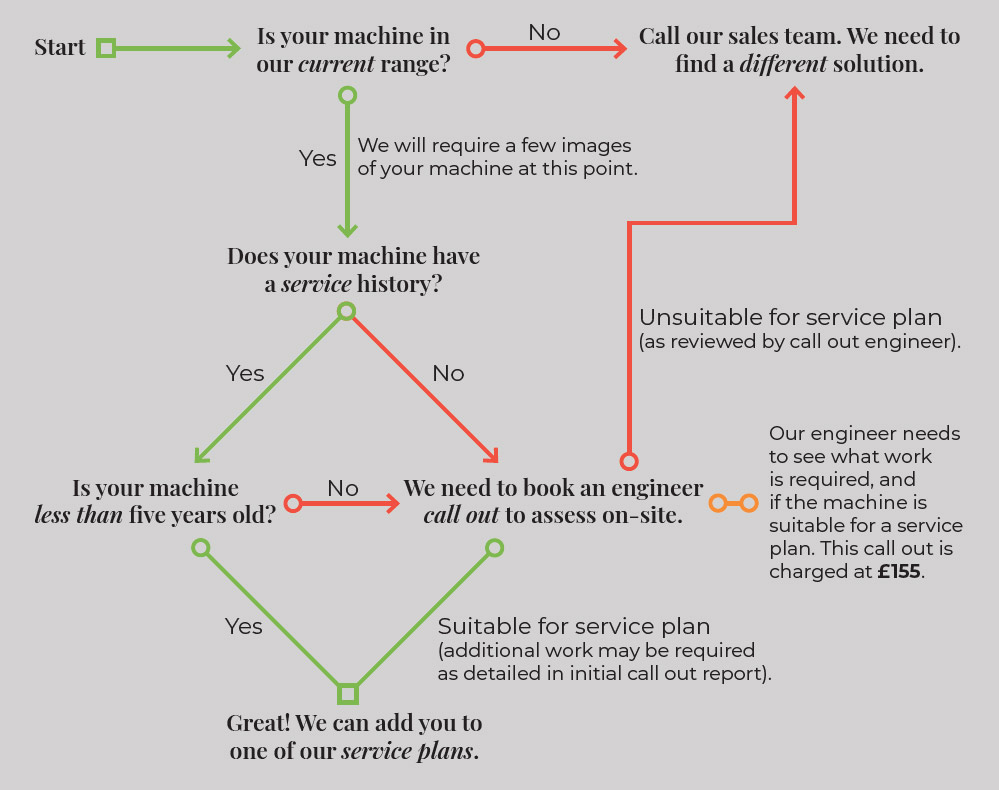 What machines are in the current range?
The best place to learn about what machines we are able to service is our website. Simply visit the coffee machines and water dispensers pages to see what products we have in the current range. If you need any further guidance, please don't hesitate to get in touch.
Service plans: Essentials vs Total Care
Our Essentials plan is just that, it covers the basics. Our engineer will visit, replace wear and tear components, such as worn valves, and give the machine a service. Upgrade to the Total Care plan, and your cover will also include consumable parts, like filters.
What's not covered in the Total Care plan?
There are certain parts that we do not include in service plans. Anything that is cosmetic, or a core component, such as the compressor or internal circuitry, is not covered in our plans. Replacing these items is major repair work, and not part of a routine service.
Hopefully that has cleared up whether or not we can provide you with a service plan. Of course, if you need and further help or guidance, or team is more than happy to talk you through it. Contact us today for more information about our service plans.