Category • Blog articles
Behind the brew: A day in the life of a FreshGround Project Manager
Alex | August 30, 2023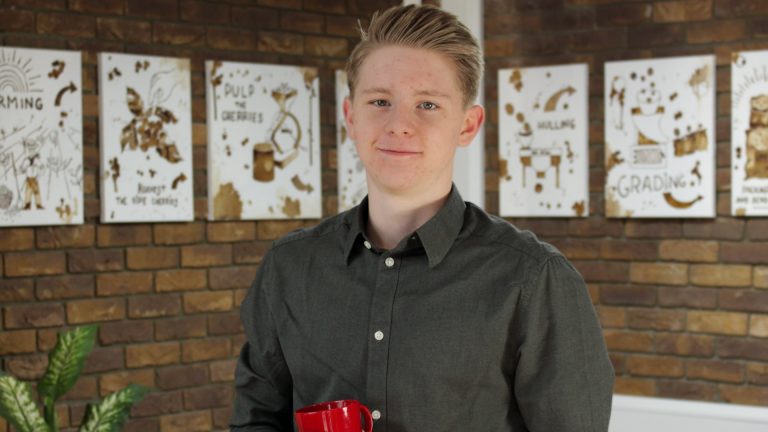 At the heart of every premium, barista-style office coffee experience lies meticulous planning, execution, and a commitment to providing exceptional customer service. So what's it like to be a Project Manager at FreshGround? We took a quick coffee break with one of the driving forces behind the FreshGround experience, our dedicated Project Manager, Doyle Brown.
Our interview with Doyle will help you understand this busy role that involves managing office coffee machines and also water dispenser projects. The team works together in a fast-paced environment where every day is driven by innovation, problem-solving and proactive customer care in order to keep the coffee flowing. From unexpected challenges to crafting seamless solutions, you'll get a glimpse into the journey of making workplaces not just productive, but buzzing with the aroma of freshly brewed coffee.
What inspired you to become an office coffee machine project manager and what do you enjoy most about your role?
I've actually known that I wanted to be a project manager for a long time now. I'd read up about the role and knew friends who also worked in project management. I want a career that's fast-moving and engaging where I feel challenged and rewarded. I enjoy working closely with our customers and fulfilling their business needs to the best ability. One of the best parts of my job is making people happy, solving their problems and forging connections with people.
What's your typical daily routine like?
I kickstart my typical day with a coffee (of course!) and check over my emails. We aim to reply to all emails within an hour so we don't keep our valued customers waiting. After that, it's time for our morning 'huddle' with our team of engineers. We tackle any issues that may have popped up and map out the day ahead.
After that, we hit the ground running, and I make sure that the team has everything they need for the day so they can complete all of their jobs on time. Throughout the day, I keep a close eye on my inbox and will field customer calls and support them with any issues or orders.
I love that no day is ever the same at FreshGround so some days, you'll find me in site meetings and site surveys, defining project schedules. Other days I'll be in the office coordinating plans to make sure our projects run smoothly or in training sessions to support and develop my career.
What are the key responsibilities you handle on a daily basis?
My main responsibilities are looking after the engineers to make sure that they have everything they need for installations or fixes. I need to make sure all equipment gets out the door ahead of the installs or client visits that will be taking place.
Another key part of my role is to keep in close contact with customers that have ongoing projects. I keep them updated with timelines so they know what's happening for their peace of mind.
How do you approach problem-solving in your role as Project Manager?
I begin by gathering insights from the team, breaking down whatever the issue might be and then coming up with potential solutions. I prioritise quickly yet thoroughly so I can minimise any disruptions for our customers. Effective communication is key in my role so I confidently collaborate with engineers, customers, and suppliers.
I'll adapt my strategies depending on the specific circumstances and I try to be as flexible as possible in my approach. Basically, as a Project Manager, it comes down to confronting challenges, engineering effective solutions, and ultimately ensuring a seamless office coffee experience that helps to elevate workplace productivity.
How does the team stay up to date with the latest advancements in coffee machine technology and engineering practices?
Technology is evolving all the time so we need to stay informed and proactively seek out new and innovative tech. We offer our customers a range of state-of-the-art machines with multiple functions to keep office teams happy and hydrated. With regard to our engineering practices, we invest heavily in training and are committed to continuous development. We have great relationships with our suppliers and stay ahead of the curve. In-house we also foster a culture of sharing knowledge and supporting each other to ensure we deliver the best coffee machines, coffee beans and service which we call our three pillars.
The team at FreshGround are continuously hitting the road and getting in deep with the suppliers to get a good knowledge of the new machines and technologies. Our engineers all get together with the teams and connections to discuss updates that are taking place in the world of engineering.
Elevate your office coffee experience
Behind the scenes, our Project Managers and the team work hard to ensure the coffee keeps flowing every day. At FreshGround, we don't just provide coffee machines – we create experiences that transform your workspace and encourage collaboration.
By staying at the forefront of technology and engineering practices, we provide only the best office coffee coffee machines along with 5-star customer service. To find out more about our range of coffee machines and water dispensers for your office, simply contact our team. We've been in the business for over 40 years and our team will happily help find the perfect solution for you.