Category • Blog articles
What's the best commercial water tap for the office? Let's compare Billi vs Zip vs Vivreau
Alex | August 6, 2023 | 6 minute read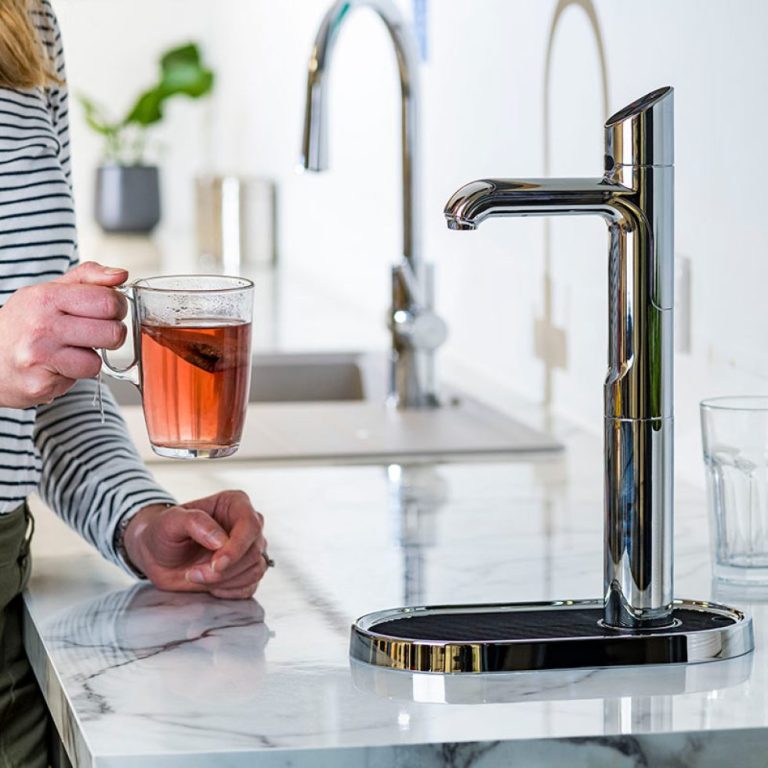 Are you considering getting a commercial water tap for your office? You'll likely be aware of the many benefits of replacing your kettle or bulky water cooler with a commercial water tap. Firstly, they're super convenient and provide you with fresh, filtered water instantly. It's really important to keep your team hydrated at work and research proves that it can raise productivity by increasing focus, improving mental clarity and combating tiredness. And of course, employers have a legal obligation to provide drinking water.
Commercial water taps can also be a stylish, aesthetically pleasing addition to your kitchen decor. They can be space-saving and time-saving leaving you and your team to get on with the important things like running your business.
However, with so many makes and models available and the added choice of filtered ambient, cold, sparkling or boiling water, it can be a challenge to know which commercial water tap is right for you and your team. With this in mind, we take a look at some of the market's top commercial water tap manufacturers that are leading the way in performance, innovation and design. We also help you to understand what factors are important to consider when making your final decision for the office
What do I need from my commercial tap?
Design and finish
Like many things, this comes down to a lot of individual factors. There are extensive different designs and finishes to choose from, so you'll want one that fits in with your office kitchen. You'll want to consider how much space you have vs how much space a new water tap will take up. There are all different size dimensions to choose from – note how tall the tap is as your team will likely want to fill up their water bottles easily.
Different taps come with a variety of options, for example, some taps are mounted over the sink whilst others are mounted on a separate font – a consideration that may be interesting as some people have the perception that taps mounted over the sink are not filtered and are simply mains water.
Many people like to choose from a wide range of finishes that are now available on taps. This may be to tie the design in your office – for example, you may choose a sleek rose gold or matte black tap, whilst others may choose functionality such as touchless or electronic dispense buttons.
Convenience and choice
For maximum flexibility and convenience for your office team, you're likely going to want to choose a tap that offers a comprehensive range of options to cater for all users, giving them variety and choice.
Choices available include anything from basic chilled-only taps to taps that offer a comprehensive boiling, chilled, sparkling, ambient and hot selection. The most popular modern taps normally include boiling and chilled water.
With sparkling taps, another consideration will be CO2 – you'll want to decide between CO2 refillable or mono-use options. For offices taking up the sparkling option, it is a simple yet effective luxury that many people are now enjoying. Whilst immediately your team may not be looking for what might seem like luxury options such as sparkling, it's surprising how many offices now are embracing these choices. Take a moment to consider how much water you're buying in, because you may find that using a tap to provide your sparkling water is both cheaper and more environmentally conscious than buying sparkling water in bottles.
In some countries, up to 60% of all water dispensers sold include a sparking option, so it is definitely a growing market choice. When choosing a sparkling tap you will need a supply of CO2, and this is very similar to the domestic soda stream that some of us remember using at home as a child. CO2 can be purchased either in refillable canisters or in mono-use disposable canisters.
With accessibility in the office being so important, you may want to consider taps that are easy for everyone to use. Some providers will offer a remote tap with adaptations for disabilities and remember to check that they offer vital safety features to stop any health and safety issues to prevent scalding or burns.
Cost and commitment
Of course, as an office or facilities manager, cost will also be a key driver behind your decision. How much does a water tap cost to run per day and then do you want to purchase it outright, rent it for the office? Benefits of rental will often mean the provider will offer a service plan as standard so if there are any issues, you're covered and downtime is minimal.
Rental options have various contract lengths so remember to look into this before you make any long-term commitment. When choosing to partner with any new business, do your due diligence and research to ensure the company you work with offers good customer service, quality equipment and they are reliable and trustworthy. It's a good idea to check online reviews and contact existing customers if it's possible. We've put together a whole guide on How to Choose an Office Service Partner which you may also find helpful. And you can check out our Five Top Tips on choosing a new office service partner.
I know what I need from a commercial water tap, so what do I do next?
As we've discussed, there are lots of water taps on the market, and whilst we probably won't be able to give you an exhaustive list of all manufacturers, here below we'll discuss three of the big key players in the UK.
Billi
Billi is a leading manufacturer and supplier of commercial under-sink boiling, chilled and sparkling filtered drinking water tap systems. Founded in 1989, they offer a wide range of taps with space, energy and time efficiency benefits for office kitchens. Their machines are water-cooled, energy-efficient and come in lots of finishes to fit in with any kitchen aesthetic.
Zip Water
Zip Water is one of the originals to bring commercial water taps to market. Founded in Australia back in 1962, they created whats' widely known as the world's first boiling water tap in 1970. Since then, the business has continued to move the industry on and provides both commercial and domestic water taps in countries all over the world. They offer a good range of taps with various finishes so there will be something that suits your specific office requirements.
Brita Vivreau
You'll likely have heard of Brita as the leading water filtration expert who combines their knowledge with Vivreau taps – a deal finalised in 2016. Together, they drive many innovations in the market and offer touch-free solutions, lots of choices and are great for both small and large offices.
Contact us
Our team at FreshGround have been working with offices in London and Manchester to help find the perfect commercial water taps for our clients. We'll take the time to get to know you and understand your unique requirements. As we are not the manufacturer, we have the advantage of working with a number of key manufacturing partners and our extensive knowledge and 40 years of experience in delivering customer service, coupled with the ability to deliver in-house financed rental and leasing options allow us to give a balanced view of what we believe may bring the best value to your office. We've put together a handy water tap comparison chart that you can view online. If you need a hand, just give us a shout and you can check out our water taps online.