It's that time of year EGG-ain. Get ready to unwrap your Creme Eggs!
Zoe | March 14, 2022
We've created a special chocolatey drink recipe that you can make easily at work for you and your colleagues to enjoy.
Cadbury Creme Eggs
The very first Cadbury Creme Egg first appeared in 1971. It has since soared in popularity to where it has gained somewhat of an iconic status in the confectionery aisle. Over 500 million Creme Eggs are made every year with about two-thirds of that number being enjoyed in the UK (and many of those being enjoyed at FreshGround HQ!).
So to celebrate our love of all things chocolate and our favourite chocolatey treat, the Creme Egg, we've created a very special drinks recipe to enjoy at work. Here's what you'll need…
Creme Egg Hot Chocolate Recipe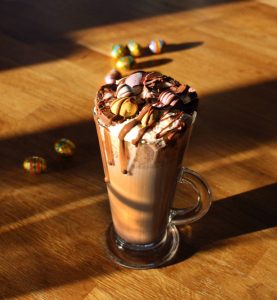 Ingredients:
· Hot chocolate dispensed from your coffee machine (or Instant Cadburys Hot Chocolate Sachets)
· Shot of caramel syrup
· Shot of vanilla syrup
· Squirty Cream
· Creme Egg
Method:
Grab your favourite mug and head to the office coffee machine and simply select the 'hot chocolate' option. If you don't have this option on your coffee machine at work, don't panic! Simply whip up your own hot chocolate in a jiffy using one of
Cadbury Hot Chocolate Sachets.
Add a shot of
caramel
and
vanilla syrup
and give it a quick stir. Now, time to get indulgent and show your hot drink a little love and top it off with some squirty cream.
Naturally, this wouldn't be called a 'Creme Egg Hot Chocolate' if the recipe didn't include an actual creme egg. So carefully unwrap and simply cut in half lengthways, then place on top of your fabulous drink. You can finish with a few chocolate sprinkles to make it extra-Instagrammable and the envy of the office!
SPECIAL OFFER