Category • Blog articles
Should I purchase, rent or get my coffee machine on free loan?
Jess | October 28, 2022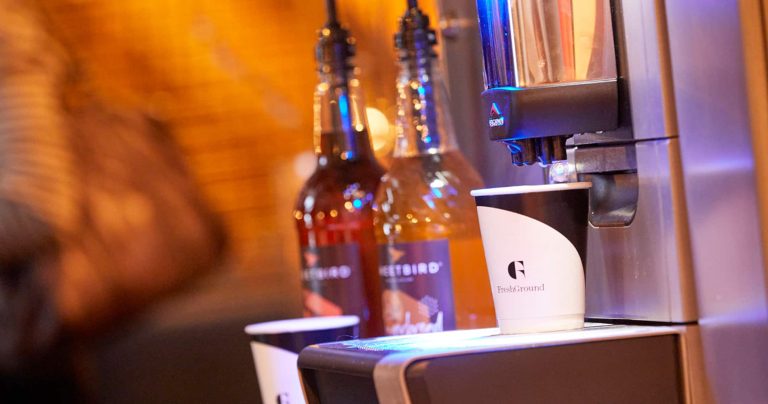 With so many different types of office coffee machine contracts available, understand what's best for your business with our simple guide.
Providing your team with quality coffee at work has become a must-have office perk, and a jar of instant just won't cut it anymore. The impact of high street café culture means that staff have come to expect barista-style, fresh coffees at work.
A recent study revealed that 52% of people surveyed like to drink the same beverages at work as those they get in coffee shops. So if you're thinking of getting an office coffee machine or upgrading your existing one, we have a wide range to choose from that'll give your team the premium coffee experience they've come to expect.
We understand the need for flexibility with the increase in agile and remote working so we offer the following packages with short-term, fuss-free contracts to help make life easy.
Outright purchase
Purchasing your machine outright means you pay the full cost upfront, and then you own the machine. The benefits of doing this mean you're in control and you'll have no contractual obligations to fulfil. The downsides, however, are that premium-quality coffee machines are expensive. So if your business budget is a little tighter, rental might be a better option. It also means that as your business grows, you'll need to constantly invest in new equipment, so you lose the flexibility you'll get with other options.
Plus with an outright purchase, it probably won't include a service-level agreement or maintenance. This means that if anything goes wrong and it's outside the machine's warranty, you have to handle the payments to get it fixed. And finally, one of the biggest negatives of purchasing your machine outright is that it's not tax-deductible, whereas lease and rental arrangements are.
Rental
The most popular option is renting your coffee machine which offers several benefits. Firstly, there's no large payment upfront. And unlike a lot of other providers, FreshGround offers short-term contracts from as little as three months. We know that things in business can change fast and that's why we won't tie you into lengthy lease terms with third-party finance agents.
All our rental options come with our Essential service plan as standard. Or you can upgrade to our Total Care service plan that provides upgraded benefits for extra peace of mind.
You'll also have the option to change or upgrade your coffee machine within the contract at any time to ensure your machine is perfect for you and your team's requirements, even as they change.
Free-loan
Our free-loan option is available on most of our coffee machines and is a great choice to ensure your team never runs out of coffee at work. It's a really simple, affordable way to get your office coffee machine up and running. You simply agree to buy an agreed quota of FreshGround coffee every month, and we'll loan you the machine for free.
We can either automatically dispatch your coffee every month, or drop you a line to remind you to order. Your choice. Minimum coffee quantities apply so just ask us for more details on free-loan agreements.
Monthly subscriptions
We also offer a monthly subscription service, which means we take care of everything for you – leaving you to focus on the important things in your business. We'll come out and install your coffee machine and then, every month, we'll automatically send you everything you need to keep the coffee flowing. And there's no minimum term for the agreement so it simply rolls monthly, meaning you can cancel at any time.
Contact us to find out more
Our expert Speciality Coffee Association-trained team will guide you through our range of machines and packages to find the perfect solution for your office. Give us a call on 020 7553 7900 or contact us here.