Category • Blog articles
Do I need a coffee machine in the office? Four reasons why you do…
Alex | August 21, 2022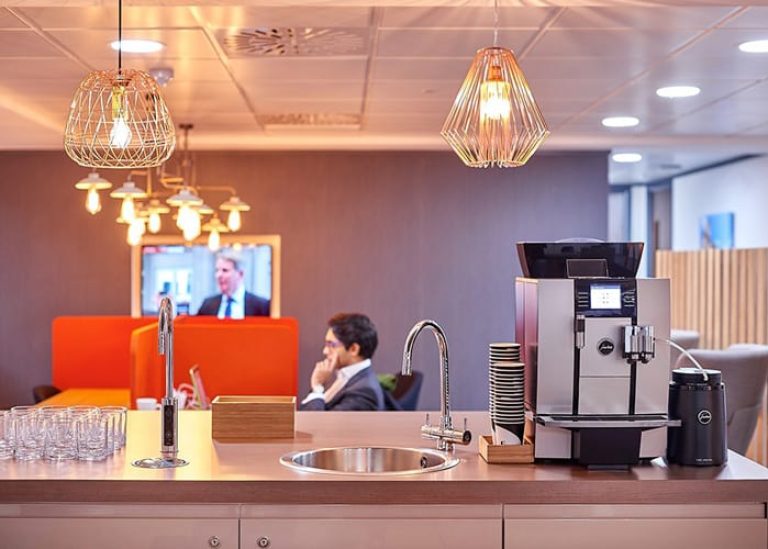 Providing your team with a barista-style, quality coffee experience at work can benefit your business in a number of ways. In today's modern workplace, people put value on enjoying premium coffee. They've come to expect coffee shop-style drinks with lots of choice at work. In the UK, we love coffee. In fact, we love coffee so much that we drink approximately 98 million cups of coffee per day. Coffee is a booming industry and the gross value added contribution from the UK to the economy is estimated to be £9.1 billion.
What does your coffee say about your business?
First impressions count. A cup of cheap, instant coffee, unfortunately, sends out all the wrong signals to your team, clients and visitors. Firstly, it suggests that quality may not be important to you as a business – not a good look! But it also suggests you don't care enough about your team's wellbeing.
A coffee machine is a simple, convenient and affordable addition to any office. Let's look at four reasons why it's time to get yourself a machine that pours fresh and delicious coffee every time.
1) Workplace culture
A positive workplace culture can help to attract and retain talent and drive engagement. It can also impact happiness and boost job satisfaction. Of course, quality coffee isn't going to suddenly transform your workforce overnight, but it certainly can support a positive culture.
Office perks are proven to be valued by UK employees. It's proven that 71% of UK workers value office drinks, travel schemes and flexi-hours over pensions. Whilst another survey showed that 75% of employees agree that having high-quality coffee shows that their employer cares for their wellbeing.
Coffee also has a great way of bringing people together. Installing a premium coffee machine in your office kitchen, meeting rooms, or break-out areas, encourages people to socialise and further build your culture.
2) Boost productivity and save time
Coffee can improve mood and energy levels, which is linked to increased productivity. By installing a coffee machine that pours quality coffee, people will be more inclined to use it. Another great benefit of bean to cup machines is that they're very quick to pour fresh coffee. Users simply have to press a button and in a matter of seconds, the machine has freshly ground the beans and poured the perfect brew. You can say goodbye to minutes wasted waiting for the kettle to boil and spending ages doing the obligatory office tea round.
Another way it cuts down on time is that a quality office coffee machine negates the need for your team to pop out for a 'proper' coffee. You'll make it easy to grab a coffee at work. Such a small change in the office can not only save your team money, which they'll appreciate, but it will also save your business valuable work time, resulting in benefits to the business's bottom line. We're not saying that breaks are not important though! In fact, breaks are essential to your team's health and wellbeing. Micro-breaks, lunchtime breaks and longer breaks, have all been shown to have a positive relationship with well-being and productivity. Taking regular breaks can boost your performance.
3) Affordability
Getting a coffee machine for your team is surprisingly affordable. Sure, a commercial coffee machine to buy outright may be a large outlay of your budget making it difficult for every business to justify. However, most facilities or office managers who are both ultimately the decision makers and responsible for balancing budgets will opt for renting a machine or getting it on free loan.
If you choose to partner with FreshGround, we offer short rental contracts for as little as three months, so you're not tied into lengthy lease terms. We do this as we understand that things in business can change fast and you need flexibility.
You can also opt to get your coffee machine on what's known as free loan. This is another simple and affordable way to get your office coffee machine up and running. Just agree to buy a set quota of coffee every month, and the machine is on loan for free.
All our rental and free loan options come with an Essential service plan as standard. Or many customers choose to upgrade to our Total Care service plan that provides upgraded benefits for extra peace of mind. You can also change or upgrade your coffee machine within the contract at any time to ensure your machine is perfect for you and your team's requirements, even if they do change.
4) Coffee can support overall health
A healthy team means that they'll be more engaged, energised and positive. It'll also reduce downtime and days off sick which are costly to your business. In fact, sickness-related absences cost the UK economy a staggering £77.5 billion a year. It makes sense then to do what you can to support your team's health. Keeping them healthy and hydrated at work is just one simple way to do that.
Staying hydrated is important and people should be drinking between 1.5 and 2 litres daily. Along with water and soft drinks, tea and coffee both count towards this amount. Various studies have proved that drinking coffee itself has health benefits. It may help you live longer, increase energy and performance, boost metabolism, support brain function and help with blood sugar balance
What's right for you and your team?
​​We understand that people want the same quality of coffee in the workplace as they're getting on the high street, and that's exactly what a bean to cup machine offers. There are lots of things to consider from size, how many people will use it, what drinks you would like, budget and where to locate it. But don't worry, we're here to help. Simply contact our coffee experts and we'll share our advice and expertise to help your team stay happy and hydrated.