Category • Blog articles
Do I need a dual milk coffee machine for the office?
Alex | November 1, 2022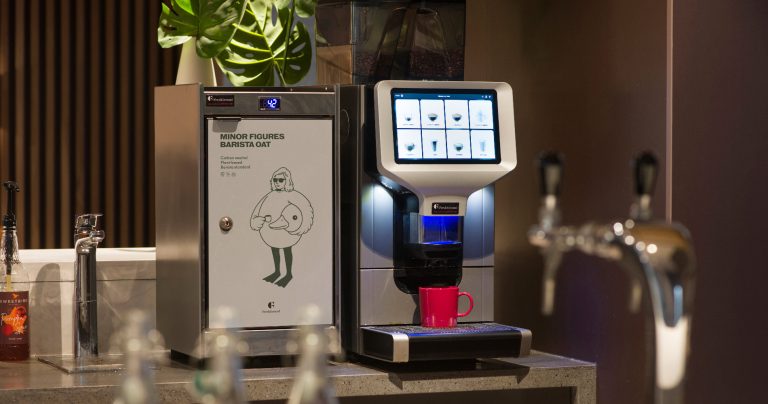 Over recent years, office coffee machines have come a long way in both design and functionality. Today, you can choose from the most innovative, beautifully designed, smart machines that use the latest tech to create a perfect cup of coffee every time.
Providing your team, visitors and clients with a quality coffee experience is more important than you may think. The type of coffee and refreshments you offer help to create an impression of what you care about as a business. Are you investing and rewarding your people with great coffee, or are they choosing to spend money at the local coffee shop? Or even worse, are they putting up with cups of instant from the kettle?
How important is coffee at work?
Coffee actually forms a vital part of workplace culture. In fact, it has become a preferred way for people to interact with their coworkers and build relationships that go beyond business. It's great to facilitate a morning meeting, a casual catch-up with a colleague or grab a coffee over lunch. Coffee has a unique way of bringing people together. It can even help support the development of a workplace community where people feel more engaged and motivated. Sharing a coffee can build a sense of camaraderie which in turn can result in higher productivity and better teamwork.
The caffeine in coffee also helps to kick start your morning or give you a well-needed energy boost on long work afternoons. Caffeine is reportedly ideal for boosting cognitive function, lightening your mood and even improving your overall health. So with all of this in mind, it's clear why providing your team with barista-style coffee they can enjoy at work is so important.
What type of machine do I need?
If you're looking to upgrade or if this is your first experience with coffee machines, you may want to consider looking at a dual milk machine and we'll explain why.
Along with people expecting a quality coffee experience at work, people also now expect to be offered a dairy milk alternative. This is because there are an increasing number of people who are turning their backs on the dairy industry as a whole. There's a huge rise in veganism, concerns around sustainability, health reasons, ethical choices, and simply more people who are identifying they have allergies or are lactose intolerant.
Up until recently, most coffee machines had only one milk option. This means that you're likely excluding a part of your team from the perks you provide to others. Coffee machines can make a whole host of coffee drinks, from lattes and cappuccinos to mochas and hot chocolates. But in order to cater for all of your team, a dual milk machine may be preferable.
Let's take a look at our latest machines to offer this new functionality.
The G2 Krea Touch
For those offices that favour granulated milk over fresh, but don't want to compromise on milk choice, enter the G2 Krea Touch. Granulated milk lasts longer than fresh and doesn't have to be refrigerated so it can offer greater convenience for some teams.
The G2 has two milk powder hoppers, which allow you as facilities or office manager to offer both regular and dairy-free milk options to your team. It's simple to use and requires minimum cleaning and maintenance.
The F5 Egro Next
This premium bean-to-cup machine offers a full range of espresso-based milky coffees, hot chocolate and mocha. It also can pour cold milk foam versions of all your coffee shop favourites. The F5 Egro Next can be customised to include a dual milk fridge. Therefore giving your team easy access to both regular and dairy-free milk options at work.
If you have a team member who has milk allergies or is lactose-intolerant, there is no risk of contamination. The milk supply tube is flushed with dairy-free milk after every single use for total peace of mind.
The F5 Egro Next has two bean hoppers so your team can choose from two different beans. Alternatively, you can offer one caffeinated and one decaf coffee.
Both dual milk machines are available on a range of contract options from rental, purchase or free loan. Our contracts start from as little as three months so you won't get tied into long contracts.
Contact us
We offer a free consultation visit to your workplace to fully understand your requirements. Call us on 020 7553 7900 or send us an enquiry.