Category • Blog articles
Do people still have vending machines in offices?
Zoe | January 28, 2023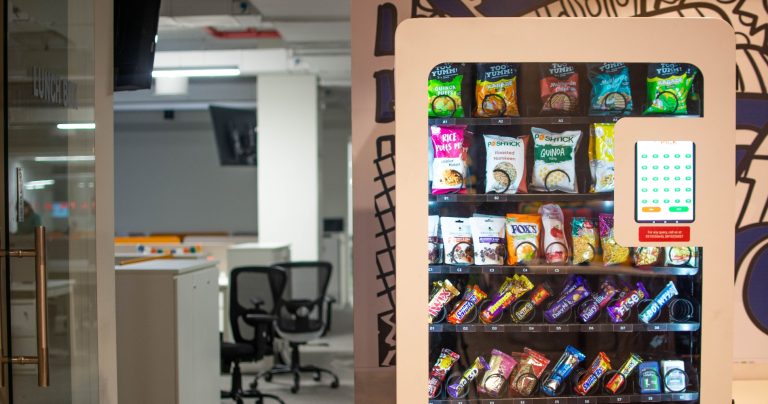 You might be surprised to know that the humble vending machine has a long and rich history with the very first example dating back to the first century. It's reported that Greek mathematician Hero of Alexandria, was the first to invent a coin-operated device that dispensed holy water inside Egyptian temples. But it wasn't until the early 1880s that vending machines began popping up around the UK.
Vending machines back then were stocked with stationery like postcards, envelopes and notepaper along with newspapers and stamps and they were mostly found at railway stations. The range of items stocked in vending machines would then develop and move on to sweets and confectionary, tobacco, matches and even soap.
It was the 1900s when we saw the introduction of hot and cold beverage dispensing vending machines and of course, today, there's a vending machine for all sorts of items including the weird and wonderful.
But with barista-style quality coffee experiences being increasingly valued as a perk by office workers, are vending machines still popular in offices today? And should you have an office vending machine to support your workplace culture? Let's take a look and weigh up the pros and cons.
Has the quality of vending machines improved?
In the UK, vending machines are still popular and in 2018 it's estimated that we had approximately one vending machine for every 55 people. Japan has the highest number of vending machines per capita in the world and they actually play a key role in Japanese culture and society. In Japan, they have approximately 1 vending machine for every 23 people and you'll find a vending machine on most street corners in cities and also in residential areas.
Vending machines have improved a lot in terms of quality and they are becoming more premium over recent years. Gone are the days when they poured only a weak and murky cup of instant coffee in a brown plastic cup. A lot of vending machines now offer more premium coffees meaning you'll get a fairly decent coffee out of them. And most now offer flexible payment solutions meaning you can pay by cash, card, contactless and so on making them much more convenient in an increasingly cashless society.
Technology in the vending machine industry
There are now vending machines that offer totally touchless technology that uses your smartphone as the digital interface to make your selection. Coca-Cola recently adopted this technology with many other vendors set to follow suit. With the impact of COVID and the increased importance of hygiene, touchless technologies are becoming more and more popular. Take for example this Jura coffee machine where you can also order your coffee of choice through the app and then simply pick it up from the machine at your convenience.
Technology is certainly disrupting the role of vending machines and of course, consumer behaviour is ever-changing as we crave better convenience, choice and products. Amazon Fresh stores are the perfect example of this disruption and can now be found all around London. They offer an entirely new and innovative way to shop and instead of a traditional checkout where payment is taken, you simply scan your Amazon app and go.
Are vending machines convenient?
While some might argue the traditional vending machine in the office has had its day, they still offer a convenient solution to providing your team with instant beverages and snacks. There are lots of great vending machine companies across the UK with leaders like Selecta, Connect, Liquid Line, Logic Vending, UK Vending all providing a good range of vending machines suitable for the office. The machines themselves are easy to use, and simple to maintain and because they're automated, you don't really have to do much to them apart from keeping them regularly stocked and refilled. In general, they tend to be geared more towards volume and cost though, so they're not for everyone. For a more premium offering, you might want to consider a bean to cup office coffee machine.
What's a bean to cup office coffee machine?
If you're after an authentic, quality coffee experience at work, you may find that a bean to cup coffee machine is suited best to your office. Bean to cup simply describes the coffee-making process from how the coffee is ground, pressed and brewed fresh – all at the touch of a button. Bean to cup machines have internal grinders so they grind the beans and then hot water is forced through the ground coffee at high pressure resulting in a perfect cup of coffee. We like to think of a bean to cup machine as a bit like a coffee machine and barista all in one. Find out more if a bean to cup machine is right for you.
Get in touch
Ultimately, as a facilities manager, business owner or office manager, you should be providing your team with a quality coffee experience to support health, hydration and well-being at work. It's a perk that's proven to help support and improve overall workplace culture so it's worth investing in. If you need a hand in finding out what's right for you and your office, please just get in touch with our friendly team who are on hand to help.