Category • Blog articles
Do undercounter water taps in the office save money?
Zoe | September 13, 2023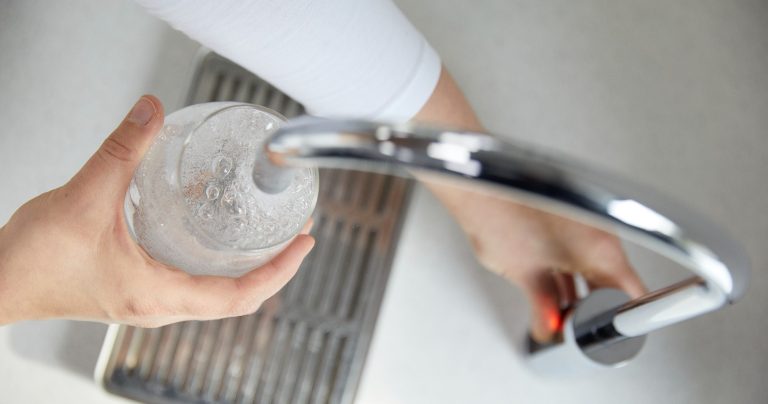 Installing an undercounter water tap can offer benefits to an office from cost-cutting, and convenience to saving time and being more energy-efficient than other options.
We all understand the importance of keeping your team happy and hydrated at work. Just a small drop in hydration levels can result in issues with concentration, mood and wellbeing. So what's the best option for your water supply in the office to keep your team motivated, healthy and hydrated?
One question our team at FreshGround are often asked: "Do undercounter water taps benefit offices by saving money?" Here's everything you need to know…
Drinking water at work – what are the rules?
According to the Workplace (Health, Safety and Welfare) Regulations, employers must provide the following as the bare minimum:
Drinking water that is free from contamination and preferably from the public water supply. Bottled water dispensers are acceptable as a secondary supply. Drinking water should not be sited in an area where contamination is likely.

Easily accessible and marked by an appropriate sign.

Provide an adequate supply. Take into consideration the temperature of the working environment and the type of activity.

Supply via cups or a drinking fountain.
Should you drink tap water at work?
Whilst it's true that in the UK, we have one of the highest quality water in the world, not all drinking water is the same. Common issues with water cause disparity in quality which often comes down to plumbing. Julie Spinks, Director of WaterSafe, "There are many things which can affect water quality in homes, or other buildings, such as lead pipes, poor quality taps and fittings and even wrongly connected appliances." In a study by Watersafe, nearly a quarter of water sample failures taken at customers' taps didn't reach quality standards because plumbing doesn't reach the mark.
Another report published in The Guardian revealed that although drinking water in the UK is tested, it's not being tested for a group of toxic manmade chemicals linked to a range of diseases including cancers. These are called PFAS (per- and polyfluoroalkyl substances), or "forever chemicals". This is why it's vital your water supply has quality filtration to ensure you get only the freshest, great-tasting water at work.
Every FreshGround undercounter water tap comes with filtration as standard so you'll always get a better tasting glass of water.
What type of water dispenser is best?
Undercounter water taps have a number of options that dispense filtered chilled, ambient, boiling and sparkling water could be beneficial considerations, especially over traditional, bulky, freestanding water coolers. They cater for high traffic areas plus you're offering your team more choice with various water options.
Aesthetically speaking, the taps themselves look great and our range is sleek and stylishly designed to elevate and streamline the look of any modern workplace kitchen.
They're also quick and convenient water sources for your team. For hot drinks, there's no more waiting around as you would for a kettle (read more about kettles vs coffee machines). These dispensing taps provide you with an instant flow of boiling water at the touch of a lever. Adding to that appeal is that you can turn the tap on and off for the exact amount of water you need. Over time this can save money as you're not wasting water and you're also using less energy.
Will an undercounter water tap save the office money?
An undercounter tap is surprisingly affordable for the office. The average kettle costs about 2.5p to boil, and the average boiling undercounter water tap costs around 0.09p a day. They don't use as much energy or water compared to other systems so they're more cost-effective to run.
FreshGround's range of undercounter water taps is available to rent and we have contracts that start at just three months offering you full flexibility. If you need to change or upgrade your water tap you can – no fuss, we promise.
Choosing an undercounter water tap is more environmentally sound than other options. Most people overfill kettles wasting a lot of energy on heating and wasting water. Another benefit of installing an undercounter water tap is you'll find your team to stop wasting money on single-use plastic water bottles and instead refill bottles with still or sparkling water. This small change can support your business in your sustainability goals.
They are also a much better option over the old fashioned bottle feed water coolers. These are expensive to run and have a high carbon footprint. They require regular deliveries of heavy, cumbersome water bottles and are again, made from unsustainable plastic. Find out lots of other ways your business can remove single-use plastic from your office.
How to get an undercounter water tap for the office
There are lots of options out there to choose from so what's important is that you take the time to understand exactly what your team requires and what will work for you. It's a good idea to ask your team what they want and find out what's important to them. If you do need a hand or have any questions about getting an undercounter water tap, please just get in touch. You can email us at hello@freshground.co.uk or feel free to call us on 020 7553 7900.
Read more in our blog about why your office needs an undercounter water tap.