Category • Blog articles
FreshGround Wins Great Taste awards
FreshGround | August 1, 2016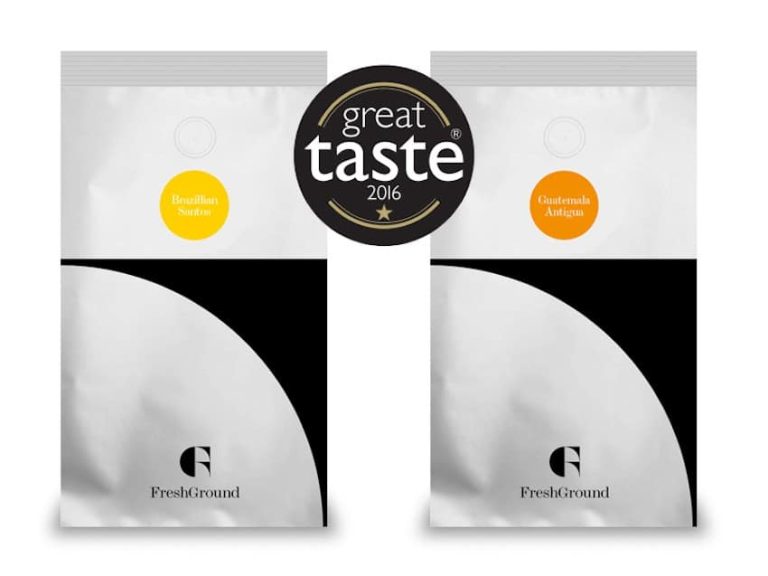 Great Taste, the world's most coveted blind-tasted food awards, which celebrates the very best in food and drink, has announced the Great Taste stars of 2016. Out of 10,000 products to be judged, FreshGround was awarded a 1 star Great Taste award for both our Guatemala Antigua and Brazilian Santos whole bean coffee blends.
Judged by over 500 of the most demanding palates, belonging to food critics, chefs, cooks, restaurateurs and producers as well as a whole host of food writers and journalists, Great Taste is widely acknowledged as the most respected food accreditation scheme for artisan and speciality food producers. As well as a badge of honour, the unmistakeable black and gold Great Taste label is a signpost to a wonderful tasting product, which has been discovered through hours and hours of blind-tasting by hundreds of judges.
The judge's comments
Guatemala Antigua: "There's a pleasant acidity to this espresso that brings flavours of caramel and dark chocolate. The finish is toasty."
Brazilian Santos: "There's a lovely nuttiness to this espresso and a good medium to heavy body. A lovely oaky finish and a lingering aftertaste of nuts. A well rounded espresso."
Fancy trying one of our award winning blends? Click here to get in touch and find out about our top of the range bean-to-cup machines to accompany it and get the best cup of coffee for your clients and staff.