Category • Blog articles
How can we keep up with demand and serve over 100 employees coffee?
Alex | September 3, 2023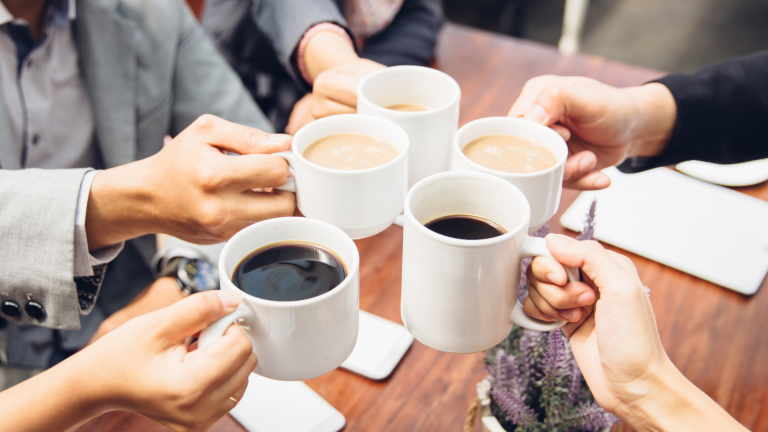 We get it. Office life can be hectic. We understand that keeping an office running smoothly, requires good coffee to keep the team happy and hydrated. For those running the office, whether you're an office manager, facilities manager or in an administrative role, there are lots of responsibilities to juggle. From managing office operations, schedules, and supplies, and of course, balancing budgets, it can be a challenge to stay on top of things.
However, one thing that can take at least some stress away is by having a commercial bean-to-cup coffee machine. In larger offices where you have teams of around 100 people, a coffee machine is the only sensible solution. If we rewind the clock to 20 years ago, it might be the norm to have an office kettle where team members would make their own cup of bland instant coffee. However fast forward to today, and you'll find coffee machines in almost all modern office workspaces.
The most popular choice is a bean-to-cup coffee machine. There are lots of reasons for the increasing popularity of bean-to-cup machines including convenience, coffee quality, customisation choice, employee satisfaction, and productivity. Let's take a look at what you need to consider if you've got an office team with around 100 people who demand a premium barista-style coffee experience at work.
Quality
A good bean-to-cup machine that uses high-quality, premium coffee beans can actually rival a professional barista. The technology that has been developed over the last few years means you can pour a delicious fresh tasting coffee in a matter of seconds using a bean-to-cup machine. There are lots of different makes and models, so you should do some research before committing to a new machine. If you partner with an office coffee machine provider like us at FreshGround, you can rely on the team's experience and knowledge to select the perfect machine for you.
Along with opting for a robust and long-lasting machine, it's essential to also have high-quality coffee beans. You can have the most expensive state-of-the-art machine, but if you're using poor-grade coffee beans, you're not going to get a good cup of coffee. The key is to find a balance so you can get an affordable machine and beans that suit your team's taste AND your management's budget.
Choice and customisation
A key factor in selecting your machine is considering the choice of drinks it can provide. Some bean-to-cup machines will make just espressos whilst others will offer a wide range of drinks. These can include espressos, lattes, americanos, cappuccinos – even mochas and hot chocolates.
If your office team is large and around 100 people there are a lot of different personal tastes to cater to. We tend to recommend that our clients ask their team what they want from their coffee machine. It's good to understand their requirements first so you can choose a machine that can comfortably serve 100 people with little to no downtime.
Bean-to-cup machines are also fully customisable so there are lots of settings to ensure it pours the perfect cup, every time. It's worth considering getting a machine that has dual hoppers and dual milk functionality. By having dual hoppers – or even more than two – you can offer your team a choice of coffee bean and also offer a decaf version for those avoiding caffeine. Dual milk functionality means that you can provide a regular dairy milk alongside a plant-based milk.
As you'll likely be aware, alt-milk is growing in popularity and more and more people are adopting a vegan lifestyle. Alternatively, they may be avoiding dairy for ethical, sustainable or health reasons. Again with 100 people or so in your team, a proportion of them are likely going to be dairy-free so it's a good idea to give them a choice. By doing so, you are showing your team you care and value their personal choice and preferences.
Employee satisfaction
Simply providing a premium coffee experience at work can help to enhance employee morale and create a more positive work environment. It's widely known that coffee can help to boost productivity, support creativity and encourage collaboration. Great coffee can also stimulate the release of dopamine and serotonin, leading to improved mood and reduced feelings of stress or fatigue. The caffeine in coffee can also provide a temporary energy boost, helping your team stay more alert and focused.
Implementing a quality bean-to-cup coffee machine in your office kitchen, meeting room or break-out area, you're helping to foster a more positive and collaborative atmosphere. It's known to be a valuable office perk and in a survey, 40% of people voted free tea and coffee as the office perk they value most.
Find out more
With all of this in mind, if you are responsible for a large office with around 100 people, a bean-to-cup machine will comfortably fit the bill. You can browse our range of machines and you'll see that for each model, we have included a guide to what size office each would suit. However, our friendly team will be delighted to help you and guide you through the simple process of replacing or upgrading your office coffee experience. We have machines suitable for all office sizes, so simply get in touch to find out more.