Category • Bean to Cup Coffee Machines
How do I look after my coffee machine?
Alex | November 29, 2022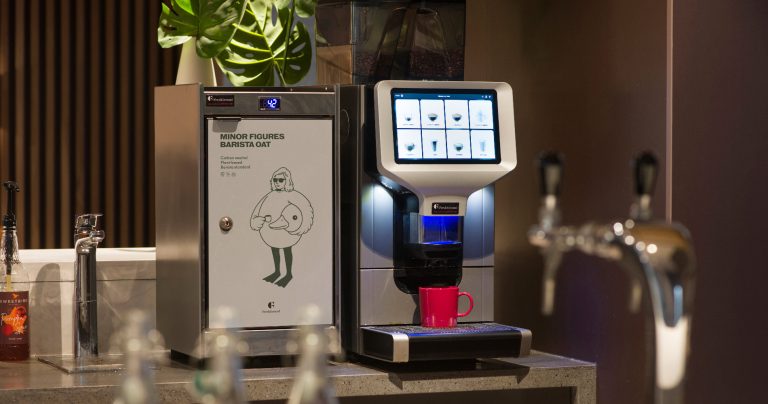 Are you a facilities manager who's responsible for keeping your team happy and hydrated? A lot of people now expect barista-style coffee experiences at work. In fact, studies show that people expect the same coffee drinks in the office that they get on the high street. So when you've realised that it's time to ditch the kettle, what type of coffee machine do you choose?
Firstly, in our experience, the most popular coffee machine to have in an office is a bean-to-cup machine. These pour freshly ground premium-grade coffee with just a touch of a button. They have lots of different coffee drinks to choose from like lattes, cappuccinos, espressos, mochas, hot chocolate and more.
However, if you're looking to get a bean-to-cup machine, you might be wondering if they're easy to maintain. Facilities managers or office managers may have to look after the machine and make sure that it's fully stocked with coffee and milk. They may also have to ensure it's kept clean and in good working order. With so many other responsibilities to juggle, it's important that taking care of the machine is quick, simple and convenient.
What type of machine is right for my team?
Of course, there are lots of different bean-to-cup machines to choose from. They range in price, size, functionality, choice of drinks and so on. You'll likely want to consult your team to understand what their expectations of a coffee machine are for the office. Then dependent on what space you have in the office kitchen, what budget you have and how many people will be using it, you'll be able to make an informed decision on which one you opt for.
Purchase outright
There are also a few different ways to get your machine up and running in the office. You can choose to purchase a coffee machine outright but this often means that you'll be covered by a fixed-time warranty and will not include service cover. It's also a large expenditure to purchase your machine outfight.
Rental
The majority of customers opt to rent their machine which will often offer a level of service that comes as standard. This means that if anything does ever go wrong with your machine, an engineer will come out and fix it. Some policies, like our Total Care package, will even cover you for proactive care so our team will come out and check everything is in order to prevent any downtime.
Free loan
The other option is to get your machine on free loan. This simply means that you sign up for a certain amount of coffee each month, and the machine is leant to your business for free. This option also comes with service plans to keep you covered for any damage, faults, issues, etc. For renting and free loan, contracts from FreshGround start from as little as three months, so you're not tied into any lengthy arrangements. You can also upgrade at any time if your business needs change.
How do I maintain my machine?
Thankfully, modern bean-to-cup coffee machines are surprisingly easy to look after. Technology has come a long way since the original machines so cleaning is simple and quick.
Tannins
Cleaning is vital to the continued running of your coffee machine. Your machine will be affected by tannins from the coffee that will leave a brown residue in the machine. Without regular cleaning, this will build up and stain the machine. Another issue is limescale.
Limescale
You'll likely be familiar with limescale in your kettle at home or at work, especially if you're in a hard water area. You also need to descale your office coffee machine regularly, especially if it's a hand fill machine. (*Note that plumbed-in commercial coffee machines will come fitted with an internal filtration system to prevent limescale build-up). You must manage the limescale levels as build-up can result in slowing water flow that reduces boiler capacity and can cause heating issues.
Milk
And of course, if you're using milk, you'll need to keep it clean so bacteria doesn't build up in the machine. Old milk left in the machine will become unhygienic and pose bacterial risks in the dispensing tubes. Not only will this clog up the pipes, but it has the potential to make you and your team sick. All in all, it's very important you keep on top of your daily cleaning regime. But the good news is – it's very easy to do.
Cleaning bean-to-cup machines tends to involve just adding a specially developed cleaning tablet to the machine, pressing a few buttons and letting the machine get on with it. Plus, most coffee machine providers offer helpful guides online, as well as quick video how-tos. Many machines also guide you through the process step by step via an intuitive digital interface.
Contact us
Ultimately, if you don't clean your machine regularly, you not only will have poor-tasting coffee, but your machine will end up breaking down. This will cause disruption to office life and cause inconvenience to your valued team members. If of course your machine breaks down or has a fault, you should be able to contact your service provider who'll send out an engineer to help. If you'd like any advice on our range of bean-to-cup coffee machines and our levels of service packages, just get in touch with our friendly team.