Category • Blog articles
How much does an office coffee machine cost in 2023?
Alex | January 29, 2023
Are you thinking of providing your team with a barista-quality coffee experience in the office? If so, you'll likely be looking at bean to cup machines. A bean to cup coffee machine grinds and brews your coffee all at the touch of a button giving you only the freshest tasting cup to enjoy at work. However, if you're a facilities manager or an office manager, the budget will be a big consideration. There are hundreds of makes and models available, so which one is right for you, and also, how much will it set you back?
So how much is a coffee machine from FreshGround?
Our team will work closely with you to define your requirements so you have a solution that's fit for purpose, affordable and reliable. So to start to answer this question, we'll often quote a price range that starts all the way from a basic package at around £20 per week to a more comprehensive package at around £180 per week for a maintenance-inclusive rental. But in truth, that doesn't give a clear comparative cost as it depends on a number of different factors.
Of course, we could put together the cheapest option possible, but if we don't think that'll suit your needs, then it's probably not going to work out for you long term. The result? Unhappy and disgruntled employees that are dissatisfied with their office coffee.
What we do at FreshGround is strive to offer the best value experience for you and your team, right from the beginning. For context in terms of our pricing, below you can see where we roughly sit within the market in terms of cost per cup of coffee. Starting off is your cheap (and nasty) instant coffee made with your kettle. Next up is your instant vending machine, and then in the middle is where our coffee sits by providing bean-to-cup coffee machines. Coffee pod machines tend to be a little more expensive to operate and maintain commercially, and then the most high-end solution is your barista-made coffee.

Finding the right price for your needs
When we make a recommendation there will be three choices to consider:
1. The best model to cater for your requirements
2. The most appropriate service package
3. The contract style that works for you – rental, free on loan, or purchase
We use the table below to help us give you a range of options – and we'll explain clearly the benefits of each.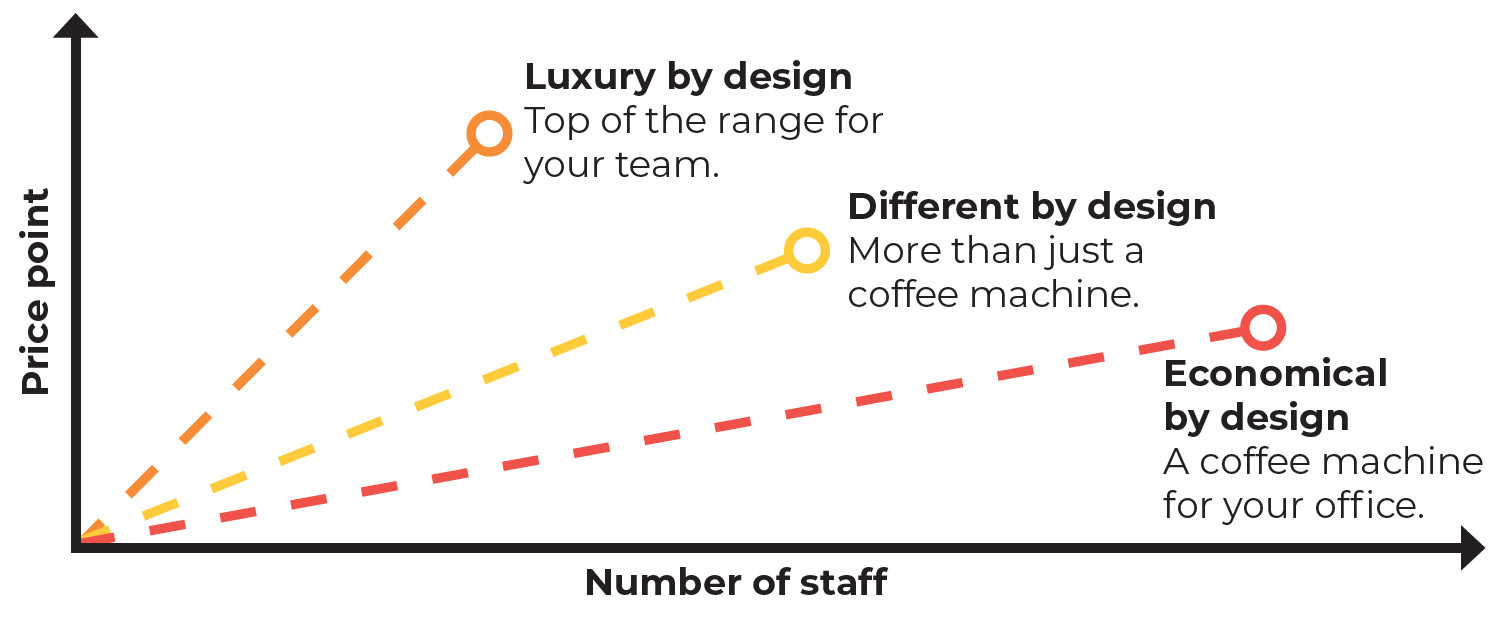 Renting vs free loan
Renting is when you'll pay a monthly fee for using your coffee machine. The advantage of the rental option is that it offers flexibility. It means you can rent a particular model for a short period of time and assess whether it works well for your office. You can upgrade at any time, plus there won't be any big deposits to pay and maintenance is also often included in the cost.
Getting your coffee machine on free loan offers an affordable and convenient solution. You'll get your machine on loan for free as long as you commit to an agreed quota of coffee on a regular basis. You can enjoy never running out of coffee and you'll be covered for service. Free-loan will mean you have no running costs and make it easier on your budget. Both options start with contracts for as little as three months, so if you're a commitment-phobe, or you're not sure where your business will be, you can exit, upgrade or adjust your contract terms.
Domestic vs commercial
Like most appliances, there are domestic models which are suitable for home use and commercial models which are suitable for businesses. Domestic models are a lot cheaper as they cater for just a small number of people or limited use. Commercial models need to be built more robustly to withstand frequent use and to last a long time. With that in mind, a domestic coffee machine won't suit your office needs so you'll want to look at commercial models.
Most office coffee machine providers will offer an end-to-end service. So rather than purchasing your coffee machine outright, they, like us here at FreshGround will offer a service package where you'll rent or get your machine on a free loan.
Contact us
Whatever your office coffee requirements, our Speciality Coffee Association-trained team are on hand to help. Simply contact us for a free consultation and we'll get you up and running in no time.