Category • Blog articles
Kettle vs office coffee machine – what's right for you?
Alex | January 20, 2022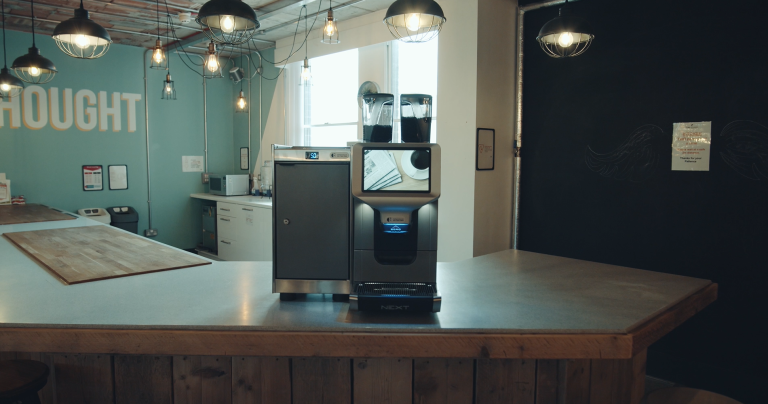 Are you thinking of getting a coffee machine for the office or are you happy with your office kettle? Understand which one is right for you and your team.
Maybe your team has expanded, you're moving office or you're just looking to upgrade to a premium coffee experience. Whatever the reason you're considering getting a coffee machine, we take a look at the pros and cons.
Whilst we know that coffee machines are comparably more expensive to purchase outright than a kettle, which one comes out on top? Together, we'll help you find out what works best for you and your team. So let's get started.
Is a coffee machine quicker than a kettle?
Ah, remember the dreaded tea round? You ask if anyone wants a cuppa and the whole office puts their hand up. Whoever's drawn the short straw to make the hot drinks will then be hovering around the kettle waiting for it to boil… multiple times. With the average kettle taking between 2.5 and 3.5 minutes to boil, if you've got a large team, drink making can start to eat into your busy day.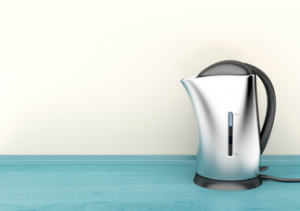 A commercial coffee machine is quicker than your kettle and enables people to make their own drinks in seconds. Opt for either a fresh milk or granulated milk machine and you'll have your drink brewed almost immediately – all at the touch of a button. Alternatively, you could consider getting an undercounter boiling water tap. These taps dispense boiling water on demand saving you time and giving you more time to relax and enjoy your drink.
Which is more hygienic?
A recent study found that over a third (33%) of British workers don't trust their colleagues to follow proper hygiene guidelines. It was also reported that more than a quarter (27%) feel uneasy about making hot drinks for their team members perhaps signalling the end of the tea round.
Kettles are well known to be office germ hotspots and choosing an office coffee machine is a more hygienic option. Plus there are now machines where you can order your drink through an app making it an almost entirely touchless interaction. Find out more about other touch-free tech that supports hygiene in your workplace kitchen.
What to do about limescale?
Have you ever looked inside your kettle to be horrified by the build-up of limescale? Limescale is mainly made up of calcium and magnesium when water is heated. It produces a hard, flaky deposit. You'll need to descale your kettle regularly, (especially if you live in an area of hard water) to prevent build-up. If you don't, it'll quickly corrode the heating element. Any damage to the heating element will affect the efficiency of your kettle and will take longer to boil water, wasting both time and electricity.
Limescale in your tea or coffee will also affect the taste negatively. So to avoid limescale in your drinks, opt for either an office coffee machine or undercounter boiling water tap. With both of these options, your water is filtered to prevent issues with limescale and to ensure your teas and coffees taste great, every time.
Does an office coffee machine offer a good choice of drinks?
Employees increasingly expect a quality coffee experience at work. They want the same hot drink choices they can get on the high street. Your team want to enjoy cappuccinos, lattes, Americanos, mochas, hot chocolate, espressos etc. Our range of coffee machines cater for everyone's taste and the humble kettle simply can't compete on choice.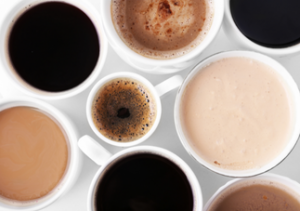 Providing your team with a great choice of premium coffees shows you care about them. In fact, 71% of employees agreed that it would help them feel valued if an employer provided high-quality coffee. It helps support a positive workplace culture and people place a large amount of value on this perk.
Something so simple and cost-effective as a coffee machine can actually help your business attract and retain talent. According to the 2020 Leesman Index, over three-quarters of employees said that tea, coffee and refreshment facilities were a highly important factor. Sharing a quality coffee experience at work and taking a short break can also boost social engagement, increase productivity and improve teamwork skills.
Is a coffee machine more convenient?
If you're a business that doesn't offer barista-style coffees, your team are likely taking breaks in your local coffee shop to get them. Often these coffee shop drinks are overpriced costing your employees expenses every day. Help them to save that money by providing a more convenient but equally delicious option in the office kitchen.
Taking regular breaks is encouraged, so it's a great idea to take them with colleagues in communal break out areas. A coffee machine is quicker and more convenient than a trip to the local cafe and these moments can spark impromptu conversations that strengthen your team culture. Just think how many great ideas or new friendships have started with the words, "Let's get a coffee".
First impressions
They say you never get a second chance to make a first impression and this is true for your coffee facilities. Impress clients, prospects, visitors, suppliers and of course, new talent with great coffee.
If you're holding any large meetings or events, a coffee machine is the only way to go. Coffee machines give visitors and clients the autonomy to make their own drinks. Also, they can cater for large groups quickly and easily without waiting around for a kettle to boil.
What's right for you and your office?
Most offices do have coffee machines now as it's something that employees have come to expect. So if you've made the decision to ditch the kettle, which coffee machine is right for you? We offer a whole range of options and to help, we've put together this handy coffee machine comparison table.
Our contracts start from as little as 3 months so you won't feel tied down if things don't work out. You can change your plan at any time and upgrade as and when needed. To find out more, simply contact our friendly, expert team who are all Speciality Coffee Association trained. Call us on 020 7553 7900 or email hello@freshground.co.uk