Category • Blog articles
5 tasty tips to create an office coffee culture
Ollie Poole | October 27, 2023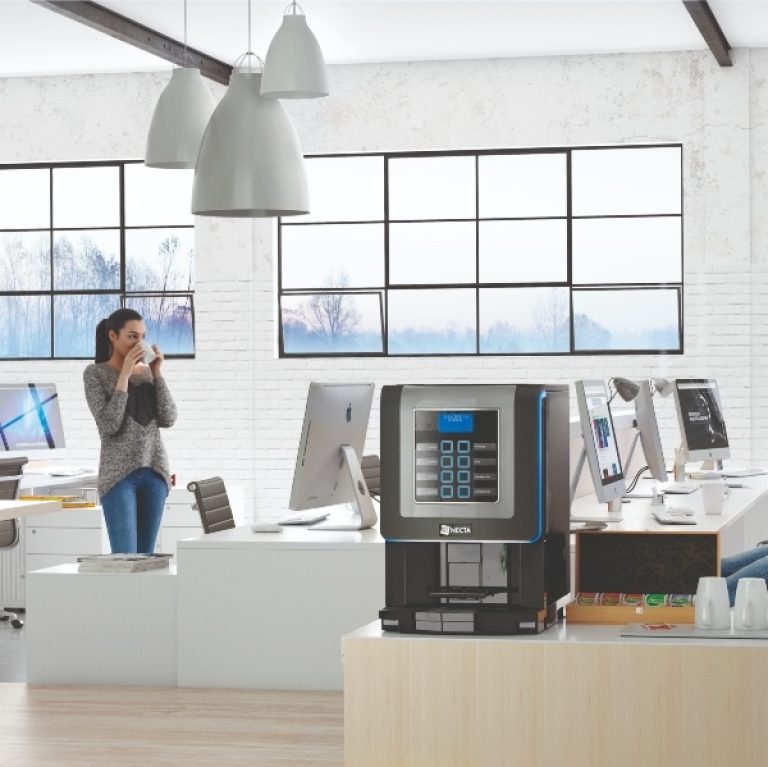 All office workers appreciate great coffee. In fact, 75% of employees believe high-quality coffee shows their company cares about their well-being.
Have you noticed how coffee has a way of bringing people together? Lots of projects, collaborations, meetings and working days are all fuelled by a cup of coffee. So if you're running an office and building a thriving workforce — here are five fantastic ways to level up your office coffee culture.
Create beautiful breakout areas
Every office deserves a gorgeous breakout area. Aim to fill yours with natural light, welcoming design, ultra-comfortable seating and charming coffee stations to lower heartbeats and let the conversations flow.
We also recommend adding office plants to these areas; as evidence suggests they can improve air quality, reduce stress and replenish focus — leading to improved employee productivity and health.
With purposeful planning, you can make your breakout areas a superpower for your business. A bubbling hub of creativity, conversation and good coffee.
Stock plant-based milks
Did you know one in three Brits drink plant-based milks? That's why it's crucial to cater to the dairy-free members of your team by stocking up on alternative milks like oat and almond milk.
To best use them, we recommend buying a coffee machine with dual-milk fridges so that your employees can treat themselves to delicious dairy-free cappuccinos, mochas, lattes, teas and more. Not only do all your employees get their favourite coffees, stocking alternative milk helps you create a sustainable workplace too. The overall result? Your office coffee culture will be thriving.
Provide lots of coffee bean options
The more coffee beans, the better! Giving your employees a wide range of coffee bean options keeps them happy. So you'll want to set up a coffee machine with dual or multiple hoppers in your breakout area to offer the ultimate selection.
To help you finesse your choices — perhaps ask your employees which beans they'd like? Or offer them a range of different coffee beans to try?
We also recommend stocking flavoured syrups, sweeteners and sugar to satisfy all your office sweet-tooths. As well as a decaffeinated coffee option.
Go sustainable
A brilliant office coffee culture is a sustainable one. This means using resources mindfully. You can start by scrapping single-use plastics for reusable company mugs and buying your coffee beans from a Rainforest Alliance-approved or Fairtrade source. Plus recycle your coffee grounds monthly.
Read more about FreshGround's sustainability initiatives and 7 ways to create a more sustainable workplace.
Care about the coffee
Forget mediocre cups of coffee, you deserve to drink the best at work. That's why caring about the coffee machine, coffee beans and plant-based milks is important. It's also fun to learn about and taste different coffee types.
Get in touch
Join one of FreshGround's tasting sessions in our Coffee Experience Centre to get a flavour of what you can add to your office set-up. We will flood you with eye-opening knowledge and coffee innovations, so you can give your coffees the very best. They must all understand the art of amazing coffee.
Contact our team on 020 7553 7900 or hello@freshground.co.uk to build a brilliant coffee culture in your office today.