Category • Best Coffee Buying Guide
Rainforest Alliance vs Fairtrade – what's the difference?
Alex | July 23, 2023 | 3 minute read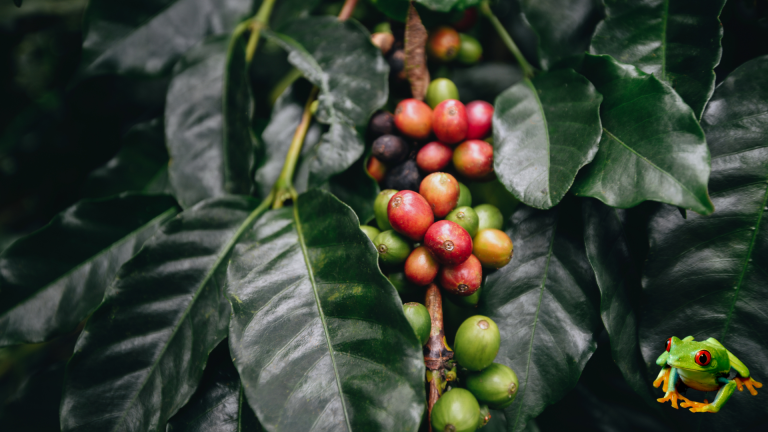 Once you've decided on which coffee machine you have in the office, you'll want to consider what coffee you choose. Of course, there are lots of things to consider including taste, cost, quality and so on. A lot of businesses today are increasingly putting a focus on sustainability so you'll also want to consider this aspect. You'll have heard of Fairtrade and the Rainforest Alliance but what does each one mean? We take a look at both organisations so you can make a well-informed decision on your office coffee needs.
What's the Rainforest Alliance?
The Rainforest Alliance is an international non-profit organisation that focuses on business, agriculture, and forests. It helps to make ethical and responsible business practices the new normal.
Buying products with the Rainforest Alliance Certified seal means you're supporting the conservation of biodiversity. You're also helping to create more sustainable livelihoods by transforming farming and business practices. Products certified by the green frog seal mean that the product meets the Rainforest Alliance standards. These standards are designed to protect ecosystems and the environment. And fun fact! They chose the green frog to feature on the seal because frogs are one of nature's bioindicators. This means a healthy population of frogs is a positive sign to show that local ecosystems are flourishing.
It supports transparent supply chains by providing a clear set of standards and certification schemes. It also helps ensure a more secure and fair financial future for producers and farmers. The Rainforest Alliance also provides access to vital knowledge and training so farmers can implement sustainable practices.
Certification is represented on products by the green frog seal. You'll likely be familiar with it and can be found on a wide range of groceries. Over 44,000 of these products feature the certified seal according to the Rainforest Alliance's recent annual report. We're proud that the FreshGround premium coffee range is part of that.
UTZ Certification
You may have spotted a little red label saying 'UTZ Certified' on your coffee or other products. The UTZ label also stands for more sustainable farming and better opportunities for farmers, their families, and our planet. It was launched in 2002 by a Guatemalan coffee farmer and a Dutch roaster who wanted to bring coffee certification to a global market. They also wanted to spread the impact of sustainable farming practices worldwide. In 2018, the UTZ certification program became part of the Rainforest Alliance and from September 2022, UTZ and its corresponding label are gradually being phased out. This is why you'll see the Rainforest Alliance certification seal on more and more products.
And what about Fairtrade?
Fairtrade was developed in direct response to the struggles of coffee farmers following the collapse of world coffee prices back in 1988. It had become clear that some farmers in developing countries were being exploited and not being paid a fair price for their produce. Buying Fairtrade products means that you're supporting farmers and producers to improve their lives and their communities. To get the Fairtrade registered certification label on products, all ingredients must be produced by small-scale farmers or producers that meet specific social, economic, and environmental benchmarks. Whereas the Rainforest Alliance has a stronger focus on the environment and sustainability, Fairtrade has a stronger focus on protecting workers' rights and wages.
Which is right for my office?
In terms of taste, all three certifications ensure that coffee beans are of the best quality so you're going to get a good cup of coffee. Ultimately, your choice of coffee will come down to a number of factors so we recommend you take the time to weigh up all the pros and cons. Our friendly team are experts in the field and Specialty Coffee Association trained. If you need a hand in making your decision or simply want to learn more about the options available to you, feel free to contact us.