Category • Blog articles
Simple Ways to Reduce Plastic at Work
Jess | March 8, 2021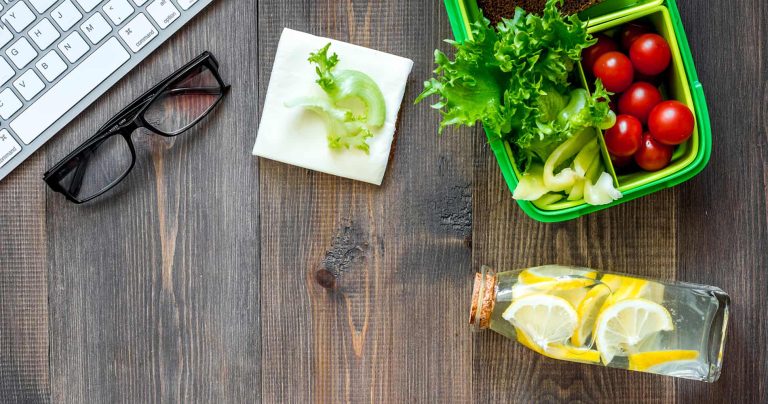 In the UK it's estimated that five million tonnes of plastic are used every year, and nearly half of this is packaging. Plastic pollution is a real problem. It's spoiling the beauty of our environment, threatening to harm wildlife and polluting our oceans. Single-use plastic is undoubtedly the worst offender as this is designed to be used for one time only before it's thrown away or recycled.
We all need to take responsibility for our own consumption. Plastic pollution is at an all-time high, made even worse by the impact of COVID. The use of disposable masks, gloves and other plastic items are increasingly being found discarded along our coastlines, polluting our seas and spoiling our towns and cities. In this blog, we tackle how you and your team at work can help to reduce your plastic use and share some alternatives to single-use plastic.
Reusables
Consider gifting your team with their own reusable items. Firstly, gifting is a great way to show your team you care. And these little perks can help to increase employee engagement and create a stronger workplace culture. You could supply them with their own company-branded water bottles, coffee cups and drinking glasses. This will reduce plastic use in the office and is also a good idea from a hygiene perspective during COVID. Having your own personal items stops any cross contamination and can help to keep work spaces safe and sanitised. Check out some other information around this topic in our blog 'How to safely use your kitchen during COVID'.
Lunchboxes
The UK's lunch-on-the-go habit creates a staggering 11 billion pieces of packaging every year. In a 2019 survey, more than half of 1200 UK office workers interviewed said they were buying takeaway lunches more than they used to. Resulting in an estimated 276 items of waste per person per year. All those plastic sandwich wrappers, salad boxes and single use cutlery can all add up very quickly. So swapping for a packed lunch can really slash your workplace plastic waste. Encourage your team to bring in their own lunch, or gift them branded lunchboxes to support them in making that switch. We love Black + Blum's range of lunch boxes which are great quality, highly durable and super stylish.
Under-counter water tap
Is your team still bringing in plastic bottles or picking up a bottle of water with their lunch each day? You can further help reduce plastic use, and save them money on buying expensive bottled water by installing an under-counter water tap in the office. Everyone can then fill up reusable bottles or drinking glasses with filtered chilled, still and sparkling water at work. They're convenient, save kitchen space and are energy efficient plus they also supply boiling water for hot drinks as well. An under counter tap is a better alternative to a bulky water cooler so you can finally say goodbye to those little plastic cups! View our full range.
Educate your team
With plastic pollution, the first step is education and awareness. Being aware of our usage and how we can reduce it, is crucial in driving positive change. Some businesses will organise awareness events. Or send plastic pollution communications and incentivise their staff to use less plastic or introduce plastic recycling schemes. If we all do our bit, we can genuinely help to save our planet. If you'd like to find out more how FreshGround can support you with your office coffee, water and refreshment requirements, get in touch with us. We'll work with you to select the greenest options to support you in your environmental goals.