Category • Blog articles
The return to the office full-time
Alex | October 5, 2022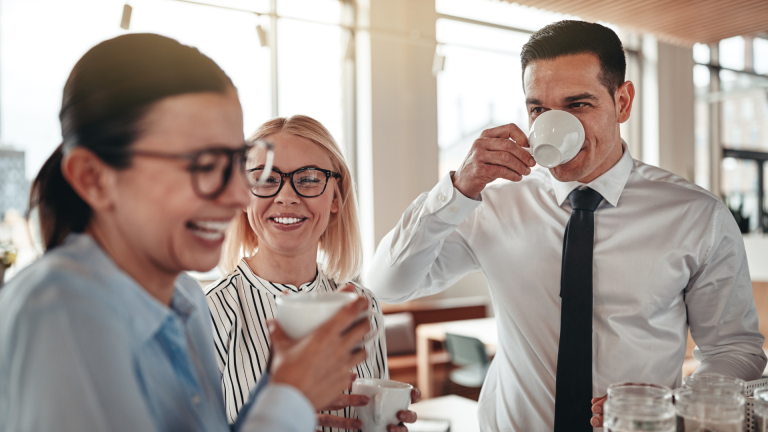 In September 2022, the World Health Organisation suggested that the end of the pandemic may be in sight. This news was the most upbeat we've had from the UN agency since the international emergency began in January 2020. Three months later in March, COVID-19 was declared a pandemic and people across the world were forced to stay in and work from home.
As we'll all remember, after a series of lockdowns, people slowly began to return to the office. Today, as we enjoy zero restrictions, most of us have returned at least part-time to our offices. But what has the shift in work trends done to company cultures in the UK?
Hybrid working
Thankfully virtual events are now pretty much over. You may remember those sometimes awkward after-work drinks via Zoom or quizzes and office parties on Teams. Of course, at the time, these were the best we could do to stay in touch with our colleagues. They served a vital purpose in keeping teams connected when physical face-to-face contact was forbidden. But fast forward to today when we're free to do what we want, where we want, what more can we do to encourage a more engaged workforce to return full-time to the office?
Many UK organisations have now adopted a hybrid approach to office working. Many people enjoyed the flexibility that working from home could offer and were reluctant to return. Others found the shift to home or remote working harder to abide by and felt lonely, disengaged and isolated. There were also challenges whilst working from home in maintaining a healthy work-life balance when you factor in distractions, family responsibilities, long working days with fewer breaks and so on.
In spring 2022, guidance to work from home because of the pandemic was no longer in place. During this time, the ONS reported that 38% of working adults still worked from home at some point during this time. Industry experts suggest that hybrid working is here to stay and employers should offer at least some level of flexibility. However, if offices want their teams to return full-time, they must make the office somewhere people want to be.
Encouraging people back full time
New York Times best-selling author Martin Lindstrom states that "building a strong, dynamic culture requires a physical presence". He talks about the power of community and warns employers not to force employees to come to work. He says the key is to make "your workplace so attractive that it's simply irresistible."
This is a sentiment that FreshGround's Head of HR, Alun Simpson is in agreement with. In a recent interview, Alun admitted that like many businesses during the pandemic, company culture suffered. Communication was more challenging and we missed those impromptu chats and catch-ups that were hard to replicate online. Although productivity didn't suffer, many of the team were keen to return to the office. This can be attributed to our strong sense of community. Today almost all of our team works in the office full-time. So how does one create an environment that people want to work in?
How to create a happy, productive and engaged workforce
There are two key elements that are critical in supporting a happy, productive and engaged workforce. They are community and communication.
Community
Forbes magazine defines community as "a group, team, or organisation where there is high trust, effective communication, equality, respect for differences, and high levels of cooperation."
Put simply, community creates belonging which can motivate people to improve their performance and increase their dedication to what they care about. Without a solid community at work, people may feel isolated. It's also harder to face challenges and complexities when working alone.
There are lots of things you can do to support building a strong sense of community at work. Firstly, we recommend you prioritise onboarding. Ensure all your new starters feel welcome from day one. Make sure you've got effective training plans in place and that new team members have the opportunity to understand all the different parts of the business. Set up team outings or social activities so everyone can welcome new starters helping them immediately feel part of the team.
Personal connections form the foundation for strong and engaged communities. Another great way to encourage this to happen is to give your team spaces where they can come together socially. Water dispensers and coffee machines are natural focal points for informal catch-ups. Casual chats about weekend plans while pouring a coffee strengthen the bonds between colleagues. Breakout rooms with comfortable sofas, spaces you can hold wellbeing sessions and cater for a regular team lunch in the kitchen are all good options your team will value.
Volunteering activities are also helpful to boost community spirit. Not only will this support developing your work community, but it'll also help to raise your brand profile outside the business. Doing good for charity and giving back to your local community will show your clients, customers, prospects and colleagues that you care. At FreshGround a number of our team volunteers for the Rapid Relief Team and we take part in various fundraising activities to support our chosen charities.
Communication
Of course, communication is also key to any good workplace culture. People want to feel like they're being heard. Communication culture defines how your teams communicate with each other, as well as how managers communicate with their teams. It's an essential tool in achieving productivity and maintaining strong working relationships at all levels. Ultimately, you just need to ensure that your team feels heard. Understand that individuals also have different communication styles. Use channels that your team is comfortable with like face-to-face meetings, phone calls, emails, or various instant messaging apps like Slack and WhatsApp.
As a leader, you'll especially want to ensure you communicate with clarity. There can be no room for confusion which can cause your team to feel unsettled or unhappy, and can be detrimental to your business. And as much as possible, be transparent with your team about decisions that affect them and encourage them to be honest with you too. By implementing these simple initiatives and putting more thought and consideration to improving your workplace culture, you'll find that people want to work with you and be present in the office.
Get in touch
If you have any queries or you're looking for an office coffee machine or water dispenser for your team, simply give us a call on 020 7553 7900.