Category • Blog articles
What are the benefits of being in the office?
Alex | March 31, 2023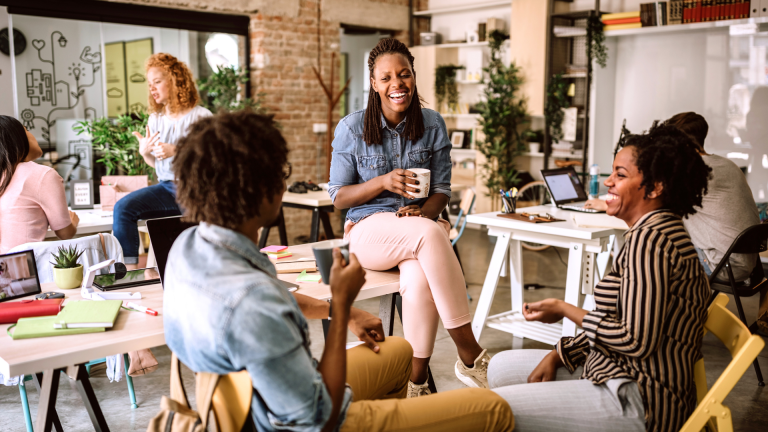 As technology continues to advance, we're increasingly able to work from anywhere. There's no doubt that the impact of the pandemic led to increased home working. But overall for the last few years, there's been a huge shift towards hybrid and agile working. Both of these models of work focus on flexibility and collaboration. They emphasise communication between team members and management which allows for more flexible schedules and work locations.
Agile working tends to focus on teams breaking down complex tasks into smaller ones to finish projects efficiently. Hybrid working applies a variety of methods from both traditional office-based roles and remote or virtual roles.
Whilst a lot of us value the flexibility these work models bring, there are some factors of office life and workplace culture that are hard to replicate in a home environment.
We're going to take a look at the many benefits of working in an office and examine why workplace culture and the office environment are important. We'll explore why face-to-face connections can often be more powerful and valuable in building relationships.
We'll also look at the many perks of office life including one key staple – great coffee. Coffee is a small but mighty perk that people value and it can actually support attracting and retaining talent. In fact, you may be surprised to know that in one survey, over 10% of people would reject a job offer based on the coffee provided in their interview!
Workplace culture
Let's start with the importance of workplace culture. It's proven that working in an office allows employees to form stronger relationships and build friendships with their colleagues. This can, in turn, lead to better communication and collaboration. Having shared values within your business fosters a sense of acceptance and mutual respect and helps to create trust in your team.
A tight-knit sense of community also supports a productive workplace as opposed to working remotely where connections may be more challenging to forge. With all of this in mind, it's clear that it's important that business leaders, as well as office and facilities managers focus on developing a positive and engaging workplace culture where people can thrive.
Striking a balance
Having a physical place of work during regular hours provides your team with an opportunity to set boundaries between their personal and professional lives. Maintaining this balance can help with mental health which can benefit both family life and relationships outside of work as well as enhance productivity levels and even reduce sick days.
A lot of businesses today understand the importance of striking a healthy balance and so they'll offer benefits such as flexible hours, unlimited sick days or annual leave to give team members more control over their schedules.
Productivity
Working from home can be great for eliminating distractions and giving you more control over your work environment. However, it can also be difficult to stay focused and productive when surrounded by the distractions of home life.
In an office environment, your team is surrounded by a professional setting that's specifically designed for work. This can help everyone to stay focused on tasks and be more productive throughout the day. Additionally, this separation of work and home can help establish healthy boundaries and prevent work from encroaching on your personal life.
Is office design important?
Modern offices have come a long way from those dated and soulless rows of cubicles amongst grey and uninspiring surroundings. Thankfully offices are now more often thoughtfully designed with peoples' health, well-being and productivity in mind.
You'll find offices with plenty of natural light, plants and greenery, bright colours and open spaces. Another benefit of working in the office is that employees will often be more comfortable than working in a home office.
Desks equipped with ergonomic chairs, and adjustable monitor stands all help to make your team comfortable. There's even a growing trend to invest in standing desks or treadmill desks as well giving people the freedom to stay fit at work!
Office perks
And finally, office perks including free premium-quality coffee, are important for a successful and productive workplace. They can help boost morale and give employees a feeling of being valued, which makes them more likely to be satisfied with their jobs.
Coffee is especially important as it has caffeine which increases alertness and productivity. Having perks makes the workplace feel like more than just a job but rather a place where people can enjoy themselves and work hard at the same time.
Ultimately if you're a business that encourages your team to spend more time in the office, you need to make sure that it's an appealing place to be. When employers provide the best possible environment it'll maximise creativity, collaboration and productivity which are all vital to a successful business.
Need a hand?
If you're thinking of providing valuable perks for the office including barista-style coffee and refreshing filtered water, simply give our team a call on 020 7553 7900. We've been in the business for over 40 years so we certainly know our beans! Contact us today.