Category • Bean to Cup Coffee Machines
What are the benefits of premium coffee machines over cheaper versions?
Alex | February 18, 2023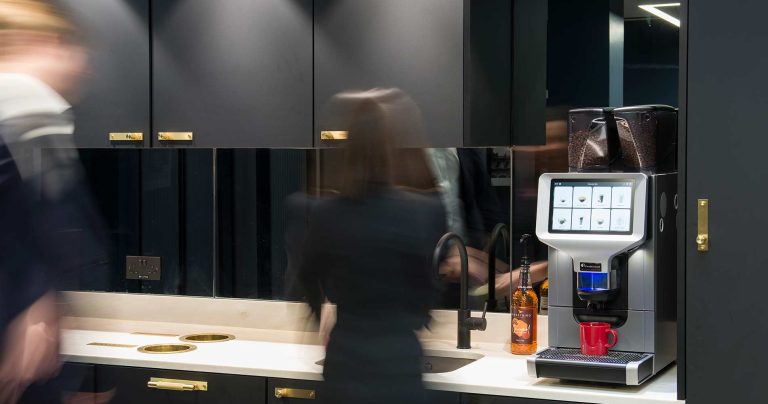 If you're an office manager, one of the most important things you can provide for your team is a great cup of coffee. It's not just a source of caffeine but for many, it's a vital part of our routine to get through the day.
Having the right bean-to-cup commercial coffee machine that provides a barista-style coffee experience can have a huge impact on the overall happiness and satisfaction of your employees. However, a lot of offices make the mistake of choosing a cheap coffee machine instead of a premium one, thinking they'll save money. But we'll let you into a secret… the benefits of choosing a premium commercial coffee machine are worth the cost and we'll explain why.
From attracting and retaining talent, creating a positive impression on clients and supporting your team's health, hydration and workplace happiness, a coffee machine can help you do it all.
Better tasting coffee
One of the most obvious benefits of a premium commercial bean-to-cup coffee machine is the improved quality of the coffee it produces. You could use the best quality, most expensive coffee beans on the market, but if your machine isn't up to the job, you'll still get a poor-tasting coffee as a result.
What's even worse than a cheap and inefficient coffee machine is if you're still using an office kettle and giving your team instant coffee. What does this say about you as a business?
In today's workplace, barista-style coffee similar to what can be bought on the high street is expected to be provided and many people consider it an important office perk. People want cafe quality and they also want a choice of coffee drinks.
Overall, quality coffee machines will tend to use robust materials and more innovative engineering. They're carefully designed and built to last with various settings that guarantee a balanced great tasting cup of coffee, every time.
Essentially, a bean-to-cup coffee machine will give you rich, flavourful, well-rounded, aromatic cups of coffee all at the touch of a button. Plus they're simple to use and easy to keep clean and maintain.
You get what you pay for
Investing in a commercial bean-to-cup coffee machine will guarantee its durability and reliability. Cheaper coffee machines may not be able to cope with the demands of a busy office team and break down quickly, requiring frequent repairs or replacement.
On the other hand, by getting your coffee machine from a trusted supplier like FreshGround, you'll get a service plan as standard if you rent or get it on free-loan. There are two plans we offer and both provide quick-response customer care, so if anything goes wrong, we've got you covered. This means your business will save money in the long run because you won't have to replace your machine or pay for repairs often.
Of course, all of these benefits do come at a cost, but remember that you're adding significant value to your business. A happy team is a productive one after all.
Better features
Along with better coffee quality, customer support, durability and choice of drinks, premium coffee machines come with various advanced features. For instance, many machines now come with dual hoppers and dual milk fridges to give your team flexibility. If you and your team want a wide choice of coffee drinks as well, premium is the way to go. You can choose from lots of coffee drinks like lattes, cappuccinos, espressos, mochas and more.
All of them will have programmable settings, allowing you or your coffee machine engineer to customise the strength and temperature of your coffee drinks during installation. These bespoke features can make a big difference in the overall office coffee-drinking experience, and means you and your team will get coffee just how you like it.
Still not convinced?
No problem! We offer free consultations where we can come to your office or we'll happily invite you to our London showroom for a coffee-tasting experience. We can demonstrate our range of machines and work out pricing plans to suit your budget and requirements. If you're interested in providing your team with a premium coffee experience, simply contact our team today.