Category • Blog articles
What are the benefits of renting or getting a coffee machine on free loan?
Alex | February 22, 2023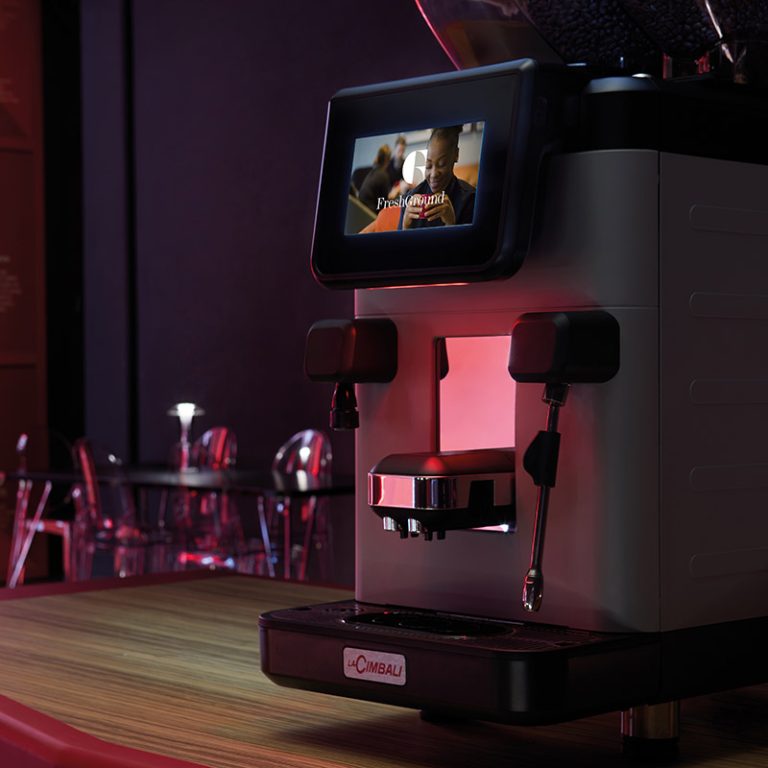 If you're someone that needs a coffee to kickstart your day, make sure it's a quality coffee! There are lots of options when it comes to providing your team with coffee at work, but to give them the best barista-style coffee experience, your best bet is a bean-to-cup coffee machine.
What's a bean-to-cup coffee machine?
If you don't know what a bean-to-cup coffee machine is, it's a type of machine that grinds whole coffee beans and brews coffee all-in-one. They have an inbuilt grinder that grinds the beans, along with a brewing unit that extracts the coffee, plus a system that froths milk for making cappuccinos or lattes.
The process is fully automated giving your team an easy, quick and simple means of making coffee at the touch of a button. So if you're looking to get a bean-to-cup coffee machine for your office, or you're simply looking to upgrade your existing machine, what do you need to do next?
Do your research
Firstly there are lots of great office coffee machine suppliers on the market, so to start you'll want to do your research. Decide if you want to partner with a small local business, a medium-sized supplier or one of the large corporate coffee machine suppliers. Like anything, there are pros and cons to each of them. One thing you must remember to consider though is customer service.
Take for example you're working with a small local coffee machine company with limited staff. They may not have sufficient resources to respond in a timely manner if you have any issues with your machines.
If you opt for a larger corporate supplier, as a customer, you may become 'just a number' and not get the dedicated customer service you deserve. In many cases, we recommend that you choose a coffee machine provider that has an equal focus on three key pillars. These are:
1) Beans
2) Machine
3) Service
By this we mean, you can have the best beans in the world, but if you're brewing them in a machine that's not up for the job – the result? A poor-tasting, low-quality coffee your team won't enjoy.
Similarly, you could have the top range, state-of-the-art coffee machine but if something goes wrong with it and the customer service is below par, you won't be able to serve your team any coffee at all!
We recommend you do your due diligence before you partner with any new supplier and you can read more about that online.
What's right for my team?
So once you've decided that you're getting a bean-to-cup coffee machine, you'll likely work with your supplier to find the perfect model for your needs. Factors that will come into play will be the number of people in your office, what range of coffee drinks the machine makes, how many hoppers it has, whether you'll want a dual milk machine, where it should go and so on. Together you should find the perfect machine that will meet the needs of your team. At this stage when you know which machine you want, what's next in the process?
Well, this depends on how you want to take on your new office coffee machine. You basically have three options which are buying it outright, renting it, or getting it on a term known as a free loan. Let's take a look at what these mean.
Buying your machine outright
If you're a facilities or an office manager with a hefty budget to play with, you might be tempted to buy your machine outright. If you're opting for a premium quality commercial coffee machine, they do come with a high price tag. This is because these machines are made to the highest standards with quality parts and are innovatively designed to be reliable and robust. Buying your machine outright means you have to pay out a large cost upfront which for many businesses is not feasible – especially in today's economic climate.
Also note that if you do go down this route, you must make sure that you have a service plan in place. Often if you purchase an item outright, it will come with a warranty, but that's not really enough to reliably keep the coffee flowing at the office. You should opt for a service provider that will offer a care plan that covers you for general maintenance of the machine, as well as a proactive and/or reactive response if anything goes wrong.
The most popular ways to get an office coffee machine are to either rent it or get it on a free loan agreement.
Renting your coffee machine
Renting a bean to cup coffee machine for the office can be a smart choice for several reasons. Firstly, renting is often more cost-effective than buying the machine outright, especially for small or medium-sized businesses.
With a rental, the cost can be spread over a period of time, rather than being paid upfront. It provides you with the flexibility to upgrade or change your machine without incurring extra costs. This option often includes maintenance and servicing as standard, which means that if anything goes wrong with the machine, it can be fixed promptly.
Another great benefit is that renting is considered a business expense that can be tax-deductible, helping to reduce your overall tax bill. We offer rental agreements for as little as three months, so if you're a commitment-phobe, you're not tied into any lengthy contract. Plus you can upgrade at any time as we understand that things in business can change quickly.
Free loan agreements
If you opt for a free loan agreement, you'll get your coffee machine at no cost simply by signing up for a minimum supply of consumables each month. This allows you to enjoy the benefits of having a high-quality bean-to-cup coffee machine in the office without incurring any upfront costs.
You'll only need to commit to a minimum monthly supply of coffee beans, milk and other consumables. This can be particularly helpful for small businesses or start ups that may not have the budget to purchase a coffee machine outright.
By taking advantage of this method, businesses can provide their employees with quality coffee, which can improve job satisfaction and productivity. Like renting, this offer is also flexible, with the option to upgrade or change the coffee machine if your business's needs change. Put simply, a free loan agreement provides an affordable and flexible solution for businesses to enjoy the benefits of a premium coffee experience in the workplace.
So what should I do next?
Once you've done your research, chosen your machine and you're working with a coffee machine supplier, they'll be able to advise you best on which option is right for you. Every business is different and has bespoke requirements so you might want to consult your team on what they want from their coffee machine as well.
If you need any help or if you have any coffee machine queries, simply contact our team. We've been in the office coffee business for over 40 years so we'd be delighted to help.