Category • Blog articles
What are the best drinks from my office coffee machine?
Zoe | March 8, 2022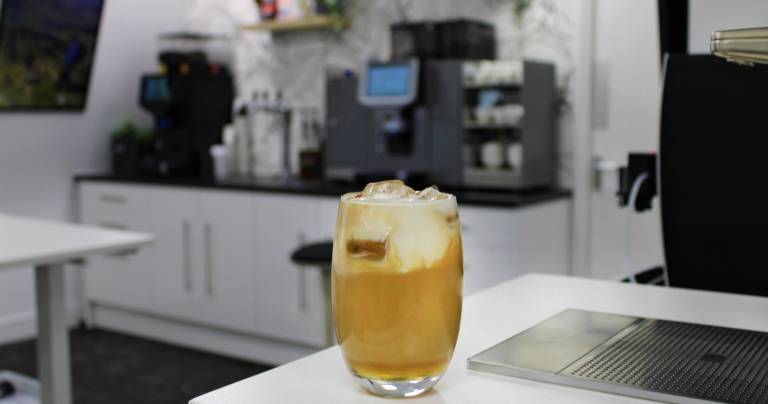 Although Brits are known for their love of a good cup of tea, last year saw coffee tie with tea as the UK's favourite drink. As a nation of coffee lovers, in comparison to other countries, we don't drink as much as you might expect. The UK actually ranks at number 40 in the global coffee consumption list. When it comes to coffee consumption, only two nations top more than 10kg per person per year. These are Finland and Sweden, according to statistics from the International Coffee Organisation.
If you're a facilities or office manager looking to introduce or upgrade your coffee, it's important you choose a machine that dispenses a good range of drinks. Research reveals that in the office around 40% of people enjoy black coffee. 60% will opt for milk-based coffees mainly cappuccinos and lattes. Americano is still the number one favourite with approximately 1/3rd of people opting for this.
Interestingly, coffee consumers in the UK most commonly drink two cups of coffee per day. Only a tenth of coffee drinkers enjoy 6 or more cups daily. There's been a marked change in consumer behaviour recently due to the increase in hybrid working. With more people working from home, our customers tell us they'll drink more hot drinks to take a break from work. They're increasingly enjoying a wider range of drinks meaning that as an employer, you'll want to consider offering your team choice.
What's the size of the coffee market?
Coffee is a huge market and it's estimated that 3 billion cups of coffee are consumed each day. Consumers spent about 3.9 billion British pounds on coffee, tea and cocoa in the UK in 2020. Weekly spending on coffee amounted to 42 pence per person – a figure that has doubled since 2006.
You'll likely want to provide your team with a machine that provides the base of a good quality espresso and then a range of other options. These will most likely include office favourites like cappuccino, latte, flat white and Americano. People are also interested in exploring other espresso-based drinks such as macchiato, mocha and ristretto.
Coffeeshop experience at work
The FT reported high street café culture has led to staff expecting barista-made lattes as "fancy coffee becomes a must-have office perk". Perhaps your team has expressed their dissatisfaction with the current facilities or perhaps you want to provide a better experience.
Coffee may seem like a small thing when you look at the big picture of running your business, but it's more important than you think. Not only does it keep your team fuelled and hydrated, but a quality coffee experience can also help you attract and retain talent. It can support a positive workplace culture. Other benefits include an increase in creativity, productivity and engagement, and it also offers various health benefits. It's a vital part of the work experience and one that shouldn't get neglected.
What drinks are best for my office?
Commercial coffee machines can make espresso, americano, ristretto, latte, cappuccino, flat white, macchiato, mocha and hot chocolate. They're incredibly versatile and offer a wide range of hot drinks. With bean to cup machines, you'll only get the freshest and tastiest coffee drinks.
Your decision will boil down to your office culture. We always find it a good idea to communicate with clarity with your team. Ask them what they want from their office coffee experience. Talk to management, your client experience team or your catering crew to provide insight. For example, are your team used to picking up a coffee on their way to work? Do they enjoy the taste of the Nespresso pod machine that they may have at home? Do they enjoy cafetiere coffee at the weekend? Find out what they'd like to experience.
Another key ingredient of great coffee drinks, is milk choice. We're witnessing a huge rise in veganism across the UK. People have become more conscious of their consumption of meat and dairy. This has led to people choosing other milk types including oat, soy, coconut, almond and more.
One in three Britons now drink plant-based milk, making them a mainstream choice for consumers. And staggeringly, shoppers spent £100m more in 2020 on alt-milks turning it into a near £400m-a-year market. By listening to our customers, we're hearing that facilities managers are committed to embracing this change. They're keen to offer their team a choice of plant-based milks if they want them.
Convenience – what's the best decision to make?
Most people will want an option that's quick, convenient and easy but without having to compromise on the quality. An ideal solution for most offices will be to opt for a coffee machine that offers choice and is easy to keep clean and maintain.
Of course, if you're a very small team, you could consider an off the shelf domestic coffee machine. But bear in mind, that they may not cope with peak time usage or are covered under warranty for commercial use.
What's next?
If you need any help in defining what's right for your team, you can get in touch with us. We've got lots of office coffee machines that provide premium and affordable coffees to keep your team happy and hydrated at work.