Category • Alternative Milk
What choice of milk is right for my coffee machine?
Zoe | April 5, 2022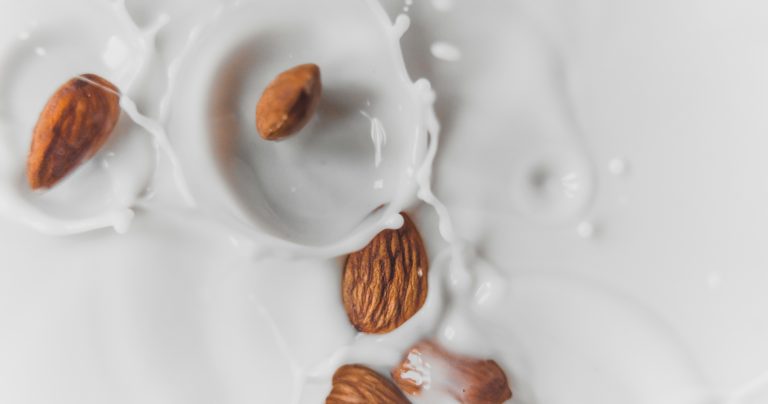 We take a look at the rise in plant-based milk, the different types of milk you can now have in your coffee and help you work out what's right for you and your team.
Pop into any cafe on the high street and you'll be offered a wide range of different kinds of milk to choose from. Gone are the days when you had two or maybe three options of full fat, semi-skimmed or skimmed cow's milk.
Today you can take your pick from almond, oat, hemp, coconut, soy, rice, quinoa, potato – we could go on! With a huge shift in people moving away from dairy, an uplift in veganism and people who are increasingly becoming dairy intolerant, is this the end for fresh cow's milk?
If you're a facilities or office manager, you're the one who tries to keep the team happy and part of this involves providing a quality coffee experience at work. Research proves that having barista-style coffee is valued as a perk and helps make your team feel that they're valued. It can also support people being more productive, boost problem-solving skills and work better as a team. Therefore, the power of quality coffee at work should not be underestimated!
Milk is an aspect of coffee making that can sometimes get overlooked so it's worth remembering that for lattes, cappuccinos, flat whites and even hot chocolates, milk can make up around half of the drink. Therefore it's key in delivering a great tasting coffee. So what type of milk do you choose for your team? How many different varieties do you stock in order to keep everyone happy?
Cow's milk
Good old cow's milk is reasonably priced, easy to find, and has several health benefits. It contains fat, protein, carbohydrates, calcium, and B vitamins so it covers a lot of nutrition bases.
However, its popularity is decreasing – reportedly by as much as 50% here in the UK and this is mainly due to people switching over to plant-based milk.
Are plant-based milks the future?
Where do we start? There are so many plant-based milk options on the market today, you're spoilt for choice. Their popularity continues to grow year on year and according to research from The Grocer, 62% of people have bought plant-based milk before. Of those, 70% are buying plant-based milk at least once or twice a month. A massive 32% of households buy dairy-free milk regularly now.
Another survey reported that 1 in 3 Brits now drinks plant-based milk with millennials aged 25 to 44 leading the way in usage. Perceptions of health and environmental benefits of plant-based milk continue to aid its growth. But what are they and are they really better for you to have in your coffee?
What are the most popular plant-based milks?
Firstly, vegans will rejoice at the increase in plant-based milks as not so long ago, they only had one or two options. The first that was readily available was soya milk and today the market is led by what's known as the big four – oat milk (with a huge 30% market share), almond milk, coconut milk and soya milk.
Overall, all plant-based milk sales in the UK, which includes oat, almond, coconut, soy and others, reached an estimated £394 million, a 32% increase from 2019; with traditional cow's milk sales still far in the lead at an estimated £3.2 billion.
Which milk is better for the environment?
The dairy industry has faced increasing criticism due to environmental concerns. A 2018 study by researchers at the University of Oxford showed that producing a glass of cow's milk results in almost three times more greenhouse gas emissions than any plant-based milk and it consumes nine times more land than any of the milk alternatives.
For environmentally conscientious consumers removing cows' milk from their coffee may be an option. BUT, it's not quite as clear cut as that. Other plant-based drinks aren't great for the environment either.
Take for example almond milk. Many people don't know the environmental damage almond plantations are doing in California and other areas, and the water cost. It takes a staggering 6,098 litres to produce just 1 litre of almond milk and this popular milk substitute is also damaging to bees who play a vital part in our ecosystem.
What other things should I consider when choosing milk for the office?
As a facilities manager, understandably you'll be working to budgets so you'll need to balance the cost of various milk types against the value you're getting by supplying it to the team. So it's worth considering that oat milk for example is around 4 times more expensive than cow's milk.
Another thing to consider is how the milk will taste and foam in coffee. Some plant-based milks are notorious for creating a curdled effect if you put it in coffee that's too hot for example. Some other milk varieties will not create a foam that will work successfully in a cappuccino. And you'll also want to consider the shelf life of milk types as well and work out what will best suit your team's specific needs. If you need a hand, our team are here to help and give you any advice – just give us a call.
How many different types of plant-based milks are there?
And finally, what options do you have on the market today? There are hundreds of choices but the main ones to consider are the following:
Oat

Almond

Soy

Coconut

Pea

Potato

Hazelnut

Hemp

Peanut

Rice

Cashew

Macadamia
There are new versions coming out all the time and ultimately, it comes down to personal preference so it's a good idea to ask your team what they want. Try to limit yourself and not stock too many varieties as this can often result in waste if they're not being enjoyed within their use-by dates. And whilst it's not an official requirement to supply a range of different kinds of milk to your employees, it can certainly help your team to feel appreciated, valued and support your workplace culture.