Category • Blog articles
What's the cheapest coffee machine for the office?
Alex | July 25, 2023 | 5 minute read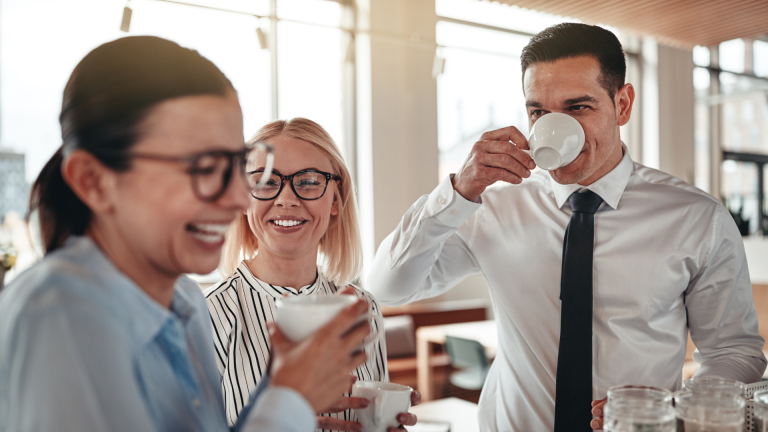 Most of us enjoy a good cup of coffee to kick start our working day, but the cost of picking up a takeaway coffee from your local coffee shop can often leave a bitter aftertaste. If you're a facilities or office manager that's responsible for your team's happiness and hydration, you'll want to provide your team with the best in-house coffee your budget can stretch to.
We understand that businesses everywhere are under pressure to keep costs low and stay within set budgets. And of course, with costs rising in almost every aspect from energy prices to labour, it's a challenge to know where to cut costs. However, before you slash your office coffee budget, it's important to bear in mind the value that quality coffee brings to your business.
Today, it's reported that people expect the same type and quality coffee drinks in the office that they get on the high street. They also expect employees to provide this for free as just one of many office 'perks'. In fact, in a recent survey, 40% of people voted free tea and coffee as the office perk they value most.
The type of coffee you serve your team, clients, visitors and suppliers creates an impression about the type of employee you are. More and more people value high-quality, freshly ground, great-tasting coffee. A cup of instant made from the kettle would in today's business world, be considered a red flag to many.
In fact, in an interview situation, it could be the difference between hiring a new member of staff or them declining your offer. Therefore the quality of the coffee you provide is not only important to your team but also to talent acquisition, and talent retention and therefore vital to your overall workplace culture.
How much is the cheapest office coffee machine?
You may be on the hunt for the cheapest coffee machine and cheapest coffee beans – but ask yourself at what cost to your business? You will likely find that purchasing a cheap coffee machine will come with a series of challenges. Number one is quality. Like anything – you tend to get what you pay for.
Cheaper coffee machines will be made from poorer quality materials and will lack innovative design and functionality. Your cheapest coffee machine can come in as little as a few hundred pounds but you may find out very quickly that it's a false economy. Here's why….
Can I use a domestic coffee machine in the office?
You may be considering using a domestic coffee machine in a commercial office setting to cut corners. Again, you should expect problems to arise if you do. A domestic coffee machine, whilst drastically cheaper than its commercial counterpart, will not keep up with the demand of an office team.
A coffee machine you might use at home for say a couple or a family of four, will not be able to cope with servicing a team of ten who use it throughout the day, for example. You will likely run into problems where the machine will break, leaving your team with no coffee at all. Not a good look for your office coffee culture!
Do I need a commercial office coffee machine?
Ultimately you need an office coffee machine that's fit for purpose which means you should opt for a commercial machine. There are lots of different types of machines on the market and they all vary in price.
Choose from pour-over coffee machines which are the cheapest through to commercial pod machines, vending machines and bean-to-cup machines.
What's the best type of machine for my office?
Most offices in the UK opt for a bean-to-cup coffee machine. The reason is that you get great-tasting, freshly ground coffee which is brewed in a matter of seconds. Many of these bean-to-cup machines come with dual or multiple coffee bean hoppers offering your team a choice of beans. This allows you to opt for different beans, blends or provide your team with a decaffeinated option.
A lot of machines also now offer you and your team a choice of milk to use in their coffee. There is a growing popularity of alt-milks due to the rise in veganism, lactose intolerance, and ethical and sustainability reasons. By offering your team a choice of milk, it shows you are considerate of their values and gives them the flexibility to make their own decisions.
What size machine do I need?
If your office team is on the smaller side, in some cases, you can go for a cheaper bean-to-cup coffee machine. However, larger offices that need a lot of coffee will need a more robust and reliable machine that can comfortably cater for high-traffic areas. The last thing you want is for your coffee machine to run out of beans or milk, or in the worst case, run into a fault if it's being overworked.
That's why if you're considering getting an office coffee machine, you should speak to an expert. Our team at FreshGround have over 40 years of experience and can help and guide you in getting the machine that's right for you and your team.
How much does an office coffee machine cost?
Whilst purchasing a machine outright can be costly with machines starting from around £1,500 going up to around £10,000 for the top tier machine, most UK offices don't buy them. In fact, nearly all of our customers choose to either rent or get their machine on free loan. A free loan agreement simply means that customers sign up for a minimum amount of coffee and consumables each month and they get the use of their coffee machine for free. Renting and free loan options also mean that machines come with comprehensive service plans. Choose from our Essentials plan or our Total Care plan – both of which cover your machine just in case things ever go wrong.
You may be surprised to know that you can get a state-of-the-art coffee machine up and running in your office from just £5 per day. That's less than what your average employee would spend in a coffee shop.
When you consider the overall investment against the many benefits a quality coffee machine will bring to your office, most customers understand it's a cost that is not worth cutting.
Contact us
To find out more, simply contact our team today and we'll help you find the most convenient and affordable office coffee solution to fit your budget.