Category • Blog articles
Why has my office coffee machine stopped working?
Alex | December 18, 2022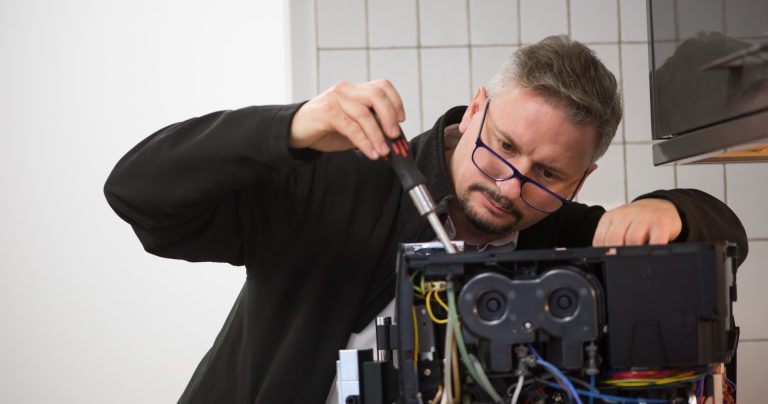 Has your office coffee machine stopped working? Simple troubleshooting tips to help you out
If your business encourages a positive workplace culture, you're likely providing your team with quality coffee at work. It's proven that people value having barista-style coffee as an office perk. Coffee is a vital part of the workplace, and often, the coffee machine acts like a central hub. It's a place where people will gather, chat and enjoy a break.
Coffee can support your business to maintain and attract talent and it can boost productivity and creativity. And don't forget, a poor cup of coffee offered to prospects, clients, visitors or suppliers can set a negative tone. First impressions count and a cup of instant coffee simply doesn't cut it any longer.
Many of us have come to rely on our morning coffee to kickstart our day, or as a pick-me-up in the afternoon. So there's no wonder when the coffee machine either starts pouring bad-tasting coffee or, even worse, stops working entirely, that facilities and office managers may begin to panic. Part of these vital roles in the business is to keep the team happy. A team without coffee tends to be a grumpy and unhappy one.
We've been in the office coffee business for 40 years so we've seen it all when it comes to coffee machines. We've put together some simple troubleshooting tips you can try to get your machine up and running again ASAP.
Of course, if you have any issues with a FreshGround machine, you'll be covered by our service team. You can always give us a call on 020 7553 7900. Every member of our team is Speciality Coffee Association trained, and we also offer a support page on our website with videos. If you need an engineer to come out, we can organise that for you too. So don't panic – we're here to help.
Why does my coffee taste bad?
If your coffee has started to taste a bit off or has a strange aroma, the first thing to do is make sure your machine is being thoroughly cleaned. Your coffee machine might look perfectly clean from the outside as it gets wiped down each day, but it's what's inside that can cause problems.
Milk
Both fresh and granulated milk machines can become unhygienic and pose bacterial risks in pipes. These pipes can clog up if not cleaned regularly. Leaving this harmful bacteria to breed can cause people to fall ill. And of course, this will make your coffee drinks taste unpleasant. It's very important to keep on top of your daily cleaning regime.
And don't forget to also check the use-by date on your milk as this may be a very simple cause of your poor-tasting coffee.
Tannins
Cleaning your machine is also vital to remove tannins. Tannins are the brown stains you see in your tea or coffee cup. A coffee machine is no different. Tannins can build up over time and leave dark brown stains inside your machine. You may not be able to see the stains, but too much staining can cause your coffee to taste bitter and ultimately will make your machine less efficient.
Limescale
Limescale can also affect the coffee and function of your coffee machine, especially if you live in a hard water area. This only applies to handfill coffee machines as commercial plumbed-in machines have inbuilt filtering to prevent limescale build-up.
Beans
And finally, if you've cleaned your machine thoroughly and you're still not enjoying your coffee, consider switching your coffee beans. You may not be using high-quality beans which may result in a bitter cup of coffee. And also be sure to check the use-by date on your beans. Freshly roasted beans once opened should be ok for around 3 – 6 months, but check the date to be sure.
Coffee isn't dispensing correctly
If your coffee is being poured too fast or too slow, this will result in a bad cup of coffee. If the coffee is trickling out and taking too long to pour, it may be that there's a blockage. Again, first thing is to make sure the machine has been cleaned. Thankfully cleaning is really easy and tends to involve just adding a specially developed cleaning tablet to the machine, pressing a few buttons and letting the machine get on with it.
If you can't find any issues, give your office coffee machine provider a call and they will talk you through some further checks to make. If the issue remains unresolved, they'll arrange for an engineer to come out and take a look at it.
Service plans
If you have a coffee machine at work or you're thinking of getting a new one, we recommend you either rent the machine or get it on free loan. Contracts start from as little as 3 months so you won't get tied into long agreements. You can also upgrade at any time. All of our contracts come with a service plan as standard.
Service plans are important to ensure your commercial machine stays up and running. Most office coffee machine providers will offer various levels of care. In our case, we offer two service plans for our customers. We offer an Essentials package alongside a more comprehensive plan called Total Care. You can find out more about them.
Contact our team
If you need any help troubleshooting or you just need some advice, simply get in touch with our friendly team.