Category • Best Coffee Buying Guide
Why is a takeaway coffee so expensive?
Alex | July 23, 2023 | 5 minute read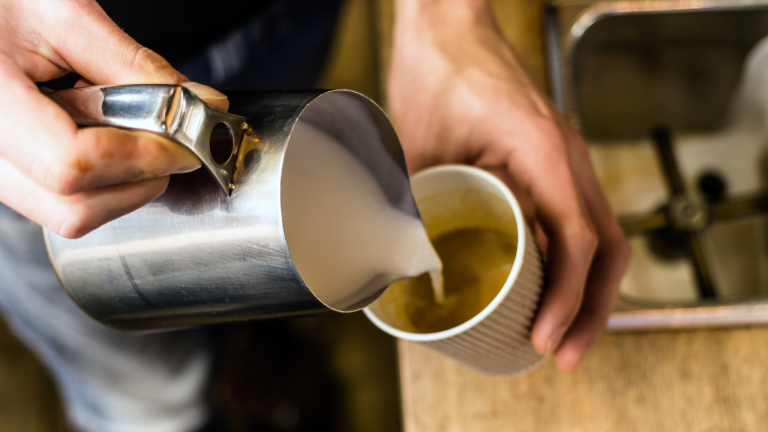 Many of us enjoy picking up a takeaway coffee each morning to kickstart the day, but with the rise in our cost of living, you may be wondering why your caffeine fix is so expensive. There are a number of reasons that explain the seemingly ever-increasing cost of your takeaway coffee at the moment, so let's take a look at some of them.
There are hundreds of articles online sensationalising the amount we spend annually on takeaway coffee, but it's a perk that many of us love and don't want to give up, and why should we? Over recent years coffee has increased in popularity and despite us Brits being well known as a nation of tea lovers, coffee is now equally enjoyed.
You may be surprised to know that people across the UK drink around 98 million cups of coffee a day with most people drinking one or two cups every day. It's a booming business with UK coffee lovers reportedly spending more than £4bn in 2020. The average takeaway coffee costs around £3.40 per cup with speciality and flavoured coffees often being more expensive so why the high price tag?
Overheads
At the end of the day, coffee shops are businesses so, in order to stay afloat, they ultimately need to make a profit. When deciding on a pricing structure, they need to cost in factors like rent, business rates, staffing costs, and training and that's before you consider the actual product costs.
Inflation is also playing its part in the price of your takeaway coffee here in the UK and coffee alone increased 11.5% in 2022. The price of coffee has increased globally mostly due to bad weather affecting crops along with higher shipping and freight costs also fueling the price hike.
Then, of course, you've got the added costs of takeaway cups, a whole variety of different kinds of milk to stock, disposable cutlery, napkins etc and the salaries of the baristas that make your coffee. You can soon start to see that the profit margin isn't as big as you may have first thought. If you'd like to see exactly how the costs are split, check out this useful diagram.
You're also paying for the quality of the product. It wasn't that long ago that your average café would be serving up a cup of instant coffee which is comparatively much cheaper. Thankfully with the arrival of the big coffee shop chains in the early 90s, coffee quality started to improve to how things are today. We now expect our coffee to be freshly ground and brewed to order to provide us with a more premium, better-tasting coffee experience.
Ethical Sourcing
In the modern-day coffee shops are more conscious than ever to ensure their coffee beans and the entire process of their coffee making is ethically sourced. The big coffee companies do this to ensure their workforce at the pre-production end are well looked after, ensuring that part of the coffee making wheel runs smoothly. For these big companies, being able to state they are ethically sourcing their products is a great marketing tool and reputation builder. The fact coffee companies have to pay more for the whole process to ensure their coffee is being sourced and created ethically costs them more money, meaning the final product cost will also increase.
Is coffee culture changing?
The number of coffee shop outlets in the UK consistently increases each year. In 2019, there were 25,892 coffee shops, up from the previous year's total of 25,486. The role of coffee shops has changed in recent years and now it's common for people to work from them. It's become so common in fact that etiquette bible Debrett's recently issued guidance on the unofficial rules of working in cafes. The advice ranges from ordering food and drink regularly so you're not sitting there nursing the same coffee for hours, (after all, the café needs to make a profit), to avoiding video calls or acting in a way that will disturb other customers in the shop.
Many people will also use coffee shops for meeting colleagues or potential clients. They provide a comfortable and friendly atmosphere and are a break from the norm of having your meeting at the office in a meeting room. They do however lack privacy and they naturally offer more distractions, so they're not always deemed as the best or most professional choices of venue.
Is my takeaway coffee sustainable?
From a sustainability perspective, the industry as a whole is working hard to improve its carbon footprint. The coffee industry is dedicated to building a truly sustainable supply chain – from crop to cup, and meeting complex challenges that include climate change, community dynamics, and socioeconomic/political conditions found in many coffee-growing countries. Coffee shops themselves are going green by sourcing coffee and other products more ethically, investing in recyclable cups and incentivising customers to bring their own reusable cups, however, there's still a way to go.
The UK's fondness for takeaway coffee sees us disposing of 2.5 billion plastic-coated takeaway cups annually, and that number is still set to increase by a third by 2030. Only one in 400 cups is recycled. The rest are sent to landfills, generating a staggering 152,000 tonnes of carbon dioxide a year – that's equivalent to the emissions of 33,300 cars. You can do your bit by investing in a more environmentally friendly reusable cup for your takeaway coffees. There's a great selection of cheap and cheerful options here and loads more online to choose from.
Some employers will create a commuter pack for their team and gift a branded reusable coffee cup. It's an extra office perk that shows your team you care, plus they can use it to refill from your office's bean to cup coffee machine during the working day. The same goes for reusable water bottles so you're not encouraging your team to use single-use plastic. For more ideas on how to reduce plastic in the workplace, check out our blog.
Get in touch
Ultimately, when you weigh up all the factors that go into creating your cup of takeaway coffee, they're actually not as expensive as you might think. And if a cup of takeaway coffee makes you happy and you enjoy them, then it's an expense worth having. If you're an office or facilities manager that wants to provide a barista-style quality coffee experience at work, you might want to consider a commercial bean to cup coffee machine for the office. If you need any advice, you can always give our team a call.