Category • Blog articles
Drinks that will put a spring in your step
Alex | February 4, 2022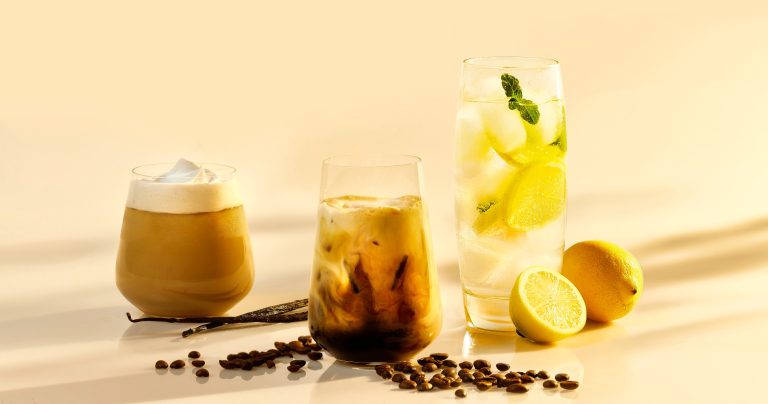 Enjoy some refreshing tea, coffee and sparkling water drinks this spring in the office.
Days are getting longer and lighter with the onset of spring and the days they'll continue to get brighter until the Summer Solstice on 21 June 2021. For spring/summer 2022 we've created some bright and refreshing drinks that will add a bit of cheer to your working day. They're all simple to make, just needing a few ingredients you can bring to the office. Perfect for enjoying with friends and colleagues, what will be your favourite?

Zesty Sparkling Mint Lemonade
This is a fresh, citrus sparkling long drink that'll help keep you healthy and hydrated at work. Firstly, pick up some mint and lemons and bring them to the office to make this.
To start, simply fill a tumbler up with sparkling water from your undercounter tap. Slice your lemon into quarters and squeeze the juice from one quarter into the glass. Add a good-sized sprig of mint, along with 4 or 5 ice cubes and stir. Add a slice of lemon to garnish which will also add more flavour and then sweeten to taste with sugar, sweetener or honey. Enjoy!

Indulgent Vanilla Latte Cold Foam
Cold foam drinks are all the rage in coffee shops and they're actually pretty easy to make yourself. You can make them with just a touch of a button with the state of the art F5 Egro Next coffee machine but if you don't have the F5 – don't worry. Firstly you'll need a milk frother which you can pick up from Amazon for under a fiver.
Firstly fill a tall glass a quarter of the way up with either skimmed or semi-skimmed milk. Use your milk frother to whip into a creamy, bubbly foam and set aside. Next pour two espresso shots into a cup. Fill another glass with ice and then pour in the coffee. Add around 100ml of milk over the ice and coffee, along with a shot or two of vanilla syrup and stir until combined. Spoon your cold foam on top and you can sprinkle with a dusting of chocolate to make it extra Instagram–worthy!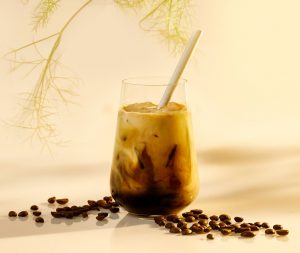 Smooth Caramel Iced Coffee
This sweet and creamy caramel iced coffee tastes just as good as anything you can buy from the high street but without the hefty price tag.
To start, pour two espresso shots from your office coffee machine and leave to cool. Once cool, pop it in the fridge so it can chill. Now you have chilled coffee, you can pour it into a long glass and add ice. Then fill to the top with milk and add two generous shots of caramel syrup and stir well. To make it even more indulgent and creamy, you can also add in two tablespoons of double cream. We like to top ours with squirty cream and drink with a straw. This is a great treat on sunny days to keep cool, although, of course, it can be enjoyed all year round at any time!
If your office is in need of a new coffee machine or water dispensing solution, check out our range online. We have something to suit every size office and our contracts start from as little as 3 months so you won't be tied into a long contract like with other providers. Simply give our team a call and we'll find the right solution for you and your team.