Category • Blog articles
5 deliciously spooky coffees to make this Halloween
Ollie Poole | October 30, 2023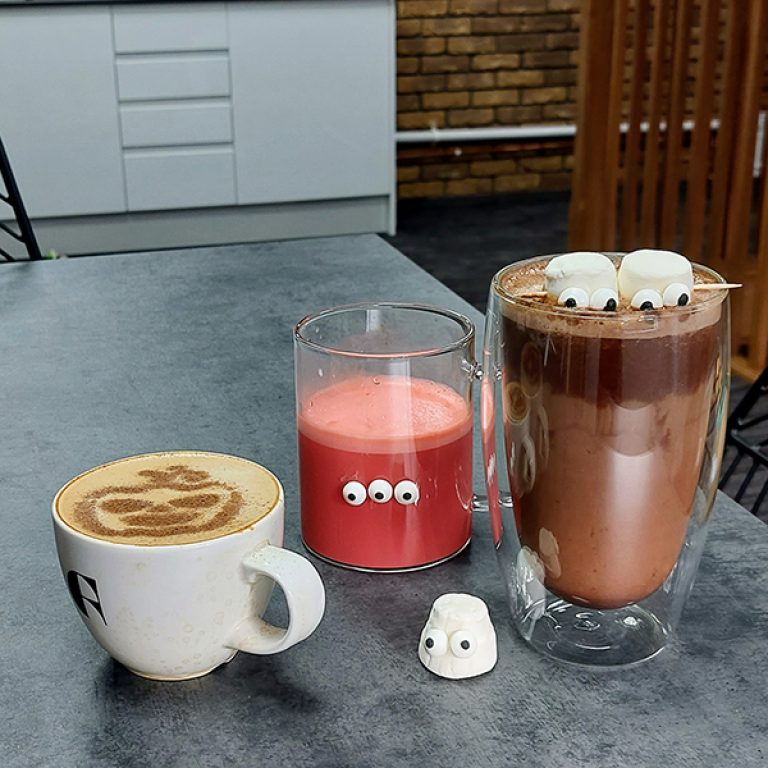 With the cold night's closing in, Halloween is the perfect time to cook up a hot coffee cauldron of spooky seasonal spices. From fang-tastic flat whites to misery mochas – treat your tastebuds to these 5 scarily good coffees this Halloween. Perfect for making at home or in the office.
Disclaimer: No witches, goblins or ghouls were offended in the making of these videos.
Pumpkin spiced vanilla latte
Ingredients:
2 tsp pumpkin purée.
Pinch of ground cinnamon, plus extra to serve (or use pumpkin spice).
Pinch of ground ginger.
Pinch of ground nutmeg.
30ml espresso or strong coffee.
250ml milk (any will work).
Method:
Put the pumpkin purée in a large heatproof glass or mug. Stir in the spices and espresso or strong coffee. Next: heat the milk in a saucepan over a low heat until steaming and frothy. Pour into the glass or mug, and spoon over any froth. Stir to combine, then dust with more cinnamon or some pumpkin spice before serving.
Discover More: How to create a barista-style experience in the office
Deliciously spooky Halloween coffees (recipes below)
1) Misery Mocha
Ingredients:
Marshmallows.
Edible candle eyes.
Mocha (espresso, cocoa powder, hot water, milk foam or whipped cream!), or simply hit the mocha button on a FreshGround coffee machine.
Method:
Marshmallows. Stick on edible eyes with edible glue. Poke two marshmallow ghosts onto a cocktail stick. Dispense a mocha from F5 Egro Next coffee machine. Place marshmallow ghosts on top.
Discover More: Nutella mocha – Winter Drinks video series
2) Blood Moon Latte
Ingredients:
Espresso.
Red food colouring.
Foamed milk.
Method:
Add a dash of red food colouring to an espresso then stir. Add foamed milk from coffee machine. Stick edible eye on the outside of the mug.
3) Fangtastic flat white
Ingredients
Espresso and 100ml steamed milk (or press flat white on your office coffee machine).
Cinnamon.
Pumpkin stencil (accessory).
Method
Dispense a flat white (or your favourite coffee) from your coffee machine. Grab a spooky stencil, we choose a pumpkin face. Dust cinnamon over the top to create a spooky face on top of the coffee.
Brown sugar cinnamon latte
Ingredients:
1 tsp brown sugar or 1 FreshGround brown sugar stick.
2 shots espresso.
1tsp cinnamon.
Dash of double cream.
1 cup (8oz) milk
Ice.
Caramel syrup (1 tablespoon).
Method:
Add brown sugar to a jar, dispense a double shot of espresso on top and mix until the sugar has dissolved. Add cinnamon, milk and double cream to a separate jar and whisk until foamed. Next: add ice and caramel syrup to your glass. Pour in the double espresso mixture, followed by cinnamon milk foam. Garnish with a lotus biscuit.
Want barista-quality coffee for your workplace?

Coffee machine featured: A5 Ergo Next Touch
Get in touch via 020 7553 7900 (phone) or hello@freshground.co.uk (email) to learn about a premium coffee experience for your workplace. Our one-touch machines make coffee as easy as it should be.