Category • Bean to Cup Coffee Machines
How does a bean to cup coffee machine work?
Alex | March 26, 2023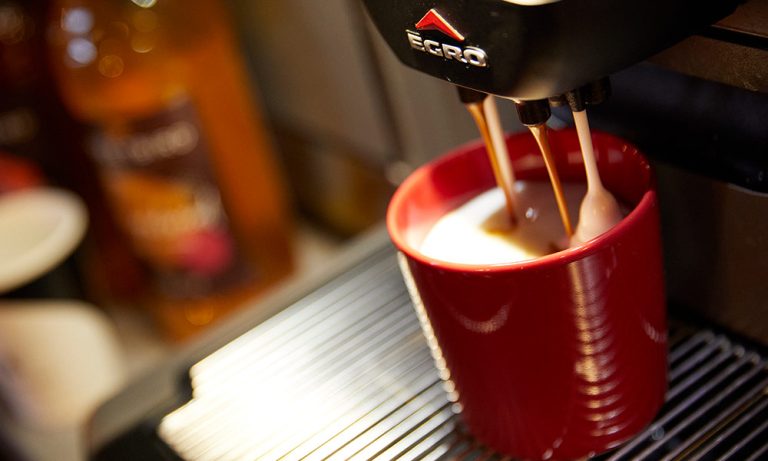 Are you thinking about getting a new office coffee machine? Perhaps your current one has had its day, or you've expanded your team and you need a higher capacity option. With so many types, makes and models on the market, it's hard to know where to start with what coffee machine is right for you and your team.
In our forty years' experience of providing offices with coffee solutions, we recommend that offices opt for a bean-to-cup machine. They're convenient, affordable, and offer a wide choice of different coffee drinks similar to what you'd find on the high street.
Your team deserves the best, so by giving them access to fresh, consistently great-tasting coffee for free, you're showing that you value their well-being, something that's vital in today's competitive world of work.
In this blog, we're going to go behind the scenes and explain the ins and outs of how bean-to-cup coffee machines work.
What's a bean-to-cup machine?
Firstly, bean-to-cup machines use freshly ground coffee beans to make your drink, ensuring a rich and delicious flavour, every time. One of their many benefits is that they're incredibly easy to use and maintain. All you need to do is fill them up with beans, press a button, and you have a perfect cup of coffee in seconds. Most of them are plumbed in so you don't have to worry about filling them up with water, although some do have hand fill options where there is no water source available.
Another great thing about bean-to-cup machines is that when it comes to maintenance, they're a breeze to look after. Most will come with automatic cleaning and descaling features as standard, so you don't have to worry about scrubbing the machine or dealing with any build-up. The cleaning is mostly automated as well, so by just selecting a few buttons, it will take care of itself.
Do remember though to ensure your machine is covered with a comprehensive service plan. This is vital in case anything goes wrong. You'll want a plan that offers proactive and reactive service so that if for any reason your machine stops working, someone can get it up and running quickly and easily.
How do bean-to-cup machines work?
Next, let's dive into how these machines work. It all starts with the beans. Bean-to-cup machines have a built-in grinder that grinds the beans fresh for each cup. The grounds are then compacted and pushed through a filter, which holds the coffee while hot water is forced through it. This creates a rich and flavourful shot of espresso.
From there, the machine can make a variety of different drinks. If you want a simple Americano, just add hot water to the espresso shot. If you're in the mood for a latte or cappuccino, the machine can steam and froth milk to create the perfect creamy texture.
And if you're feeling adventurous, some machines come with the ability to make hot chocolate or other speciality drinks. Some even come with dual hoppers to offer a choice of coffee beans and dual milk functionality, so you can cater for those who enjoy plant-based milks over dairy. By having a bean-to-cup machine, you have something for everyone!
Are they easy to use?
Put simply, yes. Bean-to-cup machines make it very easy for anyone to make a delicious cup of coffee. They'll come with pre-programmed drink options, so all you need to do is select the drink you want and the machine will do its thing. And if you prefer your coffee a certain way, you can customise the drink settings to your liking.
What are the benefits of having a bean to cup machine?
So, what are the benefits of having a bean to cup machine in your office?
Time saving
For starters, they save time. No more waiting in long lines at the coffee shop or your team wasting valuable time waiting for the office kettle to boil. With a bean-to-cup machine, you can have a fresh cup of coffee in seconds, allowing you and your team to get back to work faster.
Affordable
They're cost-effective especially when you factor in the costs of buying coffee from a coffee shop every day. By investing in a bean-to-cup machine, you can save your team money and have the convenience of having a barista-style coffee experience in your office.
Premium quality
And let's not forget about the quality and taste of the coffee. With freshly ground beans and customisable drink options, a cup of bean-to-cup coffee beats a cup of instant, every time.
In conclusion, a bean-to-cup coffee machine is the perfect addition to any office. They're so easy to use, simple to keep clean and maintain, and best of all, they provide high-quality coffee that will keep you and your colleagues energised and productive throughout the day. If you're thinking of getting a bean-to-cup coffee machine, simply get in touch with our team. We're here to help!