Category • Blog articles
Why Your Office Kitchen Needs a Filtered Water System
FreshGround | December 6, 2019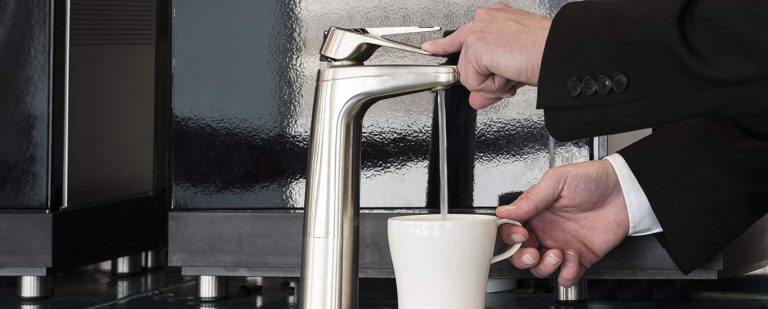 Etiquette around the hot drinks round in the office can be notoriously problematic! Whose round is it? Who wants water, tea, herbal tea or coffee? And have you got time to make your work deadline, as well as drinks for the WHOLE office?
The solution? Easy.
Make life that little bit easier for everyone, by introducing an under-counter tap system in your office kitchen. You can say goodbye to waiting impatiently for the kettle to boil or running out of hot water, and say hello to instant access to filtered boiling, chilled, ambient and sparkling water – all at the touch of a button.
Three reasons why you should bin your office kettle
Save valuable time in the working day
It's reported that British workers rack up over 100 hours per year making drinks in the office according to research, and whilst we know it's healthy to stop and have regular breaks, less time watching the kettle can only be a good thing.
Plus, do you know how many germs are hiding on your average office kitchen kettle? A staggering 2,483 germs per square inch were found in a recent study – that's more than a toilet seat! With FreshGround's boiling water taps for offices, you'll find they're really easy to keep clean and maintain, offering a more hygienic office drinks kitchen solution.
Decrease costs and save space
Having instant, easy access to boiling water will not only help your office run more smoothly, but it can also save you money. You'll find that over time, your daily spend and office running costs will decrease. Our range of systems is sleek and minimalistic in design, also offering your kitchen a style upgrade with the installation. It will likely save you space giving you the opportunity to get rid of that bulky water cooler and replacement bottles as our taps dispense refreshing chilled and sparkling water.
Go green
As more offices pledge to become more sustainable, a boiling tap has environmental benefits too. Many people are prone to overfilling kettles and waste water and energy in the process – FreshGround's under-counter tap systems make it simple to pour exactly how much water you like, and reducing waste. They will also 'go to sleep' when not used for a two-hour period to save energy, but it will wake up at the touch of the lever for your convenience. And don't forget that each tap comes with a filtration system that makes for a superior hot drink or a more refreshing cold, ambient or sparkling glass of water.
Find out more…
If you're considering a new boiling, chilled or sparkling water tap system, we'll give you the best advice on which solution is right for you and your team. We offer a free consultation visit, and short term contracts to see how you get on. Want to find out more? Simply contact us today.