Category • Blog articles
Water Cooler or Water Tap – What's Best?
Alex | August 9, 2021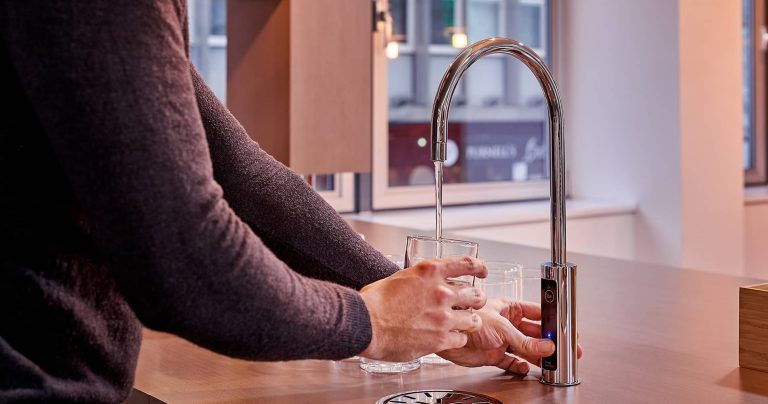 What's the best water solution for your office? We look at whether a water cooler or a water tap would work for you and your team.
Your team performs best when they're hydrated. So investing in great tasting, refreshing drinking water at work is going to help boost productivity. Even the slightest bit of dehydration is proven to negatively impact concentration, mood and wellbeing.
Ordinary tap water can sometimes taste unpleasant, due to the added chlorine and depending on whether you live/work in a hard water area. It can also sometimes taste metallic or bitter due to concentrations of copper or zinc. For a superior, filtered drinking water experience, you'll want to opt for a water cooler or water tap. But how do you know which is right for you? We guide you through the many considerations when you're making your decision.
Water cooler or undercounter tap – what's the difference?

Bottle-fed water cooler
A traditional water cooler tends to be defined as an electric bottle-fed machine. These bottle-fed machines are declining in popularity as they're not as convenient as plumbed-in water dispensers or undercounter taps. They typically only dispense ambient and chilled water, and you have to store large bottles in the office. These are heavy to lift and can be difficult to install, posing a health and safety hazard. Plus plastic is less than ideal for the environment.

POU (point-of-use) water cooler
A POU (point of use) water cooler is one that's plumbed into the mains water, and passed through a filter. It's more convenient because you don't need heavy and cumbersome plastic water bottles or water reservoirs. They're also far better for the environment, as they use water direct from the mains, meaning a reduction in plastic and no need for transporting heavy bottles. Traditionally these are floor-standing, but some coolers offer the choice of a countertop option. They can typically offer filtered sparkling water as well as ambient and chilled.
Undercounter water tap
However, an undercounter tap system offers perhaps the most compact, convenient and stylish option for most office kitchens. The tap itself is mounted on the worktop or even over a sink; with the main unit then installed discreetly underneath the counter, usually in a cupboard.
These taps dispense high volume filtered boiling, chilled, ambient and sparkling water – all at a single touch. FreshGround New Business Manager, Gareth Harvey, says that for businesses with countertop space, these are the ideal choice. "More and more customers are choosing undercounter taps, and they're becoming the go-to for office water. They take up very little space, and are far more modern and sophisticated than a freestanding, or even countertop, cooler."
"Naturally there are applications where a POU water cooler will be more suitable. But where a customer has space restrictions in their office kitchen, I'd always recommend considering a tap."
What will I need to consider when choosing a dispenser?
With over 40 years of experience working with offices, we know there are a number of criteria that will ensure you get what you need to keep everyone happy and hydrated. We spoke to Jason Tunley from Borg & Overström, global experts in filtered water and one of our manufacturer partners.
"Firstly, we need to define the most convenient place in the workspace for your water system. We also need to understand how often it will be used, so together, we can calculate how many users per dispensing point per hour. Then we figure out how many points you need and what type of output you'll require."
Jason goes on to explain, "Installing a water dispenser will help support your sustainability goals as people will ditch single-use plastic water bottles. We'll need to consider dispense height and output volume as to whether your team will be refilling mugs, glasses, bottles, carafes, jugs etc."
"Will your team prefer chilled water or do you want the options of filtered hot, cold, ambient and sparkling water? With hygiene now playing an important role in keeping offices open, businesses should consider touch-free water dispensing options."
Making your decision
Naturally, there's no one-size-fits-all approach when it comes to water dispensers for your office. But an undercounter tap tends to offer the most convenient and flexible solution if space and budget allow.
If you're considering your hydration options at work right now, get in touch with our team and we'll help you decide. You can also browse our selection of water dispensers and our extensive range of coffee machines.